Year of Tourism to boost links with New Zealand
Share - WeChat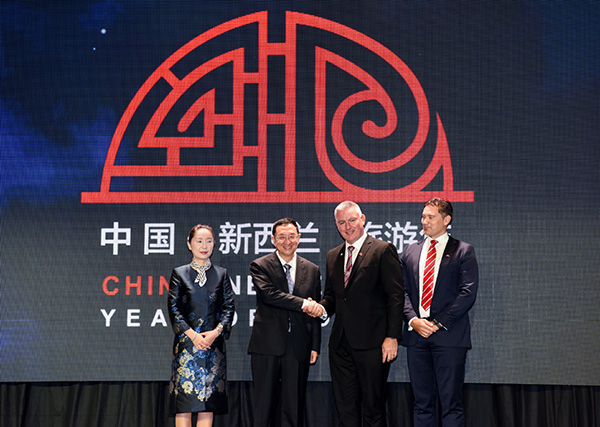 The 2019 China-New Zealand Year of Tourism officially kicked off with encouraging messages from government leaders of both sides.
The yearlong celebration's launch, held at Museum of New Zealand, the national museum in Wellington, was witnessed on Saturday by a Chinese government delegation led by Minister of Culture and Tourism Luo Shugang, who delivered a welcoming message by Premier Li Keqiang.
"The China-New Zealand Year of Tourism presents an opportunity for our two countries to enhance tourism cooperation through people-to-people contact," Li said in the message. The initiative was first announced during Li's official visit to New Zealand in March 2017.
"More people-to-people contact between China and New Zealand will increase our mutual knowledge and awareness, which are central to more popular support for our bilateral relations and cooperation," Li's message said.
Last year, there were around 600,000 visits between the two countries, and China remains New Zealand's second-largest overseas tourist market.
In a message, read out by Tourism Minister Kelvin Davis, New Zealand Prime Minister Jacinda Ardern said the recent Christchurch terrorist attacks brought into sharp relief the importance of building interactions and understanding across peoples, cultures and borders.
"Initiatives during the Year of Tourism reflect China and New Zealand's shared commitment to doing just that," she said.
The year of tourism is sponsored by the Chinese and New Zealand governments and involves a range of events and initiatives in the two countries.
Lisa Li, general manager of China Travel Service in New Zealand, said: "More and more Chinese are visiting New Zealand each year. They come here for its beauty, fresh air and easygoing lifestyle."
She said one of the big attractions, however, was Hobbiton, the film set used in The Lord of the Rings, in Waikato.