Shougang and Shangri-La sign cooperation on Shougang park hotel in Beijing
Share - WeChat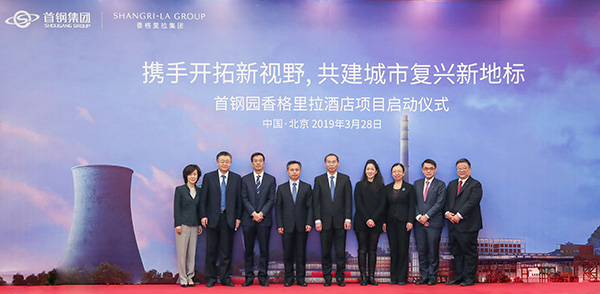 Shougang Group and Shangri-La Group today announced cooperation on a new hotel project at Shougang Park in Beijing.
This is a strategic venture between two established and highly regarded companies to develop an international luxury hotel at the Shougang industrial site.
The hotel project is located in the central area of Shougang Park and boasts spectacular views of Shijingshan Hill and Qunming Lake. Shougang Park is a familiar local landmark with over 100 years of history. The hotel is closely connected to the grand ski ramp of the Winter Olympics and the training center of the national teams known as the "Four Ices" — ice hockey, figure skating, speed skating and curling.
The new project development will incorporate modern designs and green concepts into the heritage industrial estate. It is scheduled for completion and commencement of operations at the end of 2021. The hotel will be designated as an Official Hotel of the Beijing 2022 Winter Olympics and will provide dedicated service to the Olympic event reception.