Curator had passion for Chinese textiles starting at young age
Share - WeChat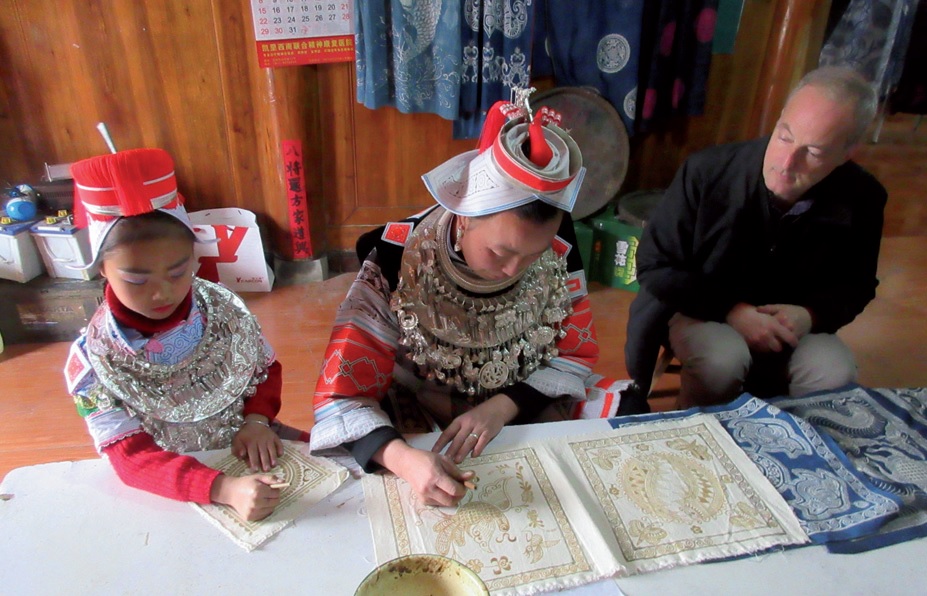 Lee Talbot, curator at the Textile Museum at George Washington University, has always been fascinated by textiles from Asia.
"I've always been interested in China through my whole life. And it's actually textiles that started my main interest in Asia," said Talbot.
Talbot is from a small town in Arkansas. When he was 4 years old, he found a box with textiles in the closet of his home, which were brought back by his father from Asia.
"I was really fascinated. At that time, I knew, when I grow up I will go to those places, that's what I'm going to do," said Talbot.
When he was at university, he focused on East Asian studies and took Chinese-language courses.
Later, when he was living in Taiwan studying Chinese, he saw some long pao (emperor's 12-symbol robe) in the museum, which piqued his interest.
"I started buying some Chinese old textiles and learning more about them, and then I realized that's really my passion, not just personal interest to use as a hobby," Talbot said.
In February 2017, the Textile Museum received a large gift of textiles and jewelry made by minority people from Southwest China. Talbot was interested and thought the best way to learn would be to just go there.
Talbot spent about a month in Guizhou looking for people who knew about textile-making techniques and asked them if they could teach him something.
"I went to the village of Gejia people; I knew they are really good at laran (or batik, color printing on cloth using wax), so the woman she taught me," said Talbot.
In a photo that Talbot submitted to My China Album, showing him in Matang, a Gejia village in Guizhou, looking at two Gejia women doing batik.
"I was intrigued by the beautiful blue-and-white patterns on their clothing, and people explained that this was created by using wax and dye – a technique called batik. I wanted to learn more about batik, so they took me to a local workshop where it is made. … After trying my hand at this ancient art form, I had the chance to experience Gejia dancing, singing, and lusheng (a reed pipe wind instrument) playing," Talbot wrote in the caption.
In another photo he submitted, he visited Miao villages along the Qingshui River.
"I was lucky to arrive in one village while they were celebrating a wedding. As soon as the people noticed me, Miao women began to pour cups of wine in my mouth and explained that this meant I was an honored guest and that our friendship would last a lifetime. I mentioned how much I admired their colorful clothing, and one woman gave me a Miao-style vest to wear," Talbot wrote in the caption.
In another photo, Talbot was having lunch with a Xijia couple in their home in Shilongzhai village.
"While walking around looking at the interesting architecture, I met a friendly old woman in the village square. She invited me back to her home to have lunch with her and her husband. She prepared vegetables from their garden, dried meats dipped in fiery pepper sauce, and rice wine. We conversed in simple Mandarin sharing the delicious food as well as stories of our lives in Guizhou and Washington," Talbot wrote in the caption.
"It was a wonderful trip. Guizhou is just so beautiful, the landscape is so beautiful but also the people are very nice," said Talbot.
Upon his return, he put together an exhibition at the Textile Museum in February 2018, which is titled Vanishing Traditions: Textiles and Treasures from Southwest China. It showed textiles, jewelry made by the Miao, Dong and other minority peoples in China.
"I hope I go back to China soon. There are so many places to visit in China; it is a huge country with so many different cultures and so much to see," Talbot said.
Jiayi Wu in Washington contributed to this story.