Bosch: Shaping the future of mobility in local market
Share - WeChat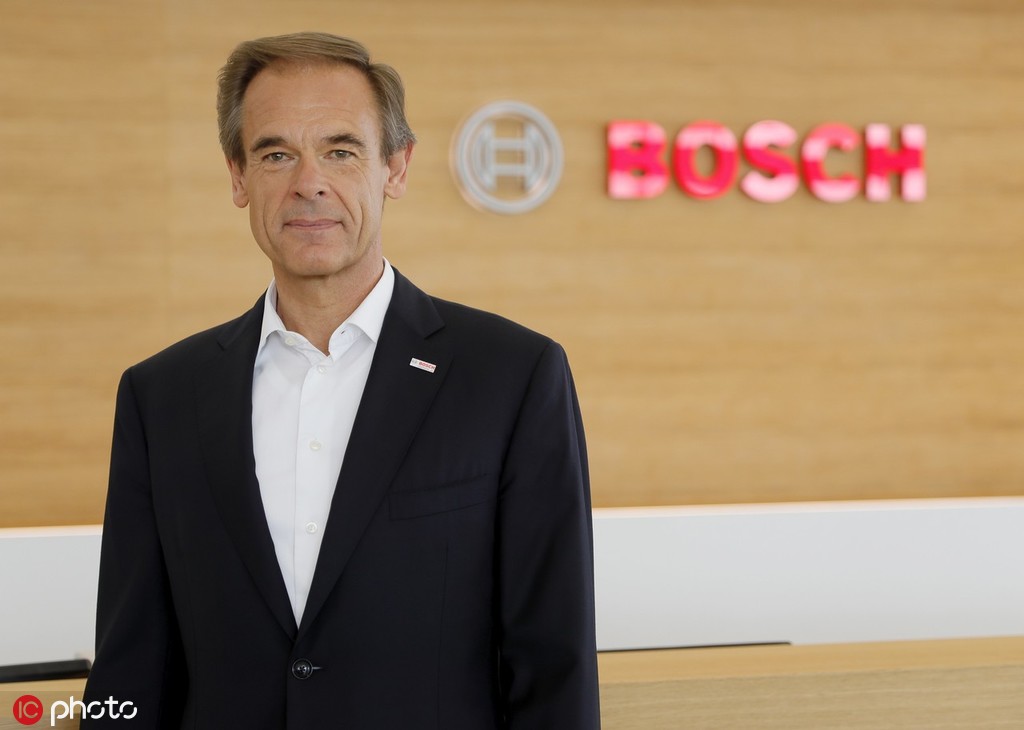 China has developed into a powerhouse of the global economy since it began to open up to the world four decades ago. One area that has developed especially is its automotive market, which has grown remarkably, despite last year's slowdown.
We believe this market still has long-term potential. The country's relatively low vehicle density and increasing private consumption means it is far from saturated. We also believe that the way people move will change fundamentally - especially in cities.
And China's rapid urbanization means this transformation will come much sooner here than in other countries. In light of this trend, China has set up comprehensive plans to transform and upgrade its automotive industry.
This includes improving fuel consumption, reducing emissions and making vehicles connected and smart. This will mean business opportunities for traditional car manufacturers, for many new players, and of course also for technology companies including Bosch.
Given the fast-evolving industry and increasing competitive pressure, we believe innovation is key to seizing these opportunities. Through constant innovation, Bosch is working toward a vision of mobility that is emission-free, accident-free and stress-free.
This vision echoes with China's strategy to further develop its automotive market and increase its competitiveness for the future.
The rapid development of new energy vehicles plays a crucial part in this strategy, and as one of the leading providers of electro-mobility solutions, Bosch is well positioned to seize this potential.
We invest some 400 million euros ($452 million) in electro-mobility annually - much of this in China, where 1.26 million new energy vehicles were sold last year.
It is also here that Bosch has started mass production of e-axles and 48-volt batteries.
This year, moreover, we will be setting up an engineering center in Wuxi to develop fuel-cell technologies for the local market. But we should not forget that new energy vehicle sales still only account for less than 5 percent of the Chinese automotive market.
For the next decade, the market will still be dominated by vehicles with combustion engines. For this reason, we are also continuing to refine traditional powertrain technology to make it as efficient and environmentally friendly as possible.
Besides new energy vehicles, China is also blazing the trail for connected and automated mobility. It is one of the world's largest markets for cloud services, e-commerce and shared services, and this trend is rapidly crossing over into the automotive industry.
The national strategy of Internet Plus, good infrastructure and open-minded users is fertile ground for the development of intelligent connected vehicles.
According to a PwC study, the market for connected mobility services in China is expected to grow from $600 million in 2017 to $39.5 billion in 2030.
That is why Bosch is developing mobility services such as fleet management or driverless parking in parking lots for the Chinese market.
We also see a strong demand in China for automated driving, which we address with a competent local team. Technologies for automated driving will improve the safety and comfort of driving.
2019 marks the 110th anniversary of Bosch in China. Over the years, our company has witnessed the rapid growth of the Chinese automotive industry and has come to play an active part in this remarkable development. We welcome China's further opening-up and industry transformation.
Together with our 60,000 local associates, we will continue to deploy our "local for local" strategy in China. Focusing on technological innovation and industrial upgrades, Bosch will support China in transforming its automotive industry and shaping the mobility of the future.
The author is CEO of the Bosch Group.