Automakers seek unified standards for internet of vehicles
Share - WeChat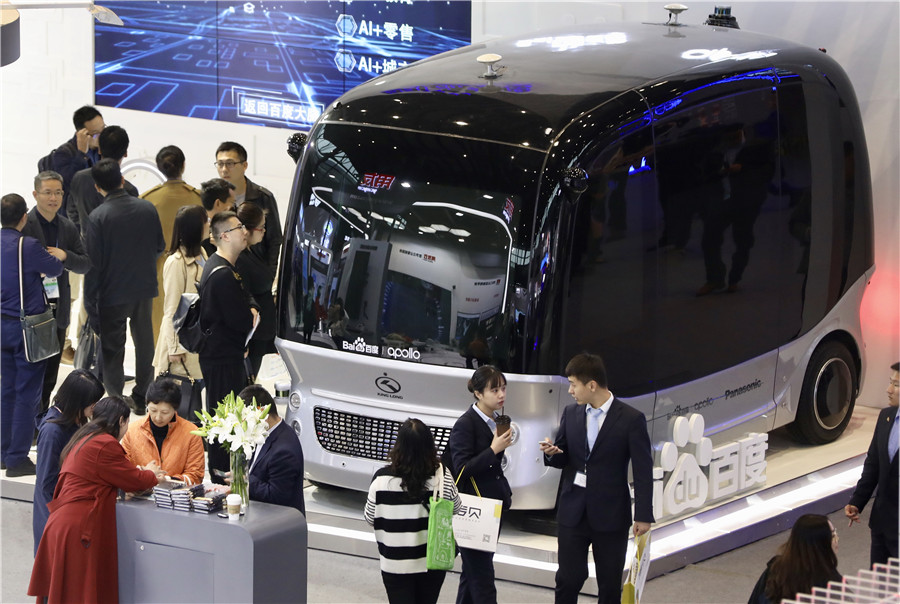 China needs further efforts in developing infrastructure, standards and technologies related to the internet of vehicles, said top executives of leading automakers, as the country is seeking to enter the fast lane of intelligent connected cars to gain a lead globally.
"China should establish a unified standard on IoV, without which, each automaker will have to have its own interface to connect with the intelligent network, and that will be a serious waste of resources," said Zhu Huarong, president of Changan Automobile Co.
IoV, or the internet of vehicles, refers to the network made up of cars that are intelligent and connected, which is an important foundation of the future smart vehicles, especially for autonomous driving, Zhu said.
"Real autonomous driving cannot be achieved only by technologies in cameras, sensors and infrared ray. It also needs communication among vehicles, passengers and road infrastructure," Zhu said.
To speed up such efforts, Qi Songyu, senior technical director of China's leading automaker FAW Group, said major automakers, telecommunication operators and sensor makers, as well as road management departments should all come together to create such a standard.
The government has for several years paid great attention to intelligent connected vehicle development, regarding it as a vital way of relieving burdens from transportation, energy consumption and environmental pollution.
The nation is striving to cultivate a globally competitive internet-connected vehicles industry, planning to have smart cars with partial or fully autonomous functions accounting for 50 percent of the new vehicles sold in the nation by 2020.
By 2020, the market scale of the country's intelligent connected vehicles is expected to exceed 100 billion yuan ($14 billion), said Miao Wei, minister of industry and information technology, earlier at the World Intelligent Connected Vehicles Conference.
Even though the segment has got wide attention, Zeng Qinghong, chairman of GAC Group, said it still faces bottlenecks.
"The construction of related infrastructure, for instance, hardly considers features or demands from IoV. That creates difficulties for intelligent connected cars to drive on the road," he said.
Thereby, Zeng suggested speeding up building roads that are also suitable for smart driving and encouraging social capital to join in the process.
Despite challenges, China has gained momentum in intelligent connected vehicles with almost all major carmakers including SAIC Motor Co and Zhejiang Geely Holding Group Co as well as internet giants such as Tencent Holdings Ltd and Baidu Inc having increased efforts.
Earlier this month, Geely announced plans to put its intelligent communication network into operation in the second half of this year, which will mark China's first batch of such networks.
With the establishment of the network, Geely said it aims to test its forefront technologies for smart cars under the advanced network.
During this year's Mobile World Conference in Barcelona, Spain, the automaker also announced a major partnership with US chip giant Qualcomm Inc and Chinese internet of things provider Gosuncn Technology Group Co to develop IoV-related technologies.
"Geely will step up efforts to make AI-enabled, internet-connected smart cars. Such cars will become more intelligent where mobile terminals can be connected to the network and drivers can talk to the system in the car," said Shen Ziyu, vice-president of the Geely Automobile Research Institute.