Sino-French cooperation helps boost globalization
Share - WeChat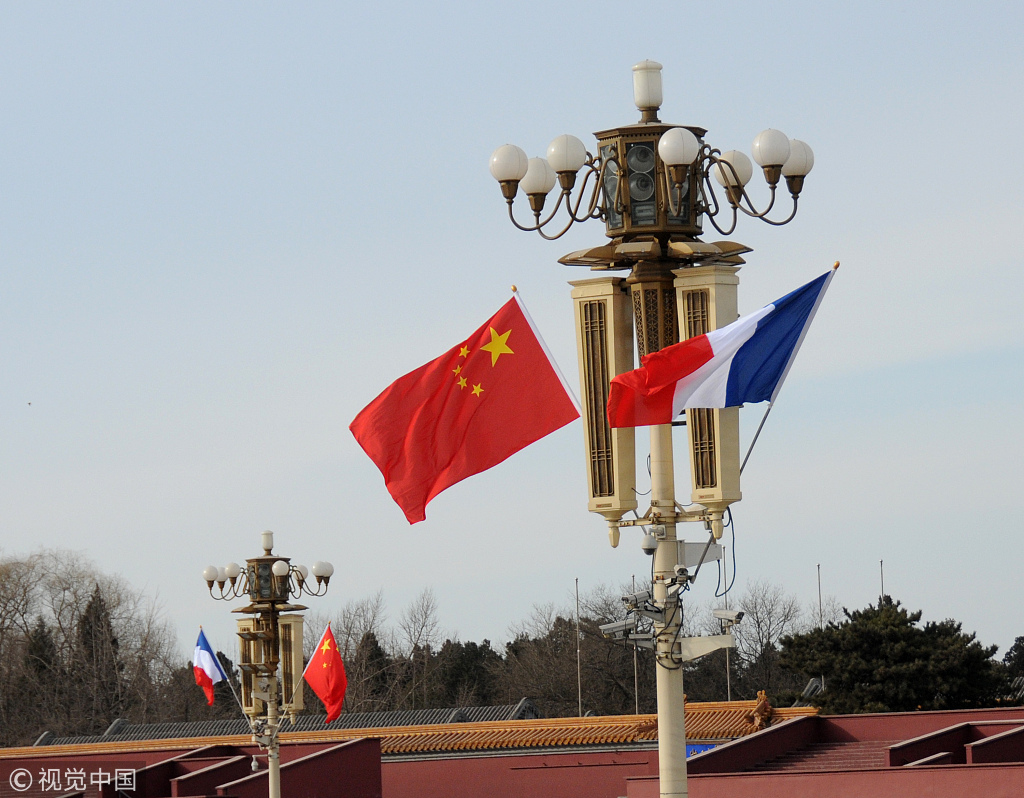 For more than five years, under the guidance of the golden principles of wide consultation, joint contribution and shared benefits, the Belt and Road Initiative proposed by President Xi Jinping has been in action, becoming increasingly welcomed around the world. More than 150 countries and international organizations have signed cooperation agreements with China under the BRI's general framework.
The past five years have also seen China's trade in goods with Belt and Road countries rising above $5 trillion and foreign direct investment exceeding $60 billion, which have created more than 200,000 local jobs. China-Europe block trains (freight trains that carry goods from a single departure point to a single destination with no intermediate stops) have so far made more than 13,000 journeys, and 49 cities in 15 countries have benefited from the facilities in delivering their products directly to 56 cities in China.
France, as a major economy and at the core of the European Union, has been ahead of other Western countries for a long time in developing relations with China. The BRI has provided a new and broader platform for this development, leading to increasing political trust, economic cooperation and cultural exchanges. This, in turn, has invigorated the close and enduring comprehensive strategic partnership between the two countries.
The political trust between China and France, enhanced by the two countries' Belt and Road cooperation, was made manifest when President Xi, while visiting France in 2014 for the first time, went to Lyon first, one of the destinations of the ancient Silk Road in Europe, and when French President Emmanuel Macron, on his first visit to China in 2018, stopped first at Xi'an, the starting point of the same road. The two state leaders have now reached an important consensus on Belt and Road cooperation. In June last year, the Committee for Foreign Affairs, Defense and the Armed Forces of the French Senate issued an assessment report on the BRI and proposed that France be more actively involved in it and play a leading role in Europe.
At the second session of the Paris Forum themed on the new Silk Road and jointly hosted in January by the Chinese embassy in France and the French Institute for International and Strategic Affairs, I personally felt the French side's understanding and enthusiasm about participating in the BRI. A poll conducted by the Montaigne Institute in France in September found that 53 percent of French people surveyed believe the program will have a positive impact on the country.
This year is certainly full of opportunities for China-France cooperation under the BRI.
First, the implementation of the BRI has entered a new phase, arriving at a down-to-earth and sustainable development. In April, China will hold the second Belt and Road Forum for International Cooperation. It will take the development of the BRI to a higher level, with China welcoming a high-level delegation of the French side to participate in the event, share historical opportunities and discuss cooperation plans so the two can usher in a brilliant new phase in BRI construction.
Second, China's move to a higher level of opening-up has provided new impetus for cooperation with France on the BRI. On the one hand, China will continue to cut the foreign investment negative list and give wider market access to foreign companies. On the other hand, it will increase the introduction of investments, promote development of pilot free trade zones and produce more results in institutional innovation.
Third, the opening of a new phase in China-France relations has created more favorable conditions for Belt and Road cooperation. Since this year marks the 55th anniversary of bilateral diplomatic relations, the two sides will hold a series of grand celebrations.
China is also willing to work with France to promote traditional strategic cooperation in nuclear energy, aviation and aerospace, as well as in emerging fields such as digitalization, medicine and health, green development and artificial intelligence, and in jointly opening third-party markets.
There are more uncertainties and unstable factors than ever in the world, and China-France BRI cooperation faces multiple challenges. Economic globalization is encountering protectionism, and some countries have chosen to increase tariffs, as well as investment and technical barriers, in response to imbalances in globalization. Multilateralism is challenged by populism, and the influence of extremist forces continues to expand.
It is thus the common mission of China and France, both permanent members of the United Nations Security Council, to work together in promoting economic globalization and maintaining a multilateral international order.
The views do not necessarily reflect those of China Daily.