US-China engagement 'not a failure'
Share - WeChat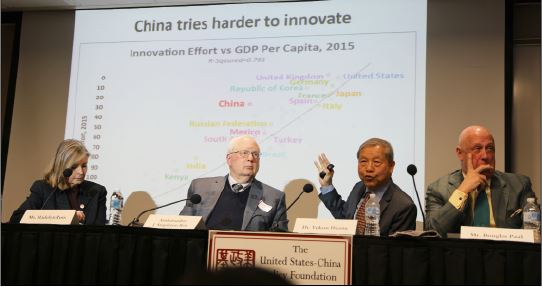 It has become trendy for some in the China policy community in the US to argue that Washington's strategy of engaging Beijing has failed, and that China is an emerging strategic problem. However, a senior researcher and a former top diplomat have said the arguments are either flawed or nonsensical.
"It is fashionable now to argue that the whole strategy of engaging China and inviting it into our global institutions has failed, but this assessment is too negative," David Dollar, senior fellow at the John L. Thornton China Center at the Brookings Institution, wrote in a post on Monday.
Dollar, who was the US Treasury's economic and financial emissary to China between 2009 and 2013, has identified eight specific issues in which the US engaged intensively with China, including currency and global imbalances, climate change, nuclear non-proliferation, intellectual property rights protection, development assistance, market access, the South China Sea, democracy and human rights.
"In three areas, China's actions have gone beyond what reasonably could have been expected: currency and global imbalances, climate change, and nuclear non-proliferation," Dollar wrote. "In two areas, the outcomes are about what should have been expected: intellectual property rights protection and development assistance."
For the remaining three areas, Dollar argued that China has failed to do what the US wanted, a perception that has been countered by the Chinese side.
This "mixed record of diplomacy" has heard some voices in the US call for decoupling and isolating China through a new Cold War, which would be "very costly" and is "too hostile a response" to the record, Dollar noted.
By 2017, there were 144 countries that had more trade with China than with the US, including 50 countries in Africa and all countries in Asia except Afghanistan and Bhutan, he said.
"If we try to isolate China, our partners are not likely to follow us, with the result that we isolate ourselves instead," he said.
He suggested drawing on the lessons of failure and success in the past to tailor an engagement strategy going forward that would be effective in getting Chinese cooperation in more areas, though probably not in all areas.
Even several years leading up to the establishment of formal US-China relations, former US president George Herbert Walker Bush, who was chief of the US liaison office in Beijing in 1974-75, had believed that China and the US could find ways to get along with each other, according to J. Stapleton Roy, US ambassador to China from 1991 to 1995.
While pointing out that the emerging sentiment in the United States is that China is going to be a big strategic problem for the US, Roy said that what's completely missing is the attitude that George Bush Sr had when he was dealing with a China in the 1970s whose situation was much more difficult.
"Nobody seems to have the sense that we can get along with a strong, prosperous China, and I can say it is total nonsense," Roy told a discussion hosted by the US-China Policy Foundation in Washington on Thursday.
Roy said he had met a lot of Chinese leaders, and not a single one of them had said the plan is to get prosperous and strong and then throw it all away in a conflict with the most powerful country in the world.
"Does anybody really think the Chinese leaders think that way that they want to destroy all of the benefits of economic development by getting into a conflict with the United States?" Roy said. "So why is it the United States seems to think that conflict with China is unavoidable?"
Ryan Hass, a David M. Rubenstein Fellow in foreign policy at Brookings, said he believed that the new chapter of US-China relations should feature competitive interdependence.
"This idea (is) that the United States and China fundamentally are competitive, but the competition needs to occur within a recognition of the fact that both countries also are interdependent on together," he said last week.
"In other words, there should be a guardrails around competition, because if it were to veer out of control, it would do self-harm to both countries."