More openness correct choice going forward : China Daily editorial
Share - WeChat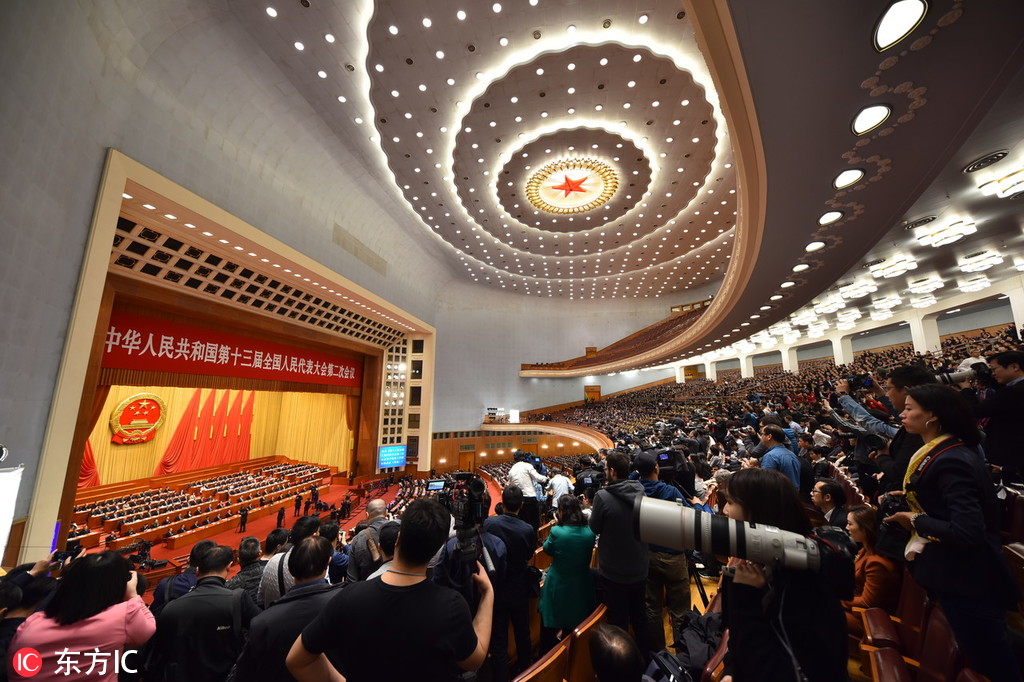 The just-concluded second session of the 13th National People's Congress has given reassuring answers to the questions and suspicions about China's commitment to continuous openness and its future intentions. Most notably with the national legislature's overwhelming endorsement, with a 2,929 to 8 vote, of the foreign investment law, which will come into effect on Jan 1, 2020.
This is an event worth praising as it is another historic milestone on the country's way toward greater openness.
It well embodies Beijing's stated intention of a "restart" when the country celebrated the 40th anniversary of reform and opening-up last year.
Compared with the three separate laws governing overseas investments in China today, the new law represents what some observers have described as "fundamental changes" in the way foreign investments are administered in this country. The most essential change is the replacing of the current approach of case-by-case examination and approval with pre-access national treatment plus a negative list, which will put Chinese and foreign investors on an equal footing.
The government's job is not to direct what the market should or should not do, but to do its best to energize all market players, Premier Li Keqiang said in his news conference wrapping up the annual NPC session.
Thus several main clash points in the country's economic and trade ties with foreign countries, including intellectual property protection and forced technology transfer, are also addressed in the new law. But none will likely prove as significant as leveling the playing field for players of all nationalities.
To any doubting Beijing's seriousness in implementing the law, Li promised that it will not be a conceptual, non-implementable showpiece.
The government will try harder to protect foreign investors' rights and interests and ensure openness, transparency and effectiveness, Li said. "An important next step for us is to put forward a series of related decrees and documents and make sure the foreign investment law is smoothly implemented."
New, constantly shortened negative lists mean access for foreign investors will be broadened correspondingly. As for boosting IPR protection, a plan is expected to revise the Intellectual Property Rights Law, with the idea of introducing punitive compensation mechanisms into it, which, when done, will finally give it the teeth to bite.
From the new law to Li's replies to questions regarding the country's foreign relations, especially the ongoing trade conflicts with the United States, there was an unmistakable message: Rather than closing its doors, Beijing is fully convinced further openness is the correct choice going forward.
Which was why, despite all the hardship in the ongoing trade negotiations with Washington, and amid the clamor from there about confronting China, the relationship will continue developing anyway.
The China-US relationship has experienced ups and downs over the past four decades, but the fundamental trend has been the broadening of common interests and cooperation, not confrontation. So decoupling the Chinese and US economies is neither realistic nor possible.
Responding to a question about the spying allegations against Chinese companies, Li said it is against both Chinese law and the country's way of doing things.
China is more interested in sorting out its own matters, and continuing to contribute to the world economy in the role of "an important anchor".
Looking ahead, the country undoubtedly faces a variety of interwoven challenges, and it will have to strive to maintain stable growth while advancing reform, making structural adjustments and guarding against risks. But in doing so there are also opportunities to be seized.
Opening-up has been an essential driver for China's remarkable development over the past 40 years; this year's two sessions show that the country is now opening its door wider as it pursues its dream.
Most Viewed in 24 Hours
China Views