Worries over defense budget unwarranted
Share - WeChat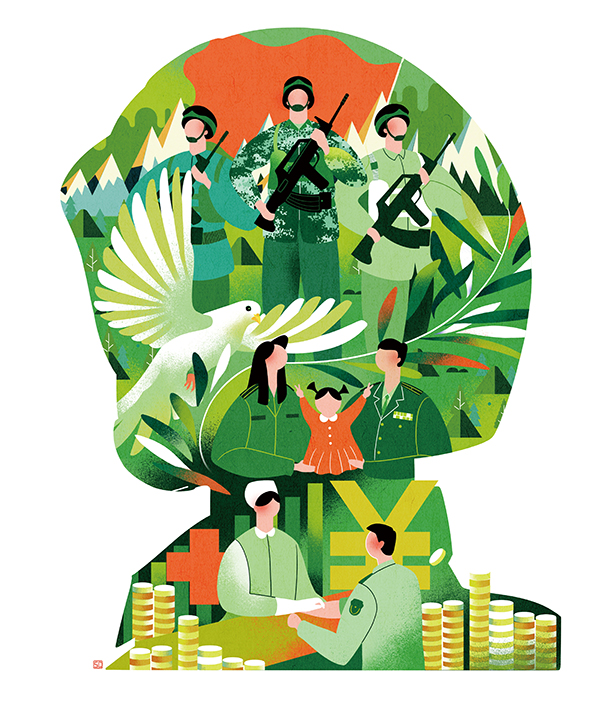 Editor's Note: China's defense budget growth has always been an easy target of some Western media outlets. Why does China need to steadily increase its defense budget? And why there is no need for the world to be worried about it? Two experts share their views on this issue with China Daily's Liu Jianna. Excerpts follow:
Defense budget growth normal and reasonable
Rear Admiral Yang Yi, former director general of the Institute of Strategic Studies, National Defense University PLA
Asked about this year's defense budget, Zhang Yesui, spokesman for the second session of the 13th National People's Congress said on Monday that it is necessary for China to reasonably increase its defense spending for military modernization. And China has the room of increasing its defense budget as the defense spending accounted for only 1.3 percent of its GDP in 2018 compared with more than 2 percent for main developed countries.
Zhang also said it is not the increase in defense budget, but a country's foreign and defense policies, which decides whether it poses a threat to other countries.
But for a long time governments and media in several countries including the United States and Japan have hyped China's military budget growth with different motives. The US wants China to put a cap on its military budget so as to maintain its absolute advantage in the security and military fields, as is evident from Washington's "Indo-Pacific" strategy. In fact, it is part of the US' desperate effort to sustain its all-around hegemony.
Japan, on its part, has been hyping up the so-called threat from the People's Liberation Army, as well as portraying the Democratic People's Republic of Korea as a security challenge so it can develop its own military power.
Yet a louder voice does not necessarily place a critic on a moral high ground, especially if the criticism is hollow. To begin with, whether in terms of its size, per capita military expenditure, or percentage of its GDP, China's military budget remains rather low. For example, the US allocated funds equivalent to 3.15 percent of GDP to its military budget in 2017 according to the World Bank, while China's defense budget added up to only 1.3 percent of its GDP. Moreover, the US' military budget alone is equal to the military budgets of a dozen countries combined.
In addition, China has become increasingly transparent when it comes to modernizing the PLA, issuing white papers on the development of its military and conducting various overseas exchange programs on a regular basis. Apart from its defense policy which is defensive in nature, China has been most transparent in its strategic intentions. For instance, it promises never to use nuclear weapons first and is committed to avoiding conflicts and building friendly relations with neighboring countries, and has its warming relationship with Japan to show for that.
Facing different security challenges and demands, it is only reasonable for countries to devise different defense strategies to safeguard their national security and interests. Thanks to four decades of rapid economic growth, China is now the world's second-largest economy and has the ability to spend more on defense to modernize its military and raise its defense personnel's pay to strengthen national security.
Given the rising prices and China's relatively good economic performance, the defense budget growth of 8.1 percent in 2018 is balanced and reasonable. Had it been lower, the Ministry of National Defense would face financial constraints and find it hard to carry out its various programs to safeguard the country's security. By contrast, a very high defense budget would impose too heavy a burden on taxpayers and choke economic growth at a time when China is undergoing an economic transition, which requires abundant capital support. So the defense budget suits China's development reality and security landscape, especially if we take into account various factors.
That Taiwan kicks up a row whenever Beijing unveils its defense budget shows it suffers from guilty consciousness. Had some Taiwan politicians not promoted "Taiwan independence", the island would have had no reason to feel anxious or worried about Beijing's normal increase in military spending. After all, the goal of increasing the defense budget is to safeguard the nation's territorial integrity, among which deterring "Taiwan independence" separatists from making any wrong moves is an important part.
Most Viewed in 24 Hours
China Views