IMAX takes up bigger share of cinema visits
Share - WeChat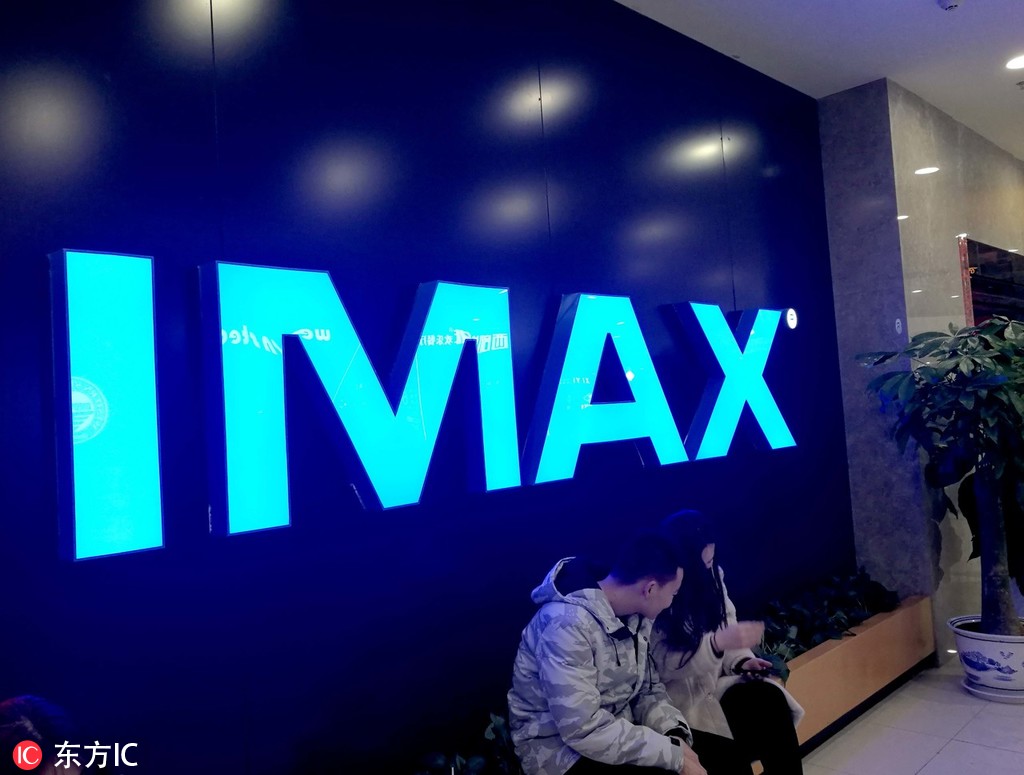 IMAX screenings hit a new high during Spring Festival despite a drop in total cinema visits, amid rising concerns that Chinese consumers' interest in movies is cooling as consumer spending weakens.
The total box office for IMAX screenings of the sci-fi hit The Wandering Earth, which premiered during the peak moviegoing season during the Spring Festival holidays, had exceeded 300 million yuan ($45 million) by last Sunday, a record high for IMAX screenings in China, followed by Avengers: Infinity War.
The total screen share of IMAX movies increased nearly 40 percent year-on-year during the holiday season, and contributed around 3.7 percent of total box office intake, according to data from professional box office tracker Maoyan.
"The growing audience for IMAX screenings-which apparently charge much more than ordinary screenings-shows that Chinese people are still willing to pay for moviegoing, and pay even more for good content and better services," said Wang Yi, a senior analyst from Maoyan Research Institute.
"Although many media reports said the drop in cinema visits was mainly due to rising ticket prices during a time when Chinese consumers are tightening their belts, the increase in visits to IMAX screenings suggests something else," Wang said, in response to recent reports revealing that total visits to the cinema fell 10.3 percent year-on-year to 130 million during the holiday.
Xiao Yanyan, a senior manager for media at CITIC Securities, said: "What appeared to be different this year is that people might be more picky about content, as they are now enjoying more varied ways to celebrate this traditional family reunion time, such as browsing short videos on Douyin (one of China's most popular video-sharing platforms)."
"That posed greater challenges and placed higher requirements on film productions," Xiao added.
The comments follow recent heated discussions on social media platform Weibo that audiences were less willing to spend on film tickets as prices were increased in some places during Spring Festival. The situation is quite reasonable to Wang Xing, general manager for marketing at cinema chain UME's Chongqing branch, who said that as cinemas were packed with families during the holiday, prices surged to boost profits.
"I couldn't believe watching a film with my family could cost up to almost 1,000 yuan," said 29-year-old Huang Xinyi, who visited her family in Hefei, Anhui province, during Spring Festival, and decided to offer them a treat by taking eight relatives to the cinema.
Huang, who lives in Beijing, was apparently reluctant to pay almost one-eighth of her monthly salary in the cinema, and she was not the only one. Average ticket prices in second and third-tier cities have risen by almost 15 percent, while the rate for first-tier cities was about 9 percent.
Neil Wang, president of Frost & Sullivan China, explained that the rise in ticket prices was in parallel with the tightening of the ticket subsidy policy.
In the past, many moviegoers rushed to the cinema to get a ticket for just 9.9 yuan or 19.9 yuan, which was barely half of the full price. The price cuts were compensated by subsidies from film production companies and online distributors.
"A decline in ticket subsidies on ticketing website such as Maoyan has led to increases to the prices online. Although the price is still affordable to the majority of people, a sudden price rise might push many people, who are not frequent moviegoers, to other entertainment options," said Neil Wang.
But Wang Xing from Chongqing UME said the impact of the ticket price rise remains limited. "After all people value their happiness and family time more than money during times such as an important holiday. Cinemas will also cut their prices once they see a drop in visits," he said.
He noted that piracy, instead of rising ticket prices, may well be the reason why there has been a decline in visits to the cinema.
Views of pirated online versions of The Wandering Earth with an HD viewing experience were said to have reached 20 million during the six-day holiday screening. But this number is still conservative as peer-to-peer downloads were not included.