IMAX deal set to build 30 new theaters
Share - WeChat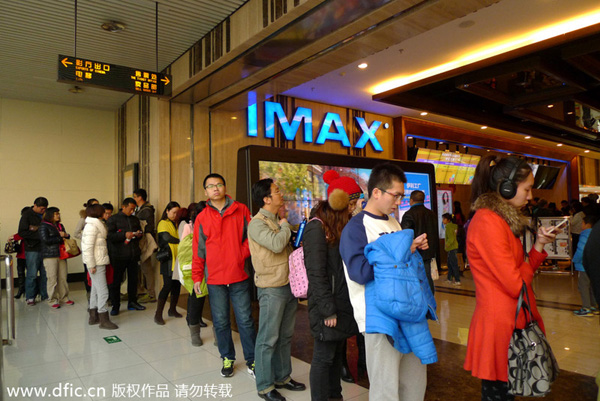 Large-screen cinema company IMAX Corp and IMAX China Holding Inc have announced a deal to build 30 new IMAX theaters with Guangzhou Jinyi Media Corp, one of the largest exhibitors in China.
Covering a combination of new and existing complexes across the country, the deal is expected to expand IMAX's foot print of total contracted theaters in the greater China region to 885.
Under the agreement, the new theaters are set to open from this year to 2023, with around half to be installed by 2019. And the two sides agreed to vary the agreement across first-tier to fourth-tier cities, based in part on the specific market and anticipated box office performance of the theater.
"We are pleased to announce a second major IMAX commitment from Jinyi in just two years – a testament to their continued confidence in IMAX to anchor their newest flagship locations and offer a premium differentiated experience that drives incremental revenue," said IMAX's CEO Richard Gelfond.
"This agreement reflects a more flexible deal structure approach in China that IMAX will examine on a market-by-market basis, particularly as it relates to expanding our presence in smaller cities."
"We believe this new approach will help us maximize the box office potential for each new theater added to our network." Gelfond added.
Li Xiaodong, CEO of Guangzhou Jinyi Media Crop, said the company is dedicated to offering best-in-class technology to improve customers experience and has been strengthening the partnership with IMAX over the past two years.
"IMAX's leading brand coupled with its powerfully immersive format is beloved by moviegoers in China. Through today's agreement, we look forward to bringing cutting-edge cinematic experiences to more audiences across China and believe that IMAX will continue to be a key differentiator that will not only strengthen our brand, but also drive business results."
Early in 2009, IMAX and Jinyi first signed up for four IMAX theaters. In 2016, Jinyi became the second full joint venture IMAX partner in China with the signing of a 40-theater IMAX revenue share agreement.
The newly announced agreement brings Jinyi's total IMAX commitment to 90 theaters with 32 theaters open and 58 contracted to open, positioning the company as the third-largest IMAX partner in China.
Last October, Jinyi went public on the Shenzhen Stock Exchange. Currently, it manages at least 2,000 screens across 350 subsidiary and affiliated cinemas in 21 provinces and four municipalities across the nation.