Global companies keen to tap fuel retailing opportunities in China
Share - WeChat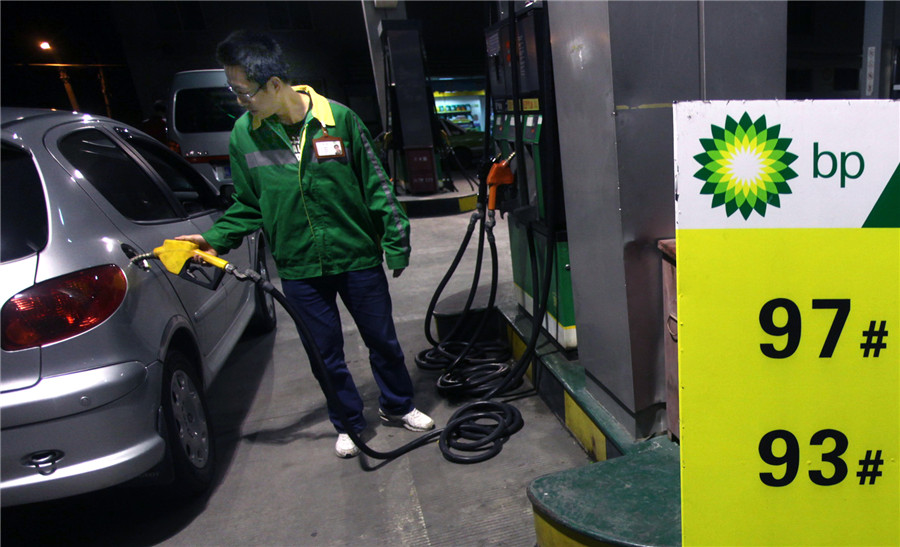 British energy company BP Plc opened its first branded station in Shandong, East China in January, the latest move of global energy giants investing in gas stations after China lifted restrictions on foreign investments in the sector in June 2018.
The new site is the start of BP's plan to add 1,000 new sites across China over the next five years through its joint venture partnership with Shandong Dongming Petrochemical Group, a private refiner. Half of the new sites will be in Shandong, Central China's Henan and North China's Hebei provinces, a result of its joint venture with Dongming Petrochemical, which was formed last February.
The new location will also be BP's first retail site in the country to offer fast charging for electric vehicles, it said.
The policy change is part of the National Development and Reform Commission and the Ministry of Commerce's new "negative list" introduced last year, which removed restrictions in various sectors including banking, automobiles, commodities and agriculture.
In addition to BP, many other international oil and gas giants have also expressed keenness in investing in the country's fuel retailing industry, eyeing a slice of the pie from China's 100,000-station gasoline retail sector, including Royal Dutch Shell Plc, which said earlier it would triple the number of gas stations it has in the country to 3,500 by 2025.
According to Fernando Vallina, chairman of ExxonMobil (China) Investment Co Ltd, though the company has no plans for setting up more gas stations in China, lifting the 30-site limit for international fuel retailers will definitely provide more opportunities for the company.
Insiders believe while foreign players' share is expected to see an increase in the upcoming years, especially a higher market share providing high-end products and value-added services, the fuel retailing sector in the country, which is currently dominated by State-owned oil and gas majors, would still remain unchanged in the short term.
According to energy market consultancy ICIS China, out of the nearly 100,000 filling stations countrywide, some 22,000 are owned by China National Petroleum Corp, or PetroChina, the nation's largest oil and gas producer by annual output, and 31,000 are owned by another State-owned oil giant China Petroleum and Chemical Corp, or Sinopec, the world's largest refiner.
While some 50,000 are owned by private operators, only around 3,100 or 3.1 percent are currently operated by foreign companies, mostly joint ventures with Sinopec or PetroChina, and sell products from their Chinese partners or their joint venture refineries.
Han Xiaoping, chief information officer of China Energy Net Consulting, agreed. He said it is still challenging to enter the Chinese market as China's major oil and gas companies have already established solid retail chains.
"The dominant players, including CNPC and Sinopec, which are experienced in operating in this industry, still have their competitive advantage in the China market and would see their position unchallenged," said Li Li, energy research director at ICIS China.
"As the fuel retailing market remains colossal, the foreign players will likely have their own strategy and come up with more sites in coastal cities or in major cities of the country's major provinces."
Chen Cuiwei, Shell's president for retail business in China, said that despite the fierce competition in China's gas station sector, there is enough room for growth.
She believed it's a good timing to up the scale in the gas station sector considering the growth in China's gasoline consumption as well as the increase in vehicle ownership across the country.
Shell said earlier that non-fuel retailing is another area where the company would be developing in a big way. The company would be piloting high-quality convenience stores at its retail stations in China, while BP's new site will offer made-to-order coffee deliveries to the car, free Wi-Fi and other facilities.
Hanna Hofer, president of BP China Retail, said the new site will be testing a fresh design and service offer, reflecting the uniqueness of the fast-changing retail environment and customer needs in China.
"Foreign brands, with their positive reputation and experience in management worldwide, will have a positive outlook for the country's petroleum retail market," said Li. "The non-oil sector would be the future core profit for the retail fuel sector."