China powering up efforts to build car-charging poles
Share - WeChat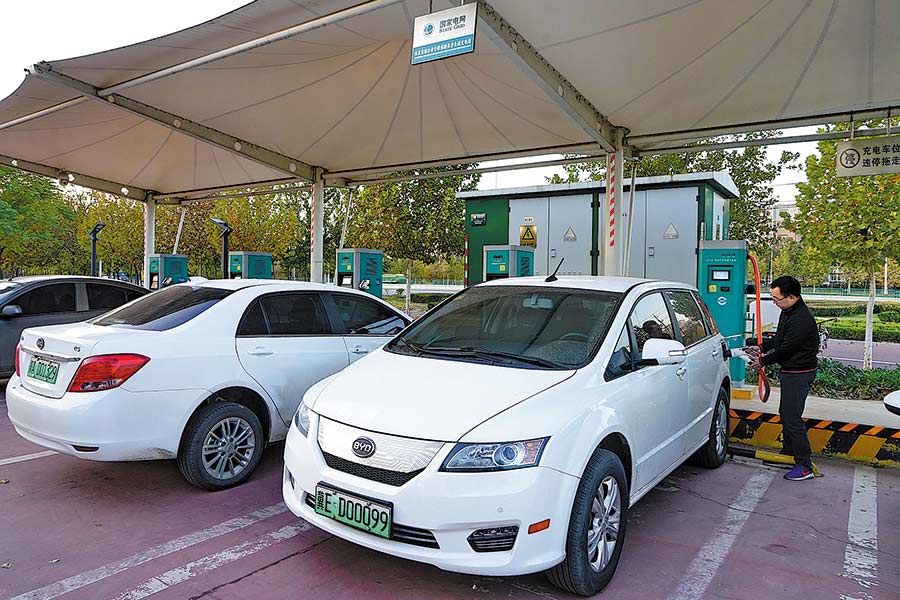 China is stepping up efforts to build charging poles and thereby foster its new energy car sector, as the nation is phasing out the decadelong subsidies on such vehicles' production and sales, according to officials.
The central authorities started supporting the new energy vehicle industry with subsidies in 2009 and since then, tens of billions of yuan has been handed out. The financial incentives from both the central and local governments are scheduled to stop by the end of 2020.
The details about this year's plan have not been released, but Dong Yang, president of the China Electric Vehicle Charging Infrastructure Promotion Alliance, said local authorities have been told to stimulate charging infrastructure.
"Ministries concerned have exchanged their views, and asked regional governments not to offer financial incentives on cars but to spend the money on charging infrastructure instead," the China Automotive News newspaper quoted Dong as saying last week.
Dong, also executive vice-president of the China Association of Automobile Manufacturers, or CAAM, said departments concerned will coordinate their efforts to solve other issues, as well, including land needed and power supplies for charging poles.
At the annual EV100 Forum in early January, Wang Menghui, minister of housing and urban-rural development, said charging facilities should be treated as important infrastructure in urban areas.
"Together with relevant departments, we will speed up efforts to draft supportive policies and stimulating mechanisms to fulfill and improve planning about charging infrastructure," Wang said.
China is the world's largest new energy vehicle market, with their sales soaring 61.7 percent year-on-year to total 1.25 million last year amid the sluggish overall car market. Sales this year are expected to reach 1.6 million, according to the CAAM.
The country is also home to the largest charging network for new energy vehicles, though the current number is far from enough. The charging infrastructure alliance estimates that in 2019, 600,000 charging poles are to be built, 80 percent of them private.
By the end of this year, the total number of charging poles available in the country will reach 1.4 million, which means there is about one pole for every three vehicles.
International companies are ready to charge into the territory that is so far dominated by local operators.
Volkswagen AG is setting up a network of fast-charging stations in China with FAW Group Co as part of its multibillion-dollar push to boost electric vehicle sales.
Bloomberg said the charging venture, expected to be set up in the first half of 2019, is part of the German carmaker's plan to invest 4 billion euros ($4.5 billion) together with partners on electrification and smart cars this year.
The charging network is expected to help Volkswagen meet its ambitious goal of selling 400,000 new energy vehicles a year in China by 2020 and 1.5 million by 2025.
BP Ventures said on Thursday that it has invested in Chinese startup PowerShare, which marks the British company's first direct investment in China.
PowerShare provides an app that links electric car drivers, charging pole operators and power suppliers, making it easier to locate charging facilities and pay for the supply.
The startup's cloud-based system also allows power suppliers to optimize their operations by monitoring and balancing the power demand from vehicles on the grid.
Lamar McKay, BP's deputy chief executive, said: "China is the world's largest EV market and a key market for BP as we seek to expand our advanced mobility offer."
"Our investment into PowerShare, BP Ventures' first direct investment in China, demonstrates our continued intent to provide charging solutions and advanced mobility offers to Chinese consumers both on and off our forecourts."