Hamsik has high hopes for Dalian
Share - WeChat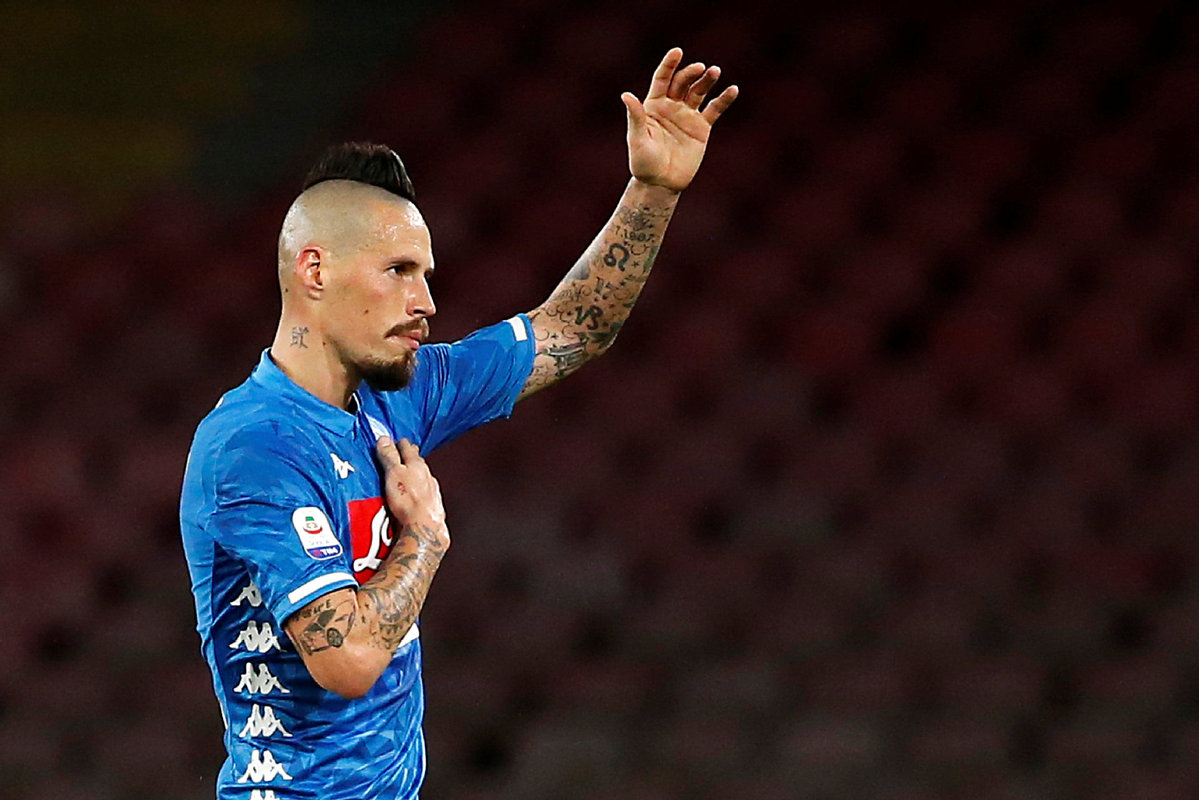 Marek Hamsik has pledged to give his all for Dalian Yifang after the Chinese Super League club on Monday confirmed his signing from Napoli.
The Slovakia international's arrival in China has been anticipated for weeks, with the CSL club reportedly agreeing to pay Napoli 20 million euros ($22.6 million) for the hotshot.
The 31-year-old was a firm fan favorite in Naples, and leaves the Italian side as its all-time leading scorer.
He is determined to maintain the stellar form that made him one of Europe's most coveted attacking midfielders.
"I will try all I can for Dalian Yifang, just like how I played for Napoli," said Hamsik, who had his first training session with his new teammates in Shanghai on Monday.
Such resolve is just what Dalian needs after the Liaoning province club endured a difficult return to the CSL last season following promotion in 2017.
Despite splashing a combined $58 million on former Atletico Madrid attacking duo Yannick Carrasco and Nicolas Gaitan, as well as another $7 million on defender Jose Fonte, Dalian found itself battling for survival last term before finishing 11th, just three points off relegation.
Club manager Zhou Jun has challenged Hamsik, who has signed a three-year deal worth a reported $10.2 million per year, to lift Dalian into title contention.
"I have two expectations of you-the first is that you show your great skills and professionalism as a soccer star on the pitch," Zhou told Hamsik.
"Also, I want you to be a role model for your teammates to help the team to grow. With a team effort, I hope we can win back a league title as soon as possible."
Dalian is a name synonymous with soccer success, with the legendary Dalian Wanda club winning four league championships between 1994 and 1998.
In 2000, Dalian Wanda became Dalian Shide when the Wanda Group sold the club, and 12 years later it quit the CSL.
Now, with the world-class Hamsik on board, the club's latest incarnation is hopeful of recapturing its former glory.
Dalian has also shaken up its coaching roster, and last week confirmed South Korean Choi Kang-hee as the replacement for former German boss Bernd Schuster.
The 59-year-old Choi earned a name for himself at Jeonbuk Hyundai Motors, which he helmed to two AFC Champions League crowns, in 2006 and 2016, and six Korean top-flight titles.
The club has further bolstered its ranks with the acquisition of five Chinese internationals-midfielders Zhao Xuri and Qin Sheng, and defenders Zhao Mingjian, Li Jianbin and Yang Shanping.
"Coach Choi worked at Jeonbuk Hyundai Motors for 14 years. You stayed in Napoli for 12 years and I served Shanghai Shenhua for 11 years," Zhou addressed Hamsik.
"We have all achieved something at our old clubs. We could choose to live easy lives, but we have given them up to come to Dalian.
"It's because we want to take our soccer dreams to new heights.
"Dalian had success in a different era. So let's try to create a new legend for the club."