Mutual trust will pave way for trade deal
Share - WeChat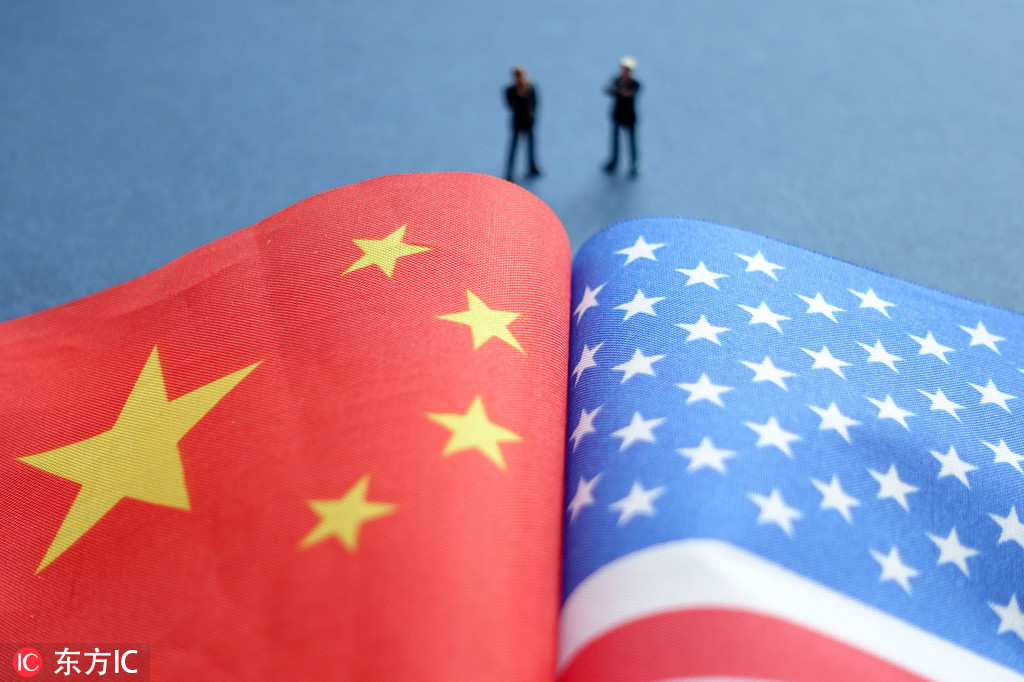 Experts say cooperation, especially in technology, is crucial to stable Sino-US ties
China and the United States can steer clear of collisions and meet each other halfway to reach consensuses on trade issues, experts said.
Their words came amid a string of positive signals showing the two countries have sped up their efforts to narrow differences at the negotiating table and foster cooperation.
President Xi Jinping said on Friday that China would like to address the problems of economic and trade frictions with the US in a cooperative way to promote the conclusion of a deal accepted by both sides.
Xi made the remark while meeting with US Trade Representative Robert Lighthizer and US Treasury Secretary Steven Mnuchin in Beijing. The meeting came after the conclusion of two days of high-level economic and trade consultations.
He added that both nations should make more efforts for a win-win deal.
Xi and US President Donald Trump agreed in December to halt new tariffs for 90 days to allow for talks. Since then, intense negotiations have been conducted, aiming for a resolution of the yearlong trade dispute ahead of the March 1 deadline.
Chinese and US consultation teams are scheduled to resume talks in Washington this week. Cautious optimism was brewing.
Wei Jianguo, vice-president of the China Center for International Economic Exchanges, said the two sides will be able to sort out their friction and reach a deal in future discussions, as long as they foster greater mutual trust.
Wei stressed the cooperative nature of China-US economic and trade relations. More common ground should be identified to stabilize the relationship, while it's impossible to resolve challenges without cooperation, he said.
Chen Qi, who runs the Carnegie-Tsinghua Center for Global Policy's US-China Track II dialogue, went further, saying technological cooperation is indispensable.
"Despite their differences, China and the US face the same pressure to create innovative technologies and meet market demand," Chen said.
"Effective technological competition, scientific research exchanges between the two countries and industrial specialization are good news for everyone. Technological blockades will damage both countries."
Zhou Mi, a research fellow at the Chinese Academy of International Trade and Economic Cooperation, said companies in China and the US alike are eager to continue their cooperation.
"Chinese companies have cooperated with foreign companies in a wider range of areas, with their cooperation with US enterprises among the most important partners," he said.
January marked the 40th anniversary of the establishment of China-US diplomatic relations. Bilateral trade grew from less than $2.5 billion 40 years ago to more than $630 billion in 2018. Over the same period, two-way investment rose from practically nothing to more than $240 billion.
Though China currently runs a trade surplus with the US, Zhang Yansheng, a CCIEE senior researcher, said the two countries will ultimately have more balanced trade, since the Chinese economy today is very much driven by consumption.
An increasing number of Chinese consumers have a greater appetite for high-quality goods and services imported from the rest of the world, including the US, Zhang said.
China's retail sales have seen solid growth, especially the e-commerce sector. Consultancy Forrester estimated in a report that China's online retail market would hit $1.1 trillion in 2018, and the number is projected to reach $1.8 trillion by 2022.