Hopes of recovery on horizon as sales drop eases in Jan
Share - WeChat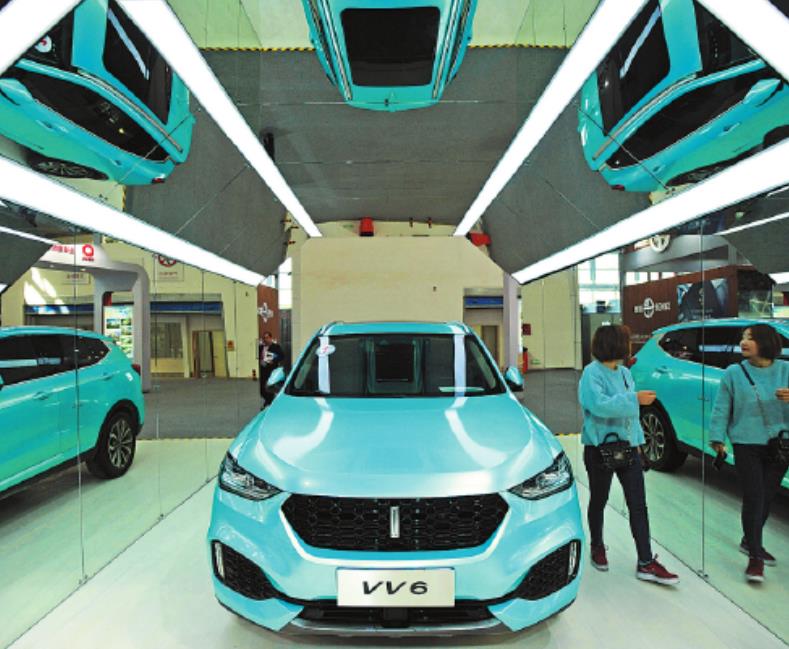 Many manufacturers feel optimistic about market despite chill felt last year
The downward spiral in China's car market has started to show signs of abating, with passenger car retail sales in January slipping 2 percent year-on-year, the smallest fall since June 2018.
The figure from the China Passenger Car Association turned the curve upward for the first time since April.
Jefferies Hong Kong said it hints at a recovery of the Chinese market, which saw its first fall in more than two decades last year.
"Retail sales growth is more critical during this pivoting point, as it tells us the actual car demand," said Patrick Yuan, an analyst at the investment bank, in a research note.
Compared with retail sales, the wholesale figure remains disastrous at 18 percent-year-on-year. But Yuan said that was probably because some carmakers chose to slow down wholesale in an effort to cut dealer inventory.
The inventory index fell from a dangerous 66.1 percent in December to 58.9 percent, according to the China Automobile Dealers Association.
A reasonable index should be lower than 50 percent.
According to Jefferies Hong Kong, some companies including SAIC, Changan and GAC Trumpchi are likely to post lower wholesale figures because of their higher inventory levels in 2018, but industry-wide destocking was largely done by the end of January.
Many carmakers posted positive January results, which may help to reassure the potential of the world's largest automotive market.
Great Wall Motor, China's largest SUV maker, saw its sales in the month edge up 1.25 percent year-on-year to 111,715 units.
The Haval-branded SUVs, which accounted for the lion's share of its total sales, went up 9.81 percent.
But the upmarket Wey had a poor performance, slumping almost by half from the same month last year.
The company is upbeat about the market, expecting its sales to go up 14 percent from 2018 to 1.2 million vehicles this year.
In the same month Geely sold 158,393 vehicles, up 2 percent year-on-year. They accounted for more than 10 percent of the largest Chinese private carmaker's sales goal in 2019.
GAC Motor's two Sino-Japanese joint ventures, GAC Honda and GAC Toyota, both saw an auspicious start.
GAC Honda delivered 73,617 cars in January, up 1.61 percent, while the sibling GAC Toyota's sales skyrocketed 74.82 percent year-on-year to 79,700.
But lackluster sales and destocking efforts at five other subsidiaries offset the two companies' achievements, generating a 0.21 percent dip year-on-year for GAC Motor as a whole.
SAIC Motor, partner of Volkswagen and GM, did not have a rosy start, with its sales falling 14 percent to 610,000 in January. But it is still better than the industry's average 17 percent fall in wholesale.
Song Tingting, an automotive analyst at SWS Research, said the fall is mainly the result of the carmaker's efforts to cut inventories at its dealers to alleviate financial pressure on them.
Lin Fan, an analyst at Huajin Securities, said SAIC is expected to see positive growth from the second quarter when the overall industry starts rebounding.
Cadillac, locally produced at SAIC Motor's joint venture with GM, reported its best ever January in China, with 26,801 models delivered, up 3.1 percent year-on-year.
The premium brand's Chinese sales surpassed 200,000 units for the first time in 2018, up 17.2 percent from the previous year and outpaced the overall luxury vehicle segment in the country, which overtook the United States as its largest market in 2017.
The German trio of Audi, BMW and Mercedes-Benz, which have long seized the top three positions in China's premium market, saw robust growth in January.
Mercedes-Benz delivered a monthly record of 71,697 vehicles in China, up 4.8 percent from January 2018.
The sales accounted for 39 percent of its total global deliveries, which fell 6.7 percent year-on-year.
BMW sold 63,135 cars in the country, an increase of 15.5 percent, the highest among the three.
The company said much of the growth is due to the availability of the BMW 5 Series and the locally produced BMW X3, which went into production in China last summer.
BMW is to launch 21 models this year in China, its largest ever product offensive. Last month, Chairman Harald Krueger said he expects BMW's sales in the country to see "high single-digit growth" this year.
Audi, which has been the best-selling marque, sold 63,888 cars in January, up 5.3 percent year-on-year. The carmaker said it "laid a solid foundation for great results again in 2019".