Nation sinks its teeth into chocolate
Share - WeChat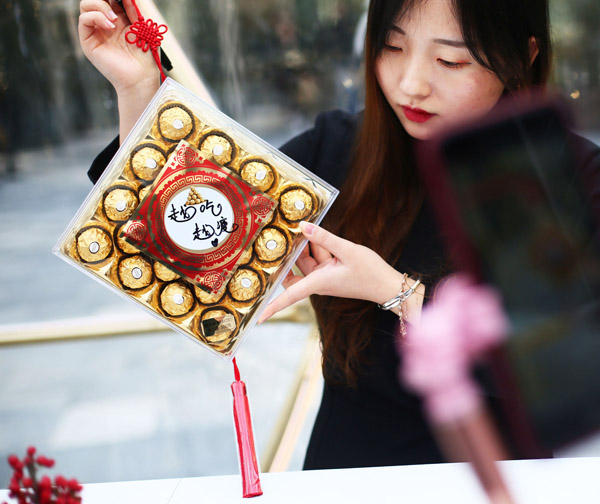 Ultimate aim
Amanda Xing, marketing director of Dove, said that since the company entered China in the 1990s, it has never abandoned its mission to educate consumers about "what a quality chocolate should taste like". The ultimate aim is to make chocolate more a part of everyday life, since it is not yet the first snack that springs to people's minds.
Dove, a Mars subsidiary sold as Galaxy in the United Kingdom and some other regions, promotes its "fragrant milky taste, as smooth as silk" to Chinese consumers. Its advertising slogan "Outright enjoyment of smoothness" has convinced many Chinese that chocolate should have a silky taste.
Dove has become one of the most popular chocolate brands among Chinese, not just because it is affordable, but also because its promotion and taste is as advertised.
In China, a country that, according to an old saying, worships "food as the first necessity of man", taste is the most important factor to judge fine chocolate. But most chocolates bought in the country are for gifts or ceremonial use, such as wedding candy, rather than for daily snacks.
Chinese need gifts for numerous traditional occasions - for example at Lunar New Year, a time when people exchange greetings by offering little treats. Small gifts are also presented to teachers, parents-in-law, those who are ill, or when you visit people in their homes. Souvenirs are also bought during overseas travel, and chocolate is also the ideal gift on such trips.
For young Chinese men, chocolates, especially luxury ones that are delicately packed, have become a "must" to show their love to their girlfriends. During Chinese Valentines' Day, which fell in August last year, five of the top 10 items sold online in the country were chocolates, according to a report by Alibaba.
Western manufacturers are aware of this preference and are competing to sell their products with localized marketing strategies.
Mauro De Felip, general manager of Ferrero China, said that since his company entered the Chinese market decades ago, it has been trying to make chocolate a "must-have" in Chinese culture.
"We understand that the Italian and Chinese cultures are closely connected and share a lot in common - we both respect tradition, family values, cherish friendship and emotional bonding. These factors have been driving the evolution of our brands and are reflected in every way we communicate with our consumers," he said.
During Lunar New Year this year, the Italian brand launched a TV commercial telling the story of Chinese parents learning the language to welcome their Italian daughter-in-law. It also released a festive package called the Chinese Knot Rocher pack, a product that featured in the commercial as a "mediator" bonding two generations together from thousands of kilometers away to celebrate Spring Festival.
With China opening its doors to the West, interest in goods from other parts of the world has increased enormously in recent years, which is why giving away imported products almost automatically has become commonplace.
Golden Ferrero Rocher chocolate pralines ideally meet Chinese consumers' requirements for a good gift - a high quality, well-known brand and exquisite packaging which, on top of all this, is considered to bring good luck in Chinese culture thanks to the round shape and golden color.
Liao Mei, a Chinese living in Los Angeles, said she remembers her parents buying Ferrero Rocher for their family members every time they traveled back to China, much to the delight of their relatives.
"The packaging is simple, but it's the fact that we have an affinity toward gold," she said. "It's a sign of prosperity and wealth, which are things we always wish upon other people."
Chen Yiming, a food industry analyst, said that when it comes to giving presents, it is always important for Chinese that the recipient recognizes that they are of high quality, have a certain material value and match the occasion in terms of what they symbolize.
"For Chinese, a very original and individual gift is not so important. We prefer choosing well-known premium brands that the recipient knows, so he or she can adequately assess our generosity," Chen said.
Today, the new generation of consumers has a much deeper understanding of chocolate, including its taste, manufacturing process and culture. This knowledge will probably lead to an increase in chocolate consumption and see some consumers turning to more high-end products, Chen added.
Middle-class consumers who want high quality and are happy to pay for it are the reason luxury chocolate brands such as Godiva and smaller boutique chocolatiers have emerged in first-tier cities.
Belgian maker Godiva had about 100 retail outlets in China at the end of last year, and plans to triple that number by next year. All its stores are designed in a luxurious style reminiscent of a jeweler's shop.
Godiva's premium selection of gift-wrapped chocolates saw its revenue in China in 2017 rise by 193 percent to 308 million yuan ($46.9 million), far outstripping its rivals.
Containing 36 pieces, the Godiva 2019 Chinese New Year limited edition chocolate box cost 1,258 yuan. But despite the relatively high price, the boxes were popular among consumers, according to a saleswoman at Godiva's shop in the Sanlitun area of Beijing. She said the box was one of the store's bestsellers during the Lunar New Year holiday, as it features koi, a colored type of carp that represents luck among Chinese.
Most Popular