World leaders convey Spring Festival greetings, stressing relations with China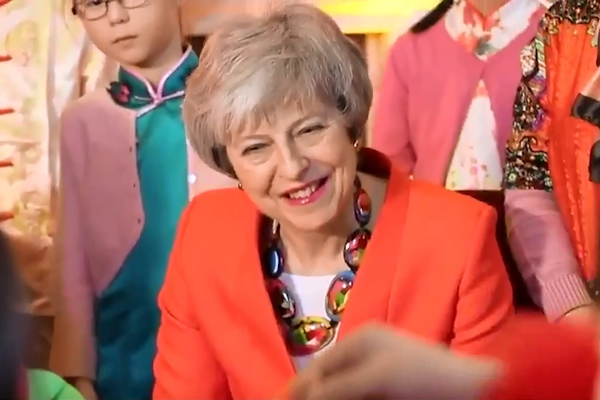 On Thursday, British Prime Minister Theresa May hosted a Chinese New Year celebration reception at No. 10 Downing Street, which was specially decorated with cherry blossoms and traditional well-wishing Chinese couplets.
Affirming the important role that the Chinese community plays in British life, May said, "I'd like to wish everyone celebrating Chinese New Year a prosperous and auspicious Year of the Pig."
Britain attaches importance to its relations with China, May said, recalling the important consensus reached last year by both sides in promoting the "Golden Era" in bilateral relations. The British side expects to work together with China to push forward bilateral cooperation in all sectors for more fruitful outcomes, she added.
French President Emmanuel Macron conveyed his best wishes to all Chinese around the world celebrating the Spring Festival.
"To all those who celebrate the Lunar New Year in our country and in the world, I say: best wishes for this year under the sign of the Pig," Macron wrote on Twitter on Tuesday.
Speaking to Xinhua, former French Prime Minister Jean-Pierre Raffarin, said: "I wish all our Chinese friends a very happy New Year's Day. Happy New Year! Happy New Year of Pig !"
"The pig is a friendly animal ... that shows consistency... This animal is a good symbol of the energy that must be used today to develop our countries and find the prosperity that I wish to you," he added.