Chongqing lights the way
Share - WeChat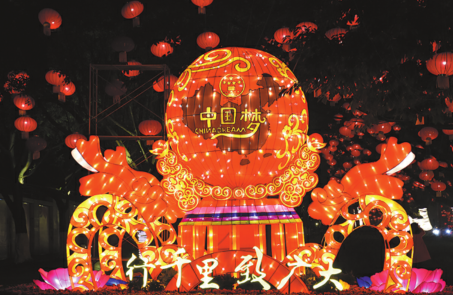 City's upgraded urban lighting system will be more functional and artistic
As the Chinese New Year is around the corner, the streets in Chongqing are getting more beautiful and festive with various lighting decorations, attracting visitors from both home and abroad.
By 2022, however, it won't just be festival lanterns attracting attention, as the city is set to be become a beacon for urban lighting systems. Boasting a unique natural landscape, Chongqing's upgraded system will help create a world-class nighttime cityscape view.
"In a few years, Chongqing urban landscape lighting will become a new attraction of the city," said Zhang Shuyu, deputy director of Chongqing city management bureau, at a forum in early January discussing the city's nighttime landscape and lumia art.
"We are going to use the lights to tell the stories of Chongqing in order to promote local tourism and a moonlight economy."
Chongqing, a metropolis of more than 30 million people in Southwest China, is famous for its three-dimensional geographic location as the city is surrounded by rivers and mountains.
In recent years, it has become a hot travel destination as many people are drawn by its delicious food and natural scenery.
The city's downtown looks futuristic with its skyscrapers, while at the same time, with some 3,000 years of history, it still preserves local culture and lifestyles.