World welcomes Chinese New Year
Share - WeChat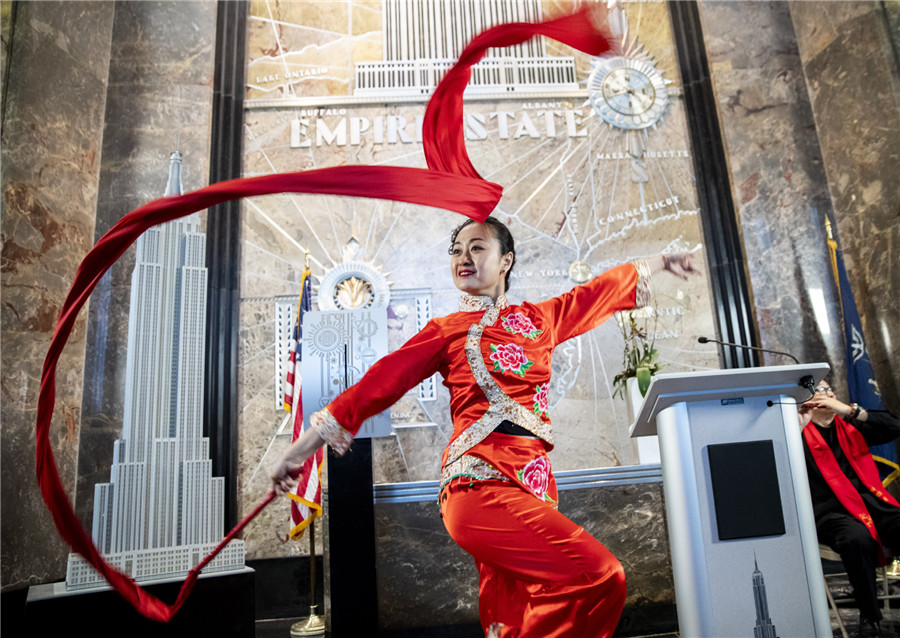 New York to host colorful cultural parades, performances
By Hong Xiao in New York
As New York is home to the largest Chinese population outside Asia, Lunar New Year has long been one of the most popular festivals for the whole city to celebrate together.
Boisterous and colorful parades held in Manhattan, Queens and Brooklyn are always among the most anticipated events.
Firecrackers, red and gold confetti, decorated floats, stunning outfits, lion dances, martial art performances and more, make the citywide street party the holiday's biggest gala.
The New York Philharmonic's annual Lunar New Year concert will return to the Lincoln Center.
"To celebrate Chinese New Year in New York, to ring out the old year and ring in the New Year with an audience in the West by performing my new work, it's so meaningful," said Tan Dun, a Chinese-American composer and conductor.
A concert series called Chinese New Year Spectacular will also return to Carnegie Hall this year, which will feature Chinese and United States musicians.
Charles Sullivan, who has promoted the concert during its five years, told China Daily he hopes to take this advantage and through more efforts to "further nurture the friendship of America with China through the performing arts".
The Metropolitan Museum of Art in New York, which is the largest art museum in the US, will host two performances on traditional Chinese zithers, to "celebrate the Lunar New Year with the feeling of sonic scenery", according to its website.
Embracing diversity and inclusiveness, New York public school students have had an extra public holiday to observe Lunar New Year since 2016.
To help more children learn about traditional Chinese culture, local organizations will host family festivals, featuring music, crafts, dumpling making and storytelling.
During the Chinese New Year celebrations in New York, Westerners can wonder at the splendor of ancient Eastern culture, and Chinese people can forget they are in a foreign land.
"I see Chinese culture finally taking root in the US and it will not leave, because many of the innovations we have and the cultural glamour of Chinese people are adored here in the US," said Michael Daly, a New York resident.