Manufacturing, services power up electricity consumption in 2018
Share - WeChat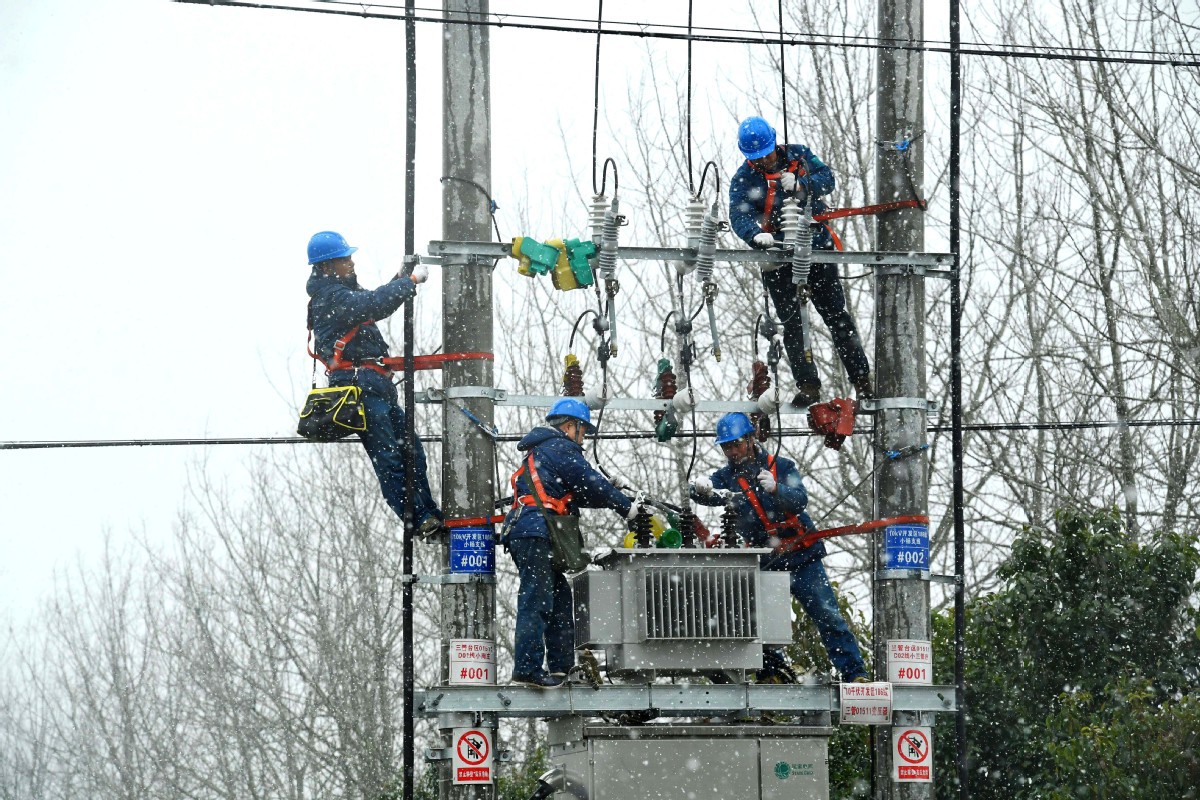 Electricity consumption in China, a key indicator of economic activity, reached 6.84 trillion kilowatt-hours in 2018, an increase of 8.5 percent year-on-year, according to the China Electricity Council.
Electricity consumption hit a six-year high since 2012, with a year-on-year growth of 1.9 percent. This is against the backdrop that China's year-on-year GDP growth reached 6.6 percent in 2018, according to the National Bureau of Statistics.
Yu Chongde, vice-president of the China Electricity Council, said the rapid growth rate is due to the strong growth of power consumption in China's manufacturing industry and service sector, while China's ongoing campaign to switch from coal to electricity, part of the country's efforts to clean up pollution, also contributed to the rapid growth of power use.
Growth in electricity consumption is usually considered a barometer of economic development, monitoring the trend and trajectory of a nation's economic activity.
Feng Yongsheng, a researcher at the Chinese Academy of Social Sciences, said the power consumption rise rate last year well reflected economic growth. The power growth rebound shows that the policies to support the real economy, including the tax reduction, regulatory reform and structural adjustment policies, have been effective.
Growth of the real economy, especially the industrial sector, led to a power use rebound last year, while providing sustainable momentum for economic development, he said.
The industrial sector's power consumption rose 7.2 percent year-on-year to 4.72 trillion kilowatt-hours last year, with power use in high-tech and equipment manufacturing climbing 9.5 percent from the previous year, according to the China Electricity Council.
The service sector, on the other hand, consumed 1.08 trillion kilowatt-hours last year, 12.7 percent up compared with the previous year. Electricity used by information transmission, software and information technology services continued the rising trend in recent years, surging 23.5 percent year-on-year, it said.
"Electricity demand, resulting from the country's energy transition from coal to electricity for winter heating, reached 150 billion kilowatt-hours last year, accounting for 25 percent of power use growth," Yu said.
The CEC forecast that the growth rate of China's power consumption will fall to around 5.5 percent in 2019 based on normal annual precipitation and no large-scale and drastic temperature changes.
According to Feng, the power consumption growth rate might be slightly higher than the economic growth rate this year, underpinned by deepening supply-side reform in the power sector, and the increasing power demand arising from supportive macro policies.
"Despite the uncertainties that affect China's economic growth, supportive policies including tax cuts, State-owned enterprise reform and policies bolstering the private sector will provide long-term momentum for the economy, and we expect GDP as well as power consumption this year will continuously retain medium-to-high speed growth," he said.
Zhou Lanxu contributed to this story.