Beijing school forms key partnership to boost operations
Share - WeChat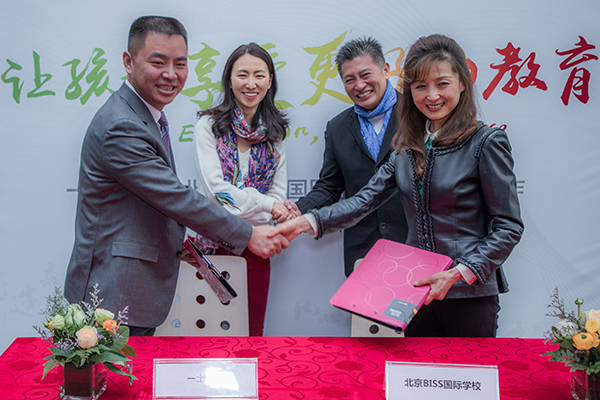 The Beijing BISS International School seems to have found a way out from its recent troubles, forging a strategic partnership with Beijing-based ETU Education. The deal will cover operations, management, marketing, enrollment and curriculum development.
BISS, founded in 1994, is one of Beijing's oldest international schools. The sister school of the ISS International School in Singapore, BISS was renowned for its strong foreign faculty, expertise in International Baccalaureate programs and success in sending its students to world-class universities, including Harvard, Stanford and the National University of Singapore.
However, a few months ago it ran into financial trouble, according to a report by The Beijing News. Later, teachers joined a strike to force the school owner and board of directors to pay their dues.
The local educational authority made continuous attempts to help BISS get out of trouble until ETU Education made the decision to cooperate with the school.
Li Yinuo, the co-founder of ETU Education, says about the partnership: "BISS is a respectable international school with a long history and proven track record when it comes to the IB program.
"We believe that this comprehensive collaboration between ETU and BISS will offer two different, but complementary, education paths for students from different backgrounds and with diverse needs."
ETU Education, which was started in 2016, is an emerging innovation project in China that seeks to offer students experiential learning courses by developing culturally-rich curriculums that combine China's standard syllabus with advanced teaching methods around the world.
In this sense, Li says, ETU's China-based innovative education efforts will also provide BISS with a unique Chinese perspective to its localization of the IB curriculum in China, and use its global resources to improve the learning and teaching standards of BISS.
In the past two months, ETU has helped BISS resolve its financial problems and stabilize its faculty, ensuring that it will be back to normal for the next semester.
This summer, ETU and BISS will launch exchange programs for both teachers and students with Singapore-based ISS.
Elvis Tan, director of BISS, says the partnership with ETU is a milestone for BISS which has been in China for the past 25 years, adding: "We will continuously work together to provide the kids, regardless of their cultures and nationalities, a better education and a better future."
Zhou Jing, the mother of a BISS student, says she thinks the cooperation is an efficient way for BISS to overcome its difficulties.
"I think ETU is a burgeoning, promising project, and hopefully it will bring vigor and new blood to BISS' development," Zhou says.
She says she sent her daughter to BISS in 2015 because it boasted a high-quality faculty and IB courses.
"ETU emphasizes the importance of learning Chinese culture, which is a good complement to the internationalized courses offered by BISS," says Zhou.
"Students should first find their own cultural identity before they learn how to embrace the world, but it takes time for both sides to better integrate, especially in curriculum building."
xingwen@chinadaily.com.cn
(China Daily 01/23/2019 page20)
Most Popular