Chinese companies lead push into new retail landscape
Share - WeChat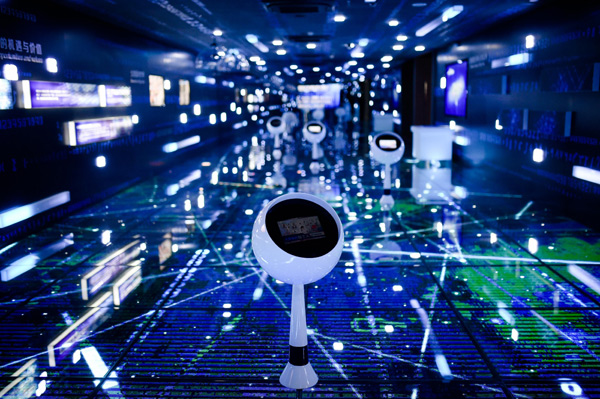 NEW YORK - Following exponential growth in the e-commerce industry and a surge in technological innovations, Chinese companies have been leading the way in the changing retail landscape.
At an annual conference organized by the US National Retail Federation this week, Chinese online shopping platforms and mobile payment solution providers were among the most popular exhibitors as their foreign counterparts and potential business partners wanted to learn about how they met the needs of ever more demanding consumers.
"Many of today's technologies in the US and Europe are already yesterday's technologies in China," said Rod Sides, vice-chairman, Deloitte LLP, who leads the US Retail and Distribution practice.
Groceries is next frontier
Chinese internet giants are changing how consumers shop for groceries.
It started in March 2015 when Alibaba launched its Hema Fresh concept. The store offers freshly cooked food from produce it sells and integrates the online and offline experience through a mobile app that accepts payment and introduces products. Freshness also doubles as a warehouse, providing 30-minute grocery deliveries for those living within 3 kilometers of a store.
At its exhibiting booth during the conference, Hema Fresh showcased its conveyor belt system that saves the manual efforts needed to transport goods within stores, and its Robot.He restaurants that offer fast, accurate and fresh deliveries. The seamlessly integrated online and offline grocery shopping experience put the consumer experience at the center.
Hema Fresh now has more than 100 stores in 19 cities of China. It offers fresh products from more than 100 countries and regions. More than 40 percent of its products are from overseas. Online orders account for more than 60 percent of total store sales for stores in operation for 18 months or longer.
Analysts saw Hema Fresh as the best example of Chinese companies' efforts to push forward smart retail initiatives, which are making Chinese consumers more demanding and sophisticated.
Many Chinese companies followed suit. The technology developed for Hema Fresh has already been adopted by more than 30 retailers in China. RT-Mart, China's leading hypermarket chain, is implementing the technology across all its stores.
JD.com, another large e-commerce platform in China, has announced plans to open 1 million franchised convenience stores within five years. It has also introduced drone delivery project to solve the last-mile delivery problem.
Big data is key to smart retail
Although the concept is not new anymore, the use of big data to analyze trends, customer behavior and manage retailers' operation is a big part of the overall blueprint for smart retail, analysts have said.
China's biggest internet companies are building the infrastructure to support big data, particularly through the proliferation of mobile payments and growing cloud-computing operations, Bloomberg Intelligence (BI)'s latest report on China's retail industry.
The report showed with a combined 1,400 million users of WeChat Pay and Alipay, mobile-payment transactions are expected to surge to about 1,270 trillion yuan ($187.4 trillion) in 2027 from 120 trillion yuan in 2017.
Foreign retailers have adopted Chinese electronic-payment systems in order to attract more customers.
Citcon, a cross-border payment solution provider, has partnered with over 5,000 top merchants such as DFS Group, LVMH Group, Kering Group, Mall of America, and Nordstrom, among others, to offer Chinese consumers the choices of paying through methods they are most comfortable with, namely Alipay, WeChat Pay and UnionPay QR code payment.
Zhang Lu, a marketing manager at Citcon, said two years ago the company had to introduce these payment methods to retailers in the United States. Now at the conference, they were approached by many retailers based in US tourist destinations.
"The presence of China's internet innovators in this space will likely spur industry consolidation over the next 10 years," said the report.
According to the estimates put forward by BI analysts, rising wealth could result in more than half of China's 1.4 billion people having passports in 10 years, making the nation's tourists even more important for global retailers.