Cash injection fuels hope for Borgward's future
Share - WeChat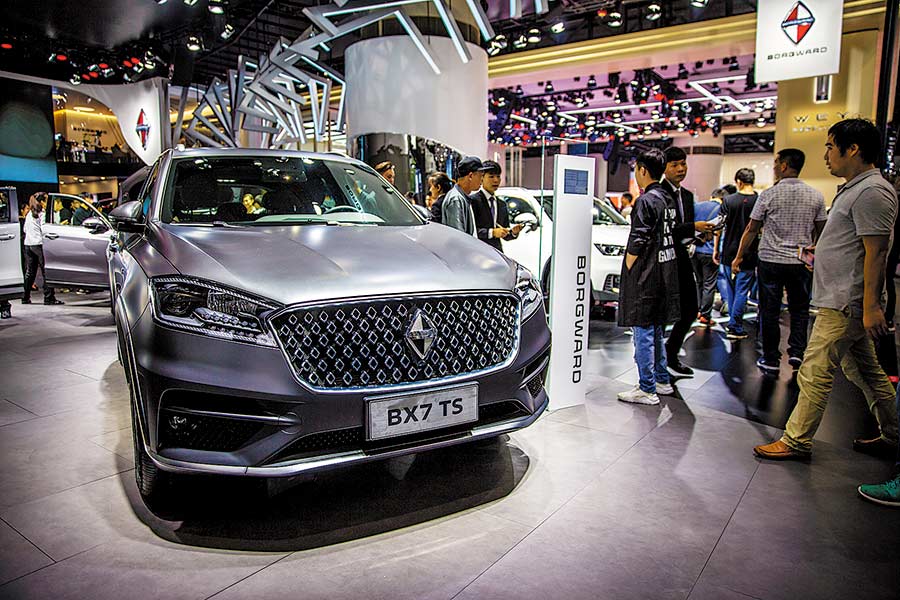 Borgward is likely to see a turn for the better in 2019 now that its owner Foton Motor has introduced partners to finance the manufacturing plan and help boost sales.
Changsheng Xingye, a company based in Xiamen, Fujian province, has acquired a 67 percent equity in Borgward for 3.97 billion yuan ($578 million), said Foton in a filing to the Shanghai Stock Exchange on Dec 28, 2018.
Changsheng will repay Foton's loans of $621 million to Borgward within three years.
Ucar, a company specializing in ride-sharing and car sales, is the guarantor of the deal between Changsheng and Foton.
Ucar said its involvement in the equity transfer will enable it to "have lower purchase costs and overall operational costs" and explore in-depth cooperation with Borgward in terms of car manufacturing, sales and fleet management.
On the same day the equity transfer deal was signed, Ucar announced it set up a coordinated sales group with Borgward, which will leverage Ucar's sales network and resources.
Ucar itself is the largest car buyer in China, with its fleet of 400,000 vehicles across 300 cities in China. It has 80 million users in the country.
The orders placed by and through Ucar are likely to help Borgward to start a healthy trade, said analysts.
Once a popular brand in 1950s and 60s Germany, Borgward now produces five SUV models in China, but its sales have been lackluster, with around 44,000 sold in the country in 2017.
The new investor, Changsheng, is expected to finance Borgward's blueprint outlined in May.
Among others, it plans to introduce at least two new models a year and to produce sedans within three years.
Without new investment, the plan was unlikely to materialize.
Foton's statement showed that Borgward's total assets stood at 11.81 billion yuan ($1.74 billion) by the end of August, with debt standing at $971 million.
Borgward executives said ahead of the deal that the company welcomes new investors.
Analysts said Borgward is a good deal for investors.
Among others, it has permission from the government to produce both gas-powered cars and new energy vehicles.
Also, it has a modern production system and a complete design and development team.
It owns a manufacturing facility in Beijing, with an annual capacity of 100,000 units, which the carmaker said is built to similar standards as Audi.
Borgward has more than 2,000 engineers and technicians from 12 countries, accounting for some 40 percent of its staff.
Some of them had held senior posts at leading carmakers including GM, BMW and Rolls-Royce.
The carmaker announced plans in September to make inroads into the US market in 2021 as part of its global expansion strategy. It has been exporting its vehicles since 2016.
It is exploring new technologies including autonomous driving in the Silicon Valley, where it built a research and development facility late last year.
The technology is to be built into its production cars within three years, said Borgward.