German brand Borgward Group takes the high road to success
Share - WeChat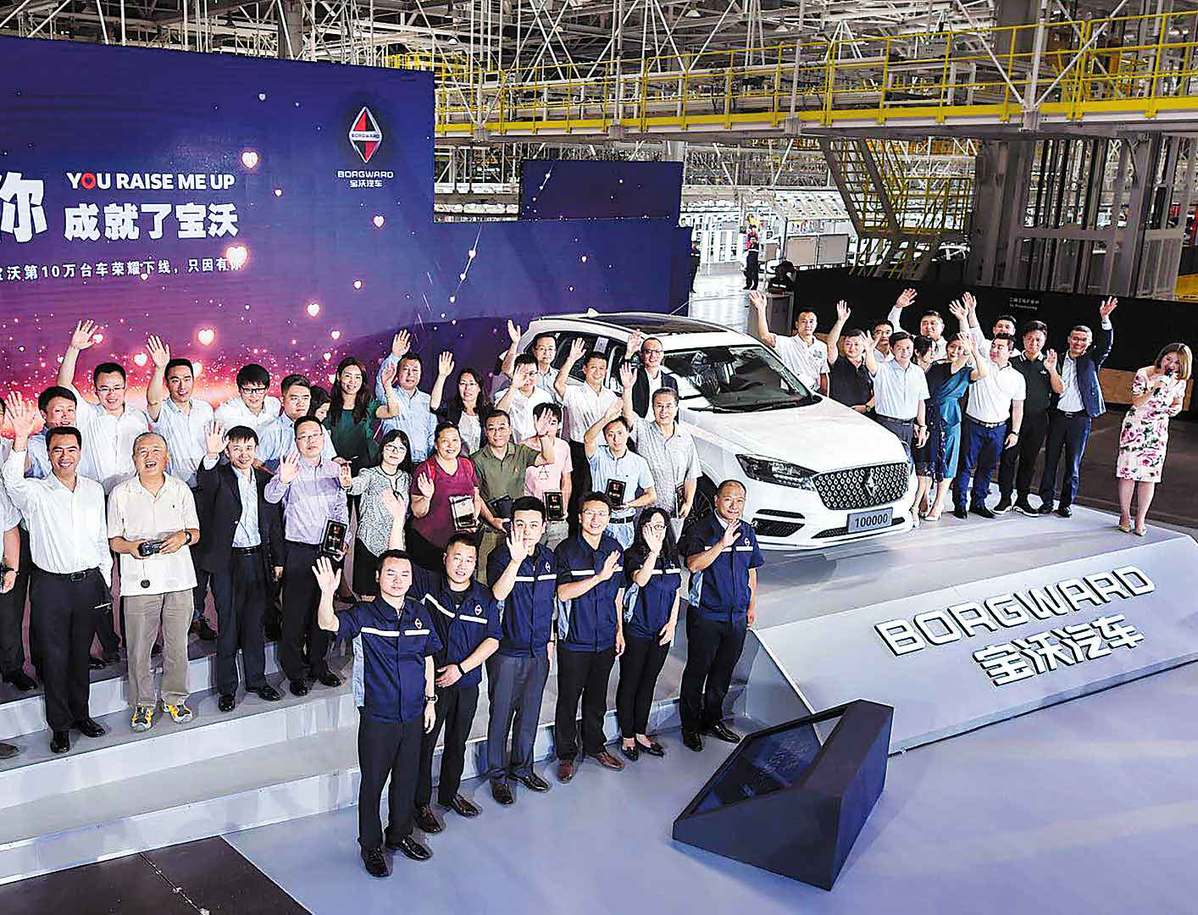 Borgward Group AG is making safety, trust and reliability a top priority, as it blazes a trail to get a better foothold in the competitive Chinese car market.
The German brand-owned by Chinese automaker Foton-released its "Courage Driven by Trust" strategy when it celebrated the 100,000th model rolling off the assembly line at its Beijing plant on Thursday.
The feat came within three years of Borgward Group's establishment in China, although the German brand dates back to 1919.
Borgward said its strategy, which was based on its extensive studies, concerns not only customers but also dealers and suppliers.
At the ceremony to celebrate Borgward Day in May, the carmaker defined itself as a brand with the spirit of engineering and said it aspires to offer the safest models to customers.
"We not only build cars but also deliver a sense of safety," said Borgward President Jason Yang at the ceremony.
On Thursday, the carmaker reiterated that the models' unique selling proposition is "Borgward Safety Time Space".
It includes a series of safety functions including four-wheel drive, emergency calling ability, a high proportion of ultra-strength steel in car bodies and an electric "fence" that will prevent cars from being stolen.
These are the fruits of work done by its global research teams. Borgward now has three major research and development centers worldwide, each of which has its own tasks while working in unison to achieve synergy.
Borgward said it also assures its customers with a policy that they can have the best price.
"If the price falls within a year of their purchase, customers will have that part redeemed," Yang said, adding that such a move was an industry first in China.
"Our prices are reasonable, which means even if there are fluctuations in the market, we can ensure stable prices."
Borgward now has a lineup of five models, all of them SUVs.
The BX6 and the BXi7 were unveiled in May, with the BX7, BX7 TS and BX5 having been in the market for a while.
Yang said Borgward models meet five global standards and are produced in accordance with European Union standards, which are the strictest in the world.
Borgward also highlights its dealers in its strategy. "One thing is that we will never force them to take in too much inventory," Yang said.
"We should keep far-sighted. We all know that too much inventory hurts dealers, and if they are hurt, then ultimately we are hurt."
The carmaker said it has set up a division called the Dealer Satisfaction Index, which polls dealers on a regular basis and ensures dealers' complaints are solved within 24 hours.
It said all of the efforts are designed to create a sense of reliability for dealers so that they can better cooperate to boost Borgward's performance and improve dealers' profitability.
Suppliers are another highlight in Borgward's newly released strategy. Yang said in China's automotive industry, many suppliers cannot receive their payment as promised and Borgward wants to change that.
"It is not a whim but something well thought-out. You are happy (if you are paid on time) and we can enjoy the best parts and service, so it's a win-win," he added.