State Grid Corp sees greater role for social capital
Share - WeChat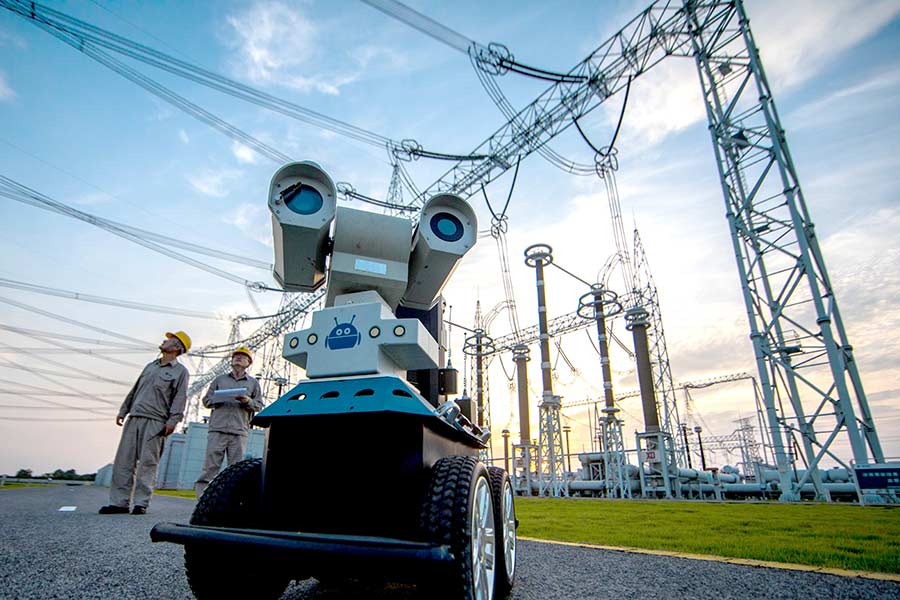 State Grid Corp of China, the world's largest electricity utility company, announced on Tuesday that it would engage social capital in the construction of and investment in ultra-high-voltage (UHV) power transmission projects, among a number of other measures to accelerate mixed-ownership reform.
"State Grid will proactively engage insurance companies, large-scale industrial funds, and State-owned investment platforms in regions covered by UHV programs to take part in the programs," said Yang Xinfa, director of the company's reform office.
"Together we will invest in and operate new UHV direct current projects through establishing joint ventures, to promote the development of power grids and share the fruits of reform."
UHV is a world-leading power grid technology innovation originating in China, and is of great significance in safeguarding national energy security, promoting power grid upgrading, and realizing the optimal allocation of energy resources, the company said in a news release.
It added that, in the joint development of UHV projects with social capital, it will adhere to the cooperation and win-win principles, while also meeting the requirements of State-owned enterprise reform and the needs of power grid development.
Apart from introducing social capital to the UHV program, the company will also look to deepen mixed-ownership reform in a wide range of its business sectors, including electricity distribution and trading, energy service, equipment manufacturing, navigation operation, and electric vehicles.
Yang said mixed-ownership reform will be extended to the company's direct subsidiaries, both in the shareholding system and in corporate governance and operation.
Zhou Lisha, a researcher at the research institute of the State-owned Assets Supervision and Administration Commission, said the mixed-ownership reform of the company has an important role in the broader context of China's SOE reforms.
Since 2016, around 50 SOEs involved in three rounds of pilot mixed-ownership reform projects have implemented reform programs as scheduled, in industries such as energy, railways, telecommunications and civil aviation.
The company's mixed-ownership reform also overlaps with the country's electricity reforms related to power pricing, trading and distribution, according to Zhou.
"State Grid promotes mixed-ownership reform using step-by-step methods that differ in business sectors," she said.
"Through such reforms, the subsidiaries' business potential will be further unleashed, because corporate development can be better coordinated through a mixed-ownership system."
In the power grid sector, reform mainly focuses on establishing joint ventures with social capital to operate UHV programs, power distribution, and comprehensive energy services, she said.
In equipment manufacturing and electrical device production, the company plans to list certain subsidiaries on the stock market.
It also aims to cooperate with strategic investors to establish industrial investment funds.
The company has already notched up progress in mixed-ownership reform in recent years in a number of areas.
A total of 25 power trading institutes the company operates have started shareholding reform, and electricities traded through market mechanism have reached 1.46 trillion kilowatts in the first 11 months this year, increasing 37.8 percent compared with that of last year.
It has been conducting 256 programs related with pilot work of new power distribution, and the number of private enterprise partners involved have increased to 36. Three mixed-ownership energy companies in Jiangsu, Sichuan and Hebei provinces have been established.
It has also been promoting mixed-ownership reform in emerging business sectors such as electric vehicles, information and communications, new energy, finance and energy services.
Xinhua contributed to this story.