UnionPay holds all the cards
Share - WeChat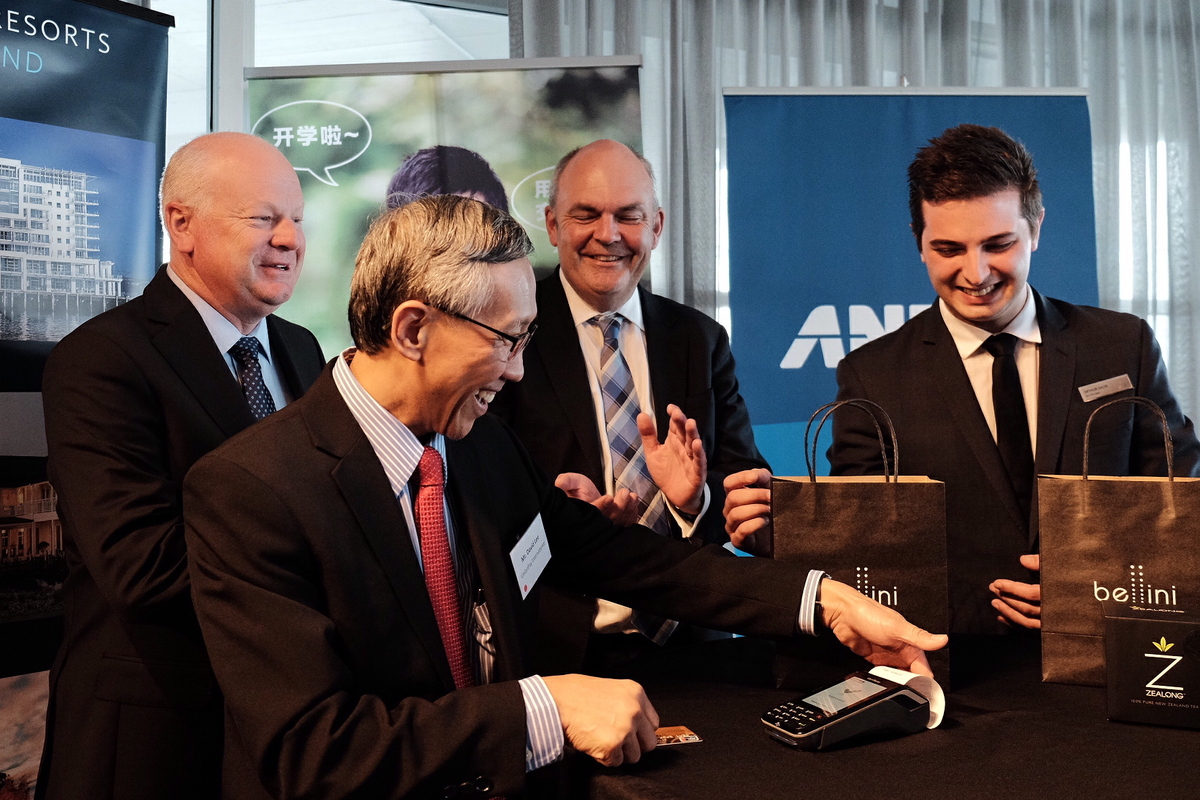 Financial firm's expansion supports BRI, enables two-way flow of talent, and helps travelers
China UnionPay, a Chinese bank card organization, is ramping up efforts to expand its business in overseas markets to support the Belt and Road Initiative or BRI, in addition to facilitating fast growing personnel exchanges between China and the rest of the world.
The number of UnionPay cards issued outside the Chinese mainland exceeded 100 million as of Oct 18. The volume of transactions via these cards grew more than 40 percent during the first three quarters of this year, said UnionPay International.
By Oct 18, these cards were issued in 48 countries and regions in all. Among them, BRI economies are major markets: more than 35 million cards were issued along the route, up 20 times from the pre-BRI level in 2013.
Among these markets, all of the 10 member states of the Association of Southeast Asian Nations and six Central Asian countries have a presence of UnionPay cards.
Besides, UnionPay is the No 1 card brand in terms of the number of cards issued in Laos, Mongolia and Myanmar.
"For UnionPay, the countries and regions involved in the Belt and Road Initiative are a priority. They are not only closely tied with China in many aspects but also are in need of infrastructure relating to transfer payments and digital payments," said Ge Huayong, chairman of China UnionPay, at the 10th Lujiazui Forum 2018 in June.
Apart from promoting both greater acceptance and larger issuance of UnionPay cards in these countries, the bank card organization has also been pushing ahead with the globalization of China's financial technology standards and helping those countries in need of transit networks for payments, such as Laos and Thailand, to build the networks locally, according to Ge.
"UnionPay has great potential for development in the countries and regions involved in the BRI. We are doing research on the local market demand and trying to improve our capabilities in offering comprehensive payment services," he said.
Zhao Yao, a research fellow of the Research Center of Payment and Settlement, which is part of the Institute of Finance and Banking at the Chinese Academy of Social Sciences, said UnionPay has invested heavily in going global and made remarkable progress in this area of business in recent years.
Zhao said: "Before the BRI was proposed, UnionPay International (a subsidiary of China UnionPay focused on the growth of its global business) was mainly supporting Chinese travelers by creating an environment for UnionPay cards to be more widely accepted overseas.
"After that, it has offered a lot of assistance to some of the Belt and Road economies in building their bank card clearing infrastructure, in addition to improving the acceptance and issuance of UnionPay cards."
UnionPay is expanding faster as WeChat Pay and Alipay, leading third-party online payment service providers, have taken a dominant collective share of China's mobile payment market.
"UnionPay will keep strengthening its business expansion overseas due to heightened competition in the domestic market," Zhao said.
As it speeds up the localization of its business overseas, UnionPay cards have become a major payment option for daily consumption and cross-border travel of customers in many countries and regions.
In markets like Hong Kong, Macao, South Korea, Pakistan, Southeast Asia and Central Asia, over 90 percent of the transactions made with locally issued UnionPay cards happen locally in terms of volume, according to UnionPay International.
To improve the payment experience of cardholders outside the Chinese mainland, UnionPay has enriched its overseas card portfolio in recent years and has launched premium card products, such as themed cards and commercial cards, to meet the diverse needs of overseas customers.
It continues to improve its benefits for overseas cardholders, providing privileges including merchant discounts, a tax refund service, and a VIP service for Chinese visa application.
Overseas-issued UnionPay cards are equipped with more and more innovative functions, offering enhanced payment experience to cardholders abroad.
For example, in Hong Kong, Macao and South Korea, UnionPay cardholders can enjoy the UnionPay mobile QuickPass service which enables them to pay by tapping their mobile phones.
In Singapore, Thailand and Vietnam, UnionPay cardholders can bind the locally-issued UnionPay cards to local mobile payment applications to pay by scanning UnionPay QR codes at merchants.
Meanwhile, the bank card organization is carrying out digital card issuance collaboration with overseas institutions based on e-wallet products.