Shipbuilders turn Navy into a top global power
Share - WeChat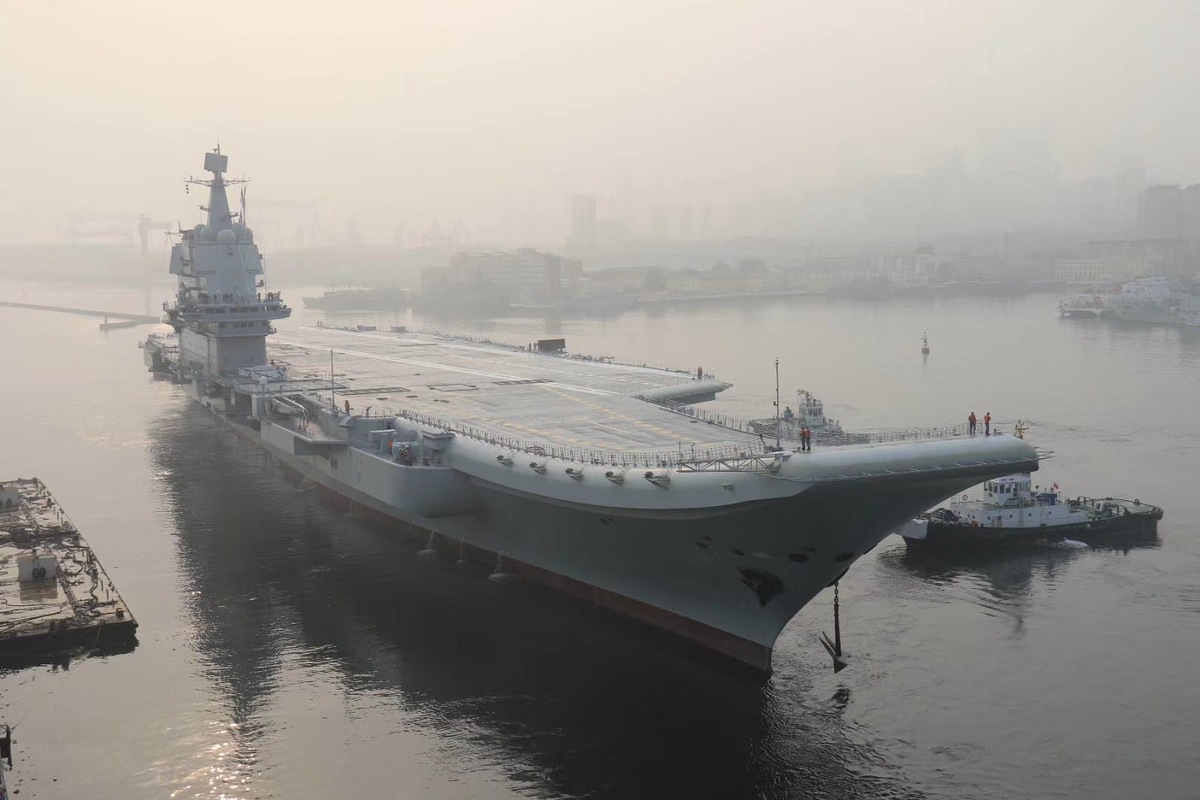 As the year draws to a close, I am reminded of what I did earlier this year. I bought a book on the history of China's naval arsenal by one of my acquaintances, a writer knowledgeable about the subject. The book reveals how old were the ships and submarines of the People's Liberation Army Navy 10 years ago.
There were only a handful of surface vessels in the PLA Navy that had modern air-defense systems at that time. The Navy's submarines were antiquated and made loud noises, the Achilles' heel in underwater operations.
Fortunately, this awkward situation is now a thing of the past. Thanks to a higher level of awareness of Navy's significance and rising investment, the nation's shipbuilding industry has been rapidly catching up with its counterparts in strong naval powers. It has also provided a large fleet of advanced ships and submarines to the PLA Navy.
Over the past two years, China's State-owned shipbuilders constructed the country's second aircraft carrier-it is also the first domestically designed carrier-and have begun work on the third one.
The second carrier displaces at least 50,000 metric tons and will have stronger fighting capability than the CNS Liaoning, the Navy's first carrier that was refitted from an unfinished Soviet Union vessel.
It was launched in April 2017 and has completed several sea trials. Analysts anticipated that the second carrier will be delivered to the Navy within coming months if the following sea trials are successful.
Currently, Chinese engineers are manufacturing the nation's third carrier, which is expected to be bigger and mightier than its two predecessors.
Observers have speculated that the third carrier, which is set to be the largest and most sophisticated naval vessel in China upon its completion, will use an electromagnetic catapult to launch fixed-wing aircraft, as opposed to its predecessors that use a ramp to launch jets.
To form formidable carrier battle groups, Chinese shipbuilders are busy making Type 055 guided-missile destroyers, widely believed to be the mightiest of its kind in the world.
The 10,000-ton destroyer, often regarded as cruiser by foreign observers, carries more than 100 vertical launch cells capable of firing land-attack, air-defense, missile-intercepting, anti-ship and anti-submarine missiles. It is also equipped with other advance weapons and state-of-the-art radars.
At least four Type 055 ships have been built while the first has conducted its maiden sea trial.
The PLA Navy received its largest replenishment vessel-the first in the Type 901 class comprehensive resupply ship-in September 2017. One such colossal ship has a full displacement of more than 45,000 tons-almost twice as much as the Type 903 class, the current pillar of the Navy's replenishment force. Its service would enable Chinese carrier battle groups to sail farther into oceans.
Furthermore, Chinese researchers have started testing a futuristic, game-changing weapon-electromagnetic railgun, considered by experts to be capable of revolutionizing the future naval warfare as its power, range and speed are much higher than explosive-powered guns currently mounted on combat ships.
I am very glad that I am a witness to all of these achievements by China's shipbuilding engineers in turning the PLA Navy into a world-class power. And I hope that they could continue with their endeavor until the day that no one will dare challenge China's rights and interests on the sea.