The German connection
Share - WeChat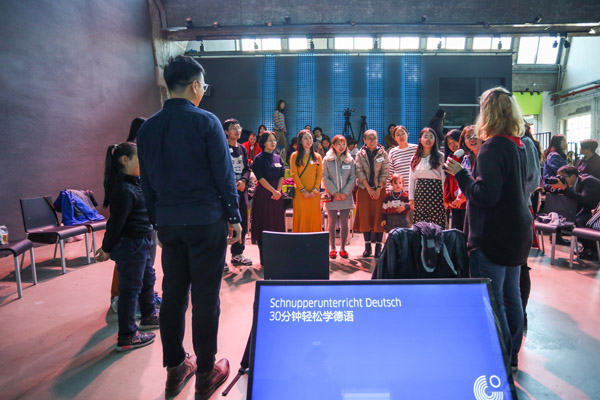 Currently, the Goethe-Institut China has libraries and language centers in Guangzhou, Tianjin, Shenyang, Qingdao, Nanjing, Chongqing, Xi'an and Wuhan, besides Beijing.
At the opening ceremony of the 30-hour celebration, a number of Chinese scholars and artists shared their experiences of learning and working with the Goethe-Institut China.
Jia Guoping, a composer and a professor at the Central Conservatory of Music in Beijing, attended a German language course there 25 years ago shortly before going to Germany for further studies under the German Academic Exchange Service scholarship.
In 2007, Jia started working with the institute as part of a three-year chamber music program, during which orchestra and piano students from the Central Conservatory of Music got the opportunity to be instructed by principal musicians from the Berlin Philharmonic.
Meanwhile, Jia launched a corresponding chamber music composition competition named Con Tempo - which still runs - so that the winners' works could be performed by students attending the program.
Later, in 2011, the Central Conservatory of Music set up the Ensemble ConTempo Beijing. The ensemble later made its debut in Europe sponsored by the Goethe-Institut China.
According to Jia, his team is now working with the institute on a "digital concert hall" program that screens recordings of some of the Berlin Philharmonic's concerts.
"Our cooperation with the Goethe-Institut China has promoted the development of contemporary music in China," says Jia, adding that the younger generation of Chinese musicians are open-minded, and that the institute is responsible for the change.
A growing number of music students at the Central Conservatory of Music are seeking to do further studies in Germany, a frontier of modern music, and many of them are studying at the Goethe-Institut China.
Clemens von Goetze, Germany's ambassador to China, says that China and Germany recognize the differences between the two countries and both want further cooperation.
And though there are collisions and setbacks in cultural exchanges, Goetze hopes more people from both countries can master each others' languages, something which the Goethe-Institut China has helped with over the past 30 years.
According to Treter, the institute also attaches great importance to training German teachers in China.
Marla Stukenberg, the regional director of the Goethe-Institut in East Asia, says: "We firmly believe that the various problems and challenges humanity is facing can be resolved with dialogue and that the talks should not be limited to bilateral exchanges.
"And the cultural and educational programs promoted by the institute around the world are an example of this."