Long-lost cultural relic comes home
Share - WeChat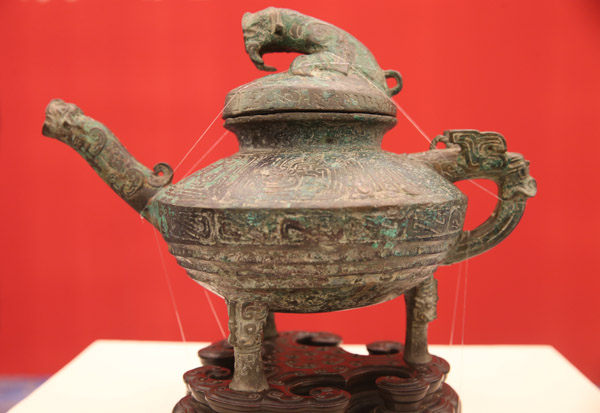 Ancient bronze vessel looted in 1860 transferred from United Kingdom
A Chinese bronze vessel some 3,000 years old that was looted and taken to the United Kingdom in the 19th century, has returned to its country of origin, officials said.
It was transferred to the National Museum of China on Tuesday.
The vessel, called the Tiger Ying because the top and spout show images of tigers, is from the late period of the Western Zhou Dynasty (c. 11th century-771 BC). Before it was lost, it was housed in the Old Summer Palace, or Yuanmingyuan, a huge imperial garden complex of the Qing Dynasty (1644-1911) in northwest Beijing, along with many other royal collections of cultural relics.
"The loss and return of Chinese cultural relics is closely connected with the fall and rise of a nation," Liu Yuzhu, director of the National Cultural Heritage Administration, said on Tuesday. "The lost cultural relics hold Chinese people's deep emotions."
The Old Summer Palace was burned and looted by allied Anglo-French forces in 1860.
The Tiger Ying was grabbed by a British military officer, as shown by an letter he wrote. It had been kept by his family ever since. Its wooden, Qing Dynasty base was taken together with the bronze.
In April, the Tiger Ying appeared in an auction catalog at the Canterbury Auction Galleries in Kent in southern England, triggering expressions of anger among Chinese netizens.
Though the Chinese government strongly protested the auction and the China Association of Auctioneers called for a boycott of the event, the Tiger Ying was sold for 410,000 pounds ($517,000) on April 11 to a buyer whose identity remains unknown.
The buyer, however, indicated a desire to return it to China in communications with the National Cultural Heritage Administration and the Chinese embassy in London, officials said.
Most Popular