China and Brunei get down to business
Share - WeChat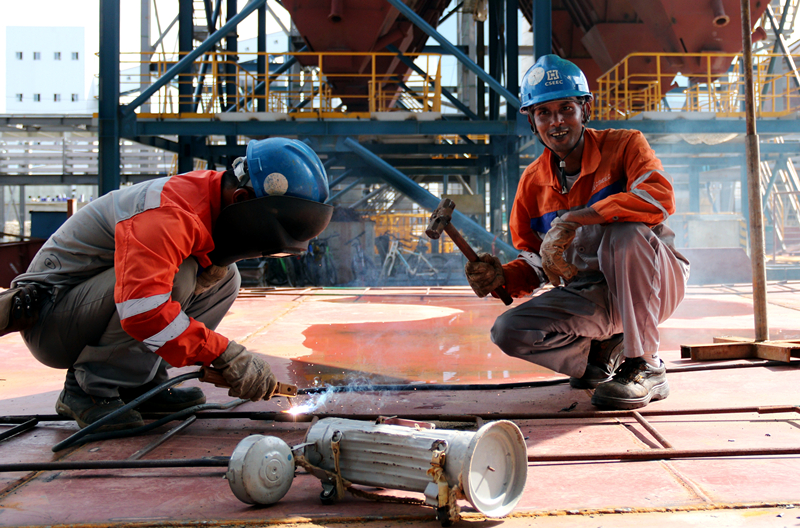 Joint efforts made to build series of landmark projects, including refinery complex, bridges, highway and dam
Two years ago, the tiny island of Pulau Muara Besar, which lies off the northern tip of Brunei in the South China Sea, was nothing but a wilderness.
Today, the island is abuzz with more than 10,000 workers from China, Bangladesh, Indonesia and other countries. A refinery and petrochemical complex, jointly invested by China's privately-run Hengyi Group and the Brunei government, is starting to take shape.
When it is completed next year, the first phase of the $3.4 billion complex will have the capacity to refine 175,000 barrels of crude oil per day. It is Brunei's largest-ever foreign investment project and the biggest single overseas investment by a Chinese private company.
The complex, listed by China as a key project for the Belt and Road Initiative, also represents efforts by Brunei, a member of the Association of Southeast Asian Nations, to partner with Chinese businesses to diversify its sources of income and further improve infrastructure.
Chinese companies have also been involved in the construction of other landmark projects in Brunei such as the Pulau Muara Besar Bridge, the Telisai-Lumut Highway, the Ulu Tutong Dam and the Temburong Bridge, and their presence has been more than welcomed locally.
"China has the expertise to assist countries that do not have this kind of know-how for mega projects. And people in Brunei are benefiting because of that," said Ahiraj Tyagi, project coordinator for a joint venture between China State Construction Engineering Corp and a Brunei company that is building a section of the 30-kilometer-long Temburong Bridge.
"If we were to do projects like this on our own, the cost would be much higher, and a two-year project would become a seven-year one. Chinese companies have huge experience worldwide, and they bring this when they come to work here," said the Indian national, who has lived and worked in Brunei for 25 years.
Diversified economy
For Brunei, the arrival of Chinese companies is coupled with efforts to diversify its economy and improve infrastructure.
Before his state visit from Nov 18 to 20, President Xi Jinping said in a signed article in local newspapers that more and more Chinese companies are making investments and doing business in Brunei, contributing to the diversification of its economy.