Building ties with books
Share - WeChat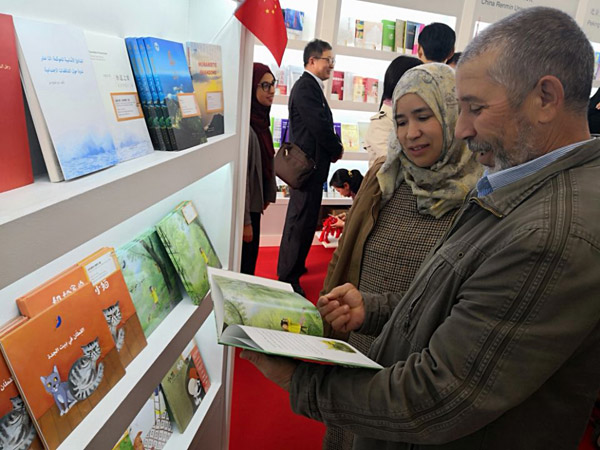 Chinese publishers sign more than 200 agreements at this year's Algiers International Book Fair, Mei Jia reports in Algiers.
Issam Chouiref learned the Chinese language for a month before he came to the Chinese publishers' booths at the 23rd Algiers International Book Fair from late October to mid-November.
The 19-year-old Algerian wanted to volunteer there.
Bringing in a delegation of more than 100 publishing professionals and writers, as well as 7,500 books of 2,500 titles, China was the country of honor at the fair, which marked the first and biggest publishing exchange between Algeria and China to date.
"I came to say 'Welcome, Chinese friends, to Algeria'. We're old friends, and I'd like to see the good relationship between us being well kept, so that when the Chinese friends return to China, they'll remember there was an Algerian who had helped them," Chouiref tells China Daily.
A fan of Bruce Lee and Jackie Chan, Chouiref studies foreign languages by himself and is an apprentice for a foreign-trade business and sometimes does part-time translation and teaching.
His Chinese name, Huang Jinlong, means "golden dragon".
Chouiref came to the booths during the fair and, without asking for payment, worked as a translator, sales assistant and "bridge" between the two cultures.
With his help, China Intercontinental Press sold about 180 books in the French language on Oct 29, the first day of the fair, and 200 more in Arabic later.
"He's now like my younger brother, though we just met for a couple of days," says Jiang Shan, who works for China Intercontinental Press.
"I'm so motivated to learn more about the Chinese language and culture," Chouiref says, adding that he is trying to help relations between Algeria and China grow.
This year marks the 60th anniversary of the establishment of diplomatic relations between the two countries.
Algeria, where writer and philosopher Albert Camus was born and art masters Pierre-Auguste Renoir and Claude Monet lived, was one of the countries that led the proposal to restore China's legal rights in the United Nations in the 1970s. China was the first non-Arabic country to recognize the Algerian provisional government in 1958 and welcomed Algeria to be involved in the Belt and Road Initiative earlier this year.
As Chinese publishers brought books, mostly in Arabic, French or English, to the pearl of southern Mediterranean coast, Algiers, the city was packed with visitors at an exhibition center, where literary events and cultural display are held, as well as at the National Library where a photo exhibition on "beautiful China" was held through Nov 28.
Some visitors came for famous writers, including Nobel laureate Mo Yan. Some just came for any Chinese element that interested them. Many took photos with members of the Chinese delegation, and some asked for their names to be handwritten in Chinese characters. The use of chopsticks was shown to a few more.
This year's fair saw a record number of visitors at more than 2 million, according to its organizers. Over 1,000 publishing houses from 47 countries and regions participated.
Chinese publishers signed 207 agreements on copyrights cooperation with others at the fair, mainly on traditional culture, children's books, language learning and books about China's development.
Among the titles in focus is Xi Jinping: The Governance of China, and its translated versions in Arabic, French and English. The book has two volumes. The first's global circulation reached 6 million copies. And the second, which is a collection of President Xi's speeches, notes and talks from August 2014 to September 2017, categorized in 17 major topics, reached 13 million copies worldwide.
Its publisher, the Foreign Languages Press, held a readers' seminar in Spain on Nov 22 and in Portugal on Nov 27.
Bachar Chebaro, secretary-general of the Arabic Publishers' Association, whose publishing house has published 30 Chinese titles, says the Belt and Road Initiative has enriched the relationship between China and Arab countries.
Most Popular