Lisbon school lifts profile of Chinese culture
Share - WeChat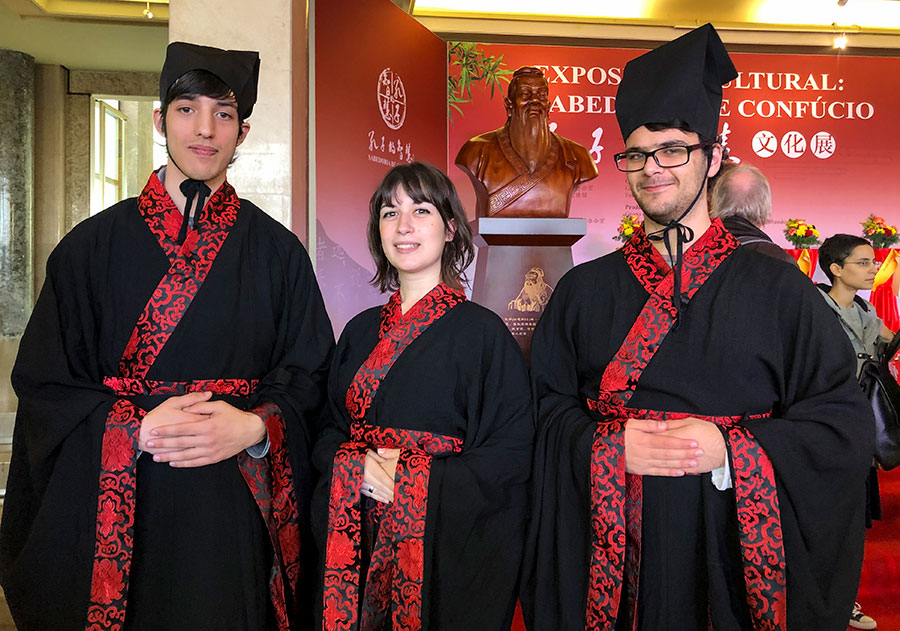 Confucius Institute also helping spread love of language, traditional festivals
Sara Loureiro Pinto, a Portuguese student at the University of Lisbon, attracted more than a few glances at the recent opening ceremony of a Confucius cultural exhibition held at the school. She wore a traditional red and black Chinese dress with beautiful embroidered lace.
A major in Asian studies, she has been learning Chinese for three years at the school's Confucius Institute.
"I think it's a little bit difficult because the grammar, structure and sound are very different from Portuguese," she said of her experience.
"But it's a very interesting language because it's like a puzzle you can put together and make beautiful phrases."
She has not been to China but said, "I want to go."
The Confucius Institute at the university, a collaboration with China's Tianjin Foreign Studies University, hosts a summer camp each year for 20 students to go to China for immersion in the Chinese language and culture.
Tiago Palma, another Asian studies major at the University of Lisbon, took part in the two-week summer camp last year. "I liked it very much," he said.
Officially opened in April 2008, the Confucius Institute at the University of Lisbon has seen a growing number of students sign up. Total enrollment from the university's student body now exceeds 450 per academic year, while another 300 come from outside the school. The institute also operates a Confucius Classroom at College of St Thomas, a private school in Lisbon, with 600 students taking part each academic year.
Joao Barreiros, vice-rector of the university, credited the institute for bringing Chinese culture, language and literature to Portuguese students. "It's very important," he said.
The Confucius Institute in Lisbon-the first in Portugal and now one of four in the country-has been active over the years in hosting events celebrating Chinese Spring Festival and Mid-Autumn Festival, and has presented photo exhibitions about the Belt and Road Initiative and Macao.
When the institute participated in Futuralia-Portugal's largest education and training exhibition-in Lisbon last year, it dazzled visitors with its display of tai chi, calligraphy, a tea ceremony, Chinese knots, paper-cutting and other Chinese cultural icons. Portuguese President Marcelo Rebelo de Sousa greeted the Chinese staff at the show and offered his congratulations.
The university has seen an explosion of exchanges with Chinese universities, establishing relationship with more than 50 Chinese schools and enrolling hundreds of Chinese students in related courses.
The school receives some 60 delegations from Chinese universities each year. After the opening ceremony of the Confucius cultural exhibition, Barreiros went to meet a delegation of private Chinese universities. Later that day, he planned to greet a delegation from Shanghai Sports University.
"You can imagine this is going really well," he said of the growing exchanges with Chinese counterparts.
He expects an increase in exchanges between Chinese and Portuguese universities in the future.
"We are now preparing joint courses, also perhaps joint universities," he said.