Argentina-China study center deepens people-to-people ties
Share - WeChat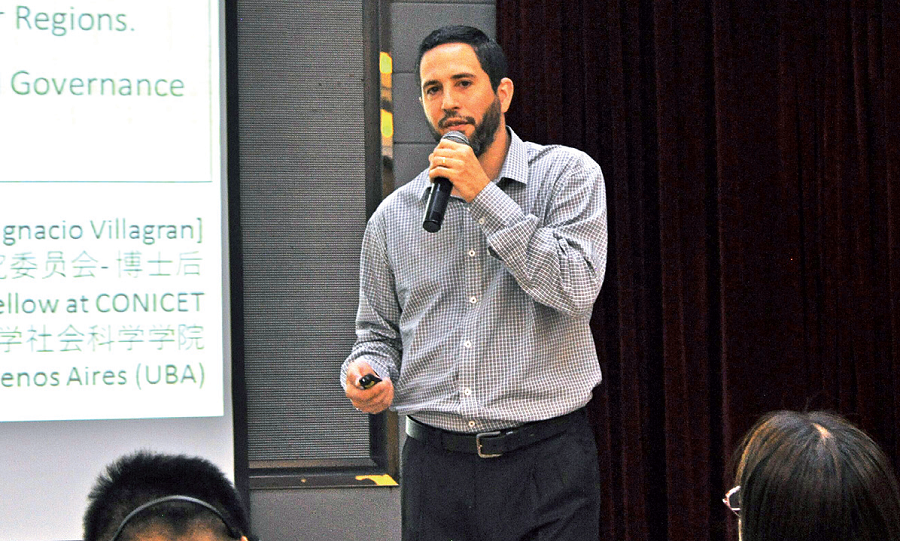 The recent establishment of the Argentina-China Study Center (ACSC) at the University of Buenos Aires (UBA) testifies to the fact that relations between China and Argentina are definitely progressing.
Those relations that ACSC is fostering also go beyond Argentina and China. Last week, ACSC helped to organize a special forum "China and Latin America" during the 8th Conference of the Latin American Council of Social Sciences. Ignacio Villagran, director of ACSC, hosted a panel discussion on intercultural dialogue between China and Latin America on philosophy, literature and language.
The ACSC center was created with a resolution by the executive council at the School of Social Sciences at UBA on June 19 this year. In the few months since, it has offered a well-received eight-week graduate course on the development of Argentina's relationship with China, said Villagran.
"We reviewed what had been done from 2000 to 2015 on (our) relationship with China, everything that has to do with commercial aspects, interest in investment, and negotiation of financial support. We were able to offer long term perspective on China from historian scholars as well as (perspective from) experts in the government with hands-on experiences," he said.
The course was an important initiative and the information was very valuable for the students pursuing either a master's or PhD degree, Villagran said.
The formation of the center is the culmination of a process that started in 2001, he said. Then, Carolina Mera, director of the Research Institute at UBA's School of Social Sciences, went to China with a bi-national committee on science and technology.
"She saw that China was growing and understood its direction and importance in the world. She decided to have one of the researchers who specialized in Korea study to add China to the research. She promoted China study at UBA," said Villagran.
Around that time, Villagran, an undergraduate student at UBA, was learning Chinese with a private instructor and was interested in China's political structure.
He was recruited by Mera and together they began an East Asian studies program with the focus on China at UBA.
"It has been a very significant program in the past 15 years. When we first started the program, students knew little about China. Now more and more students come with previous knowledge of China and Chinese language. Some of the students have been to China for different reasons," said Villagran.
In 2009, two Confucius Institutes (CI) were established at UBA and the National University of La Plata, respectively. The number of students enrolling in CI courses has been growing.
The CI, in a way, prepared some Argentinian students for their China study to take off, said Villagran.
He later did a PhD program at the University of Michigan in 2007 and was awarded a series of fellowships that allowed him to spend a summer in Taipei and a year in Beijing from 2010 to 2011.
After he returned to Argentina, Villagran worked as a research scholar, teaching and collaborating with Chinese and Latin American universities. Now he is a tenured professor at the National University of General Sarmiento as well as director of ACSC.
"We saw a very significant growth among Argentina students who are interested in both contemporary and classic China study. The change is very visible so we decided it was a good opportunity to create a center for Argentina-China study to promote academic research of China," said Villagran.
The academic interest in China is also the cumulative results of Argentina's public interest in China, which gathered momentum from the beginning of the 21st century.
Argentina's relationship with China picked up its pace in the early 2000s.
"First, China's economy started to grow and became more and more visible in the world. Argentina, after the (financial) crisis, started creating new forms of exchange with China, most of which were led by the import and export sector," said Villagran.
By 2014, Argentina and China became comprehensive strategic partners. That created a platform for what has been a growing interest mostly on economic and commercial terms to expand to interests in promoting Chinese culture, language and study at the universities.
"From 2014 onwards, we have seen increasing interest in China study, increasing cooperation with Chinese universities from national universities in Argentina," he said.
Villagran said that ACSC, already with more than 40 affiliated scholars, has two missions: provide knowledge and support to universities when it comes to anything that has to do with exchanges between Argentina and China, and promote knowledge to China about Argentina's academic research, faculties and students.
ACSC has already established a close working relationship with Jilin University and is building academic relationships with more schools, like Fudan and Peking universities.
Contact the writer at mayzhou@chinadailyusa.com