Rio Tinto sells its stake in Namibian mine to CNUC
Share - WeChat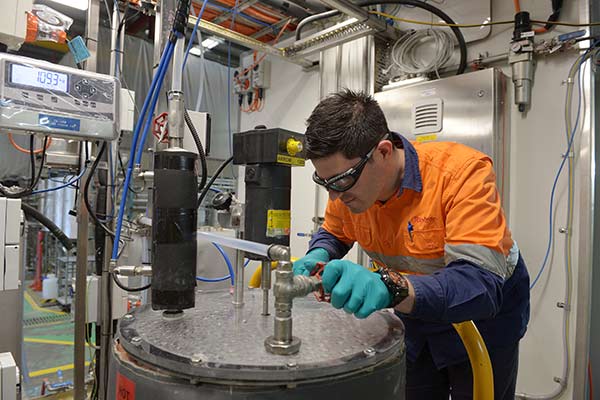 Mining giant Rio Tinto will sell its entire 68.62 percent stake in Rossing Uranium Ltd in Namibia for $106.5 million to China National Uranium Corporation Ltd, in order to focus on its core assets including iron, copper and aluminum, the company said on Monday.
The transaction, which is expected to be completed in the first half of 2019, is subject to certain conditions, including merger approval from the Namibian Competition Commission, it said.
The sale of Rio Tinto's interest in Rossing demonstrates the company's commitment to strengthening its portfolio and focusing on core assets, which deliver sector leading returns in the short, medium and long term, said Rio Tinto Chief Executive Jean-Sebastien Jacques.
"Rio Tinto has a long history in Namibia," he said. "The company will work closely with CNUC to ensure a smooth transition and ongoing sustainable operation at Rossing."
Zhu Yi, a Hong Kong-based analyst at Bloomberg Intelligence, said the cooperation could help the Chinese company's overseas expansion, as the sale offers CNUC access to the market of the Rossing mine in Namibia, which has the world's longest-running open pit uranium mine.
China is the largest consumer of most metals, and international mining firms such as BHP and Vale are looking to team up with Chinese counterparts, she said.
Being the world's longest-running open pit uranium mine, the Rossing business has produced the most uranium of any single mine since it became operational in 1976, exporting uranium oxide from Namibia to nuclear power utilities around the world. The Rossing mine produced 2,110 metric tons last year and Rio Tinto's share of its mined uranium was 1,448 tons.
Industry insiders believe China's demand for uranium resources for nuclear power generators will increase in the mid to long term, to meet the rise of nuclear development in the country.
It is strategically important for China to secure fuel resources, given its ambitious nuclear power generation expansion plans which will help with China's energy security, said Joseph Jacobelli, a senior analyst of Asian utilities at Bloomberg Intelligence in Hong Kong.
Namibia is the fourth-largest producer of uranium in the world after Kazakhstan, Canada and Australia.
The total consideration comprises an initial cash payment of $6.5 million and a contingent payment of up to $100 million following completion. The contingent payment is linked to uranium spot prices and Rossing's net income during the next seven calendar years, said Rio Tinto.