BYD harnesses reform energy for global rewards
Share - WeChat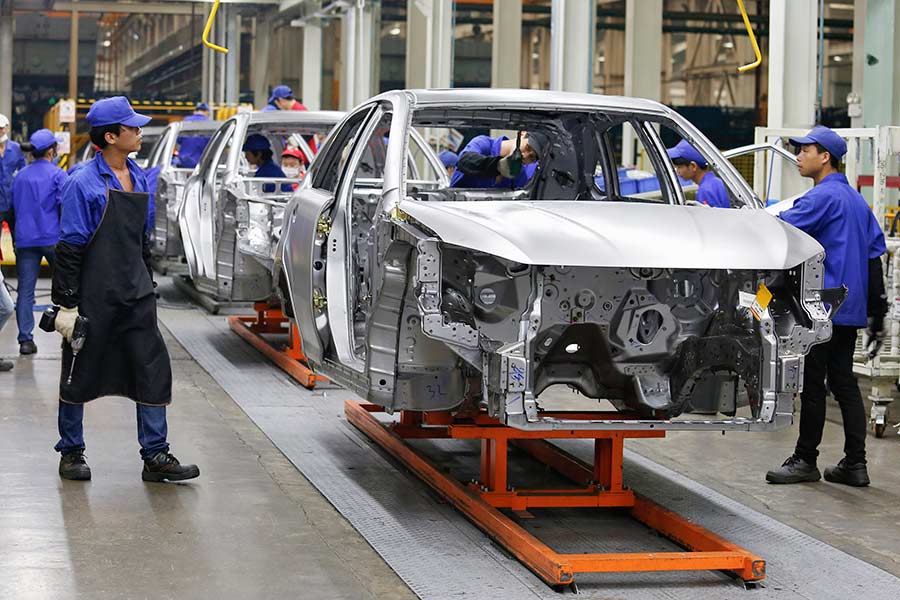 Chinese electric carmaker BYD Co Ltd's resounding success in the international arena is perhaps one of the best examples of the nation's reform and opening-up in the last 40 years.
The Shenzhen-based company has been the global leader in new energy vehicle sales for the past three years and has maintained that record during the first six months of this year also.
In the 23 years since its launch in 1995, BYD has transformed from a battery maker with just 20 employees into a global company with 220,000 employees, having over 30 industrial parks in six continents.
"Without reform and opening-up, there would be no BYD," said Wang Chuanfu, the founder, chairman and president of BYD.
"The reforms have helped usher in a market-oriented economy," he said.
According to Wang, the dream of a market-oriented economy was what led him to set up BYD 23 years ago. In early 1990s, demand for the rechargeable batteries was surging, led by the growing popularity of mobile phones. But at that time there were no major battery producers with independent intellectual property rights for the technology in China.
Undeterred, Wang decided to start off as a battery supplier for leading mobile phone producers and gradually won trust from international brands like Nokia and Motorola.
He recalled that though orders nearly doubled every year, BYD did not have much collateral to take out a loan for factory expansion. It was the local government that stepped in to rescue Wang at that time with a timely guarantee that enabled BYD to secure funding.
In less than a decade, the company has become one of the largest battery suppliers in the world.
"All kinds of professionals and organizations can compete in an impartial environment, thanks to China's reform and opening-up policies. It has given us the inspiration to innovate and unlock the full market potential," he added.
The company attaches great importance to technology and innovation, as reflected in the headcount of 20,000 employees performing such operations. It has filed 22,000 patent application globally, 14,000 of which were approved by the end of 2017.
Like many other emerging private firms at that time in Shenzhen such as Huawei, the battery maker decided to change tack from being an original equipment maker to one that has its own brand, albeit in another emerging industry.
In 2003, it entered the automobile industry with the acquisition of Xi'an Tsinchuan Auto Co Ltd and surprised the market with the world's first plug-in hybrid automobile in 2008. Since then, the Chinese e-vehicle brand has gained recognition in the global arena.
One of the biggest changes in the last 40 years of the development of the automobile industry in China is the growth of domestic brands, said Wang.
When asked about the experience of going global as a private company in China, he said the key is to rely on innovation, rather than on low prices, to tap the international market.
"The differentiation of products propels us to expand," he added. Citing the UK market as an example, Wang said BYD realized it was impossible to compete with British companies and decided to offer electric vehicles. "We are not competing with them but looking to complement," he said.
In 2015, BYD presented the world's first electronic and zero-emission double-decker bus in London and so far its e-buses account for 80 percent of the London market, 50 percent in the United Kingdom and 80 percent in the United States.
After having successfully entered the European and US markets, the carmaker is now looking to further expand its global presence. Nearly 35,000 electric buses have been delivered to its global partners and the company has maintained its international sales volume in electric buses from 2014 to 2017.
Besides electric buses, BYD has innovated into other new energy products like electric trucks and electric forklifts, contributing to environmental protection. Furthermore, it also participated in exporting industry standards to the countries including Philippines and Morocco.
However, the product innovation did not stop there. It announced in September to be the first in the industry to open up all sensors and controls for its vehicles so that international app developers have access to these data and can jointly form an online driving ecosystem, like the operating system of a mobile phone.
Meanwhile, it has continued its internal reforms by allowing some of the departments to purchase components outside the company and to supply for other brands.
"Of course, the reform has brought extra pressure, but pressure is a good thing, which inspires innovation and stimulates vitality," Wang said.