Domestic IT giants take cloud skills global
Share - WeChat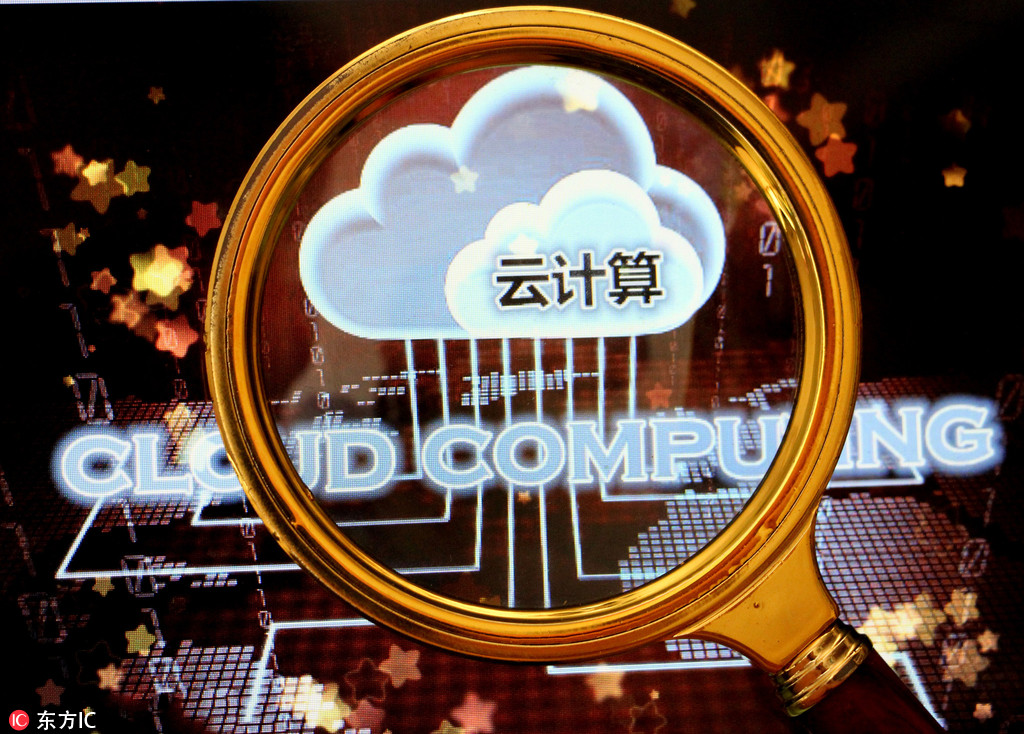 Flexible networks offer high speeds, lower costs for startups looking to scale up fast
The Chinese mainland's cloud computing service providers are expanding their overseas footprints, driven by the desire to better serve their customers' globalization strategies and to extend their own digital "territories".
Huawei Technologies Co Ltd, China's largest telecom equipment maker and the world's second-largest smartphone maker by shipments, is offering cloud services in Asian and African countries alongside its growing local smartphone presence.
"We are now available in a string of countries and regions including Thailand, Russia and Hong Kong. We will also soon deploy new services in South Africa and other places in accordance with our own strategies, as well as local political and economic environments," said Zheng Yelai, president of Huawei Cloud.
As for Europe and the Americas, Huawei is partnering with local telecom carriers such as Telefonica and Orange SA, building up their public cloud capability with the help of Huawei technology.
"We are leveraging our years of partnership with foreign telecom carriers to better localize our cloud services," Zheng said.
The services all run on a unified platform to ensure a smooth user experience, whether they are operated by Huawei or its overseas partners, according to Zheng. The only exception is its partnership with Deutsche Telekom, which runs its services independently, despite using Huawei software and hardware.
Huawei is a global player, with its products and services already available in more than 170 countries and regions, and its expansive global layout will fuel the cloud service's expansion, Zheng said.
There are no physical boundaries for cloud services, he said. "For instance, many cloud clients of our services in Hong Kong are from Malaysia, Myanmar and the Philippines."
Huawei's intensified push into overseas cloud service markets comes as its Chinese rivals, including Alibaba Group Holding Ltd and Tencent Holdings Ltd, are emerging as new forces to take on foreign contenders such as Amazon.com Inc and Microsoft Corp.
The global public cloud market will surge to $206.2 billion in 2019, rising 17 percent year-on-year from the expected $175.8 billion in 2018, market research company Gartner Inc forecast.
Charlie Dai, principal analyst at consultancy Forrester, said there are two key drivers behind Chinese cloud service providers' bid to tap into global markets-to better serve their Chinese customers' globalization strategies and to extend their own digital territories.
"They could replicate their Chinese market successes in global regions, just as Amazon Web Services and Microsoft are doing in China," he said.
Building scale
According to Gartner research director Kevin Ji, cloud computing is essentially about economies of scale for service providers. Expanding their coverage lowers average costs and pushes forward global infrastructure delivery, he said.
"Only Alibaba Cloud, Tencent Cloud and Huawei Cloud have straightforward globalization strategies, each with a distinctive approach," Ji said.
Tencent's cloud computing arm announced in March it will open four new data centers to expand its international cloud computing presence. The new centers offer a range of solutions, including storage, cloud security, big data and artificial intelligence.
Together, they lay the foundation for an integrated cloud service with high speeds and reliable network connectivity for international companies looking to scale efficiently, the company said.
"Globalization is an important part of Tencent Cloud's strategy," said Qiu Yuepeng, vice-president of Tencent and president of Tencent Cloud.
"By offering our advanced cloud computing infrastructure across the globe, we can not only share Tencent Cloud's technology and expand our portfolio of industry solutions, but also lower costs and increase efficiency across a variety of industries."
Data centers, or supporting data nodes, are essential to enabling Chinese companies' global expansion strategies, which have already become a major driving force in the global economy, Dai said.
"Choosing the same vendor will help simplify the architecture and management complexity, and ensure consistent user experience."
According to Tencent, its new data center in Hong Kong serves as Tencent Cloud's second financial sector-focused facility in the city. Two new data centers in the United States-in Silicon Valley and Virginia-ensure coverage across the country's east and west coasts.
The fourth new data center, in Mumbai, India, will serve as a core hub for Tencent Cloud in South Asia, boosting its total number of available cloud computing zones to 42.
Alibaba's cloud computing unit launched its first data center in Indonesia in March, aiming to address the growing demand for reliable and scalable cloud services among the country's small and medium-sized enterprises.
The data center underscores the company's commitment to support an Indonesian government-backed initiative to create 1,000 viable startups worth a combined $10 billion by 2020, according to Alibaba Cloud.
Geographical proximity and close ties between the two nations provide the company a particular advantage, said Alex Li, general manager of Asia-Pacific at Alibaba Cloud.
"We are uniquely positioned with cultural and contextual advantages to provide innovative data-intelligence solutions and computing capabilities to customers across this region," Li said.
Alibaba Cloud has so far expanded across 18 countries and regions. One of its latest pushes saw the company's cloud services extend to Turkey in April through a partnership with e-Glober, an Istanbul-based business-to-business services provider.
According to Ji at Gartner, Alibaba is banking on Asia and the Middle East to better tap into the Belt and Road Initiative, whereas Tencent is more closely following the steps of its clients, be it bike-sharing business Mobike, online brokerage platform Futu Securities, or mobile gaming company Supercell.
International Data Corp estimated global spending on public cloud services will hit $180 billion in 2018, surging 23.7 percent year-on-year, as companies from a wide range of sectors scramble to embrace cloud services.
The top spenders will be in the manufacturing, banking, professional services and retailing sectors in 2018, and the four industries are likely to maintain their high rankings over the next five years, IDC said.