Gansu leverages cultural heritage to boost tourism
Share - WeChat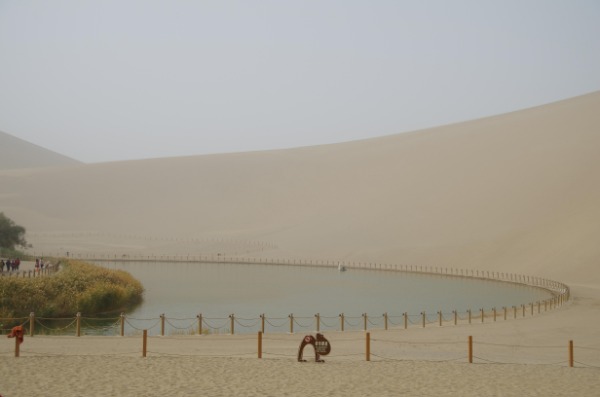 The city of Jiuquan in Northwest China's Gansu province is looking to promote regional tourism by leveraging cultural and travel resources in and around Dunhuang.
A recent forum held by the government of Jiuquan, Gansu Tourism Development Commission and Dunhuang Research Academy discussed future plans to develop the Dunhuang tourism circle and its environs, which include the Kazakh autonomous county of Aksay in the southwest, the Mongolian autonomous county of Subei in the southeast and Guazhou county northeast of Dunhuang.
Situated at the transportation hub of the ancient Silk Road, Dunhuang is rich in historic sites and cultural relics such as the Mogao Grottoes, the Yumenguan Pass and Xuanquan Spring relics. It is also home to the Silk Road International Cultural Expo. All of these things have drawn global attention and helped Dunhuang and Jiuquan become increasingly popular among domestic and overseas travelers.
According to the local tourism bureau, Jiuquan has attracted over 25 million tourists, earning around 25 billion yuan ($3.6 billion) from its tourism industry in the first nine months of this year.
To further enhance the appeal of the Dunhuang tourism circle and Jiuquan, the culture of the ancient Silk Road and the art of the grottoes should play a pivotal role, noted Li Ping, a researcher from Dunhuang Research Academy during the forum. It's feasible to launch in-depth tour routes featuring study of the region's history and culture, she continued.
She also stressed, however, that there should be assurances in place that these world cultural heritage sites won't be corrupted by commercial practices. A scientific strategy should be provided to protect the environment, manage scenic spots and form a sustainable tourism industry which could benefit other sectors in the region.
"To boost tourism isn't equal to merely attracting more visitors," Li observed. "How long they will stay here matters, as does their purchasing power and social influence.
"In this sense, it's necessary to create a standardized value-assessment system for the industry."