'Red tourism' makes uniform-renting a hot business
Share - WeChat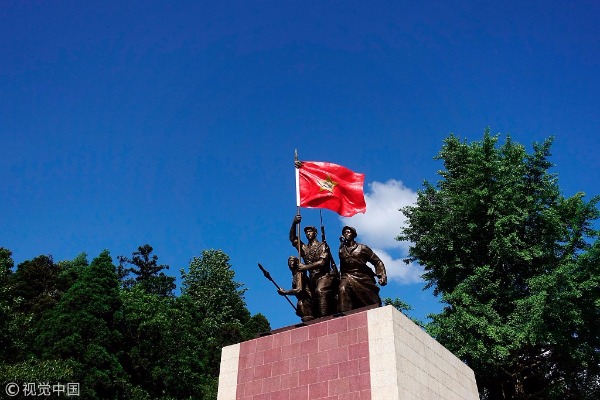 In the city of Jinggangshan in East China's Jiangxi province, people clad in Red Army uniforms pound cooked glutinous rice into a paste, a traditional way to make a local snack called "ciba."
These days, the "Red Army soldiers" are everywhere in Jinggangshan, the center of early revolutionary activities of the Communist Party of China (CPC). In recent years, "red tours" have expanded in the city, with visitors taken to places where revolutionary figures once lived and worked.
In the first 10 months of this year, Jinggangshan received more than 10 million tourists, generating a tourism revenue of more than 10 billion yuan ($1.4 billion), up almost 10 percent year on year, according to government figures.
Riding on the success of the red tours, local business people are cashing in on the Red Army uniforms, making uniform-renting a hot business.
In the core tourist area of Jingangshan, a shop named Xiangganbian Red Army Uniforms displays a variety of Red Army garments.
"Tourists usually rent hats, jackets, leather belts, backpacks and leg wrappings," said shop owner Yu Meng. "Cloth shoes and T-shirts with Red Army logos are also available."
Yu, 36, said that many visitors are also interested in renting armbands, rifle replicas, bamboo hats, canteens and spears.
"We have a design team, and we have made different styles of uniforms based on the characteristics of traditional Red Army uniforms," Yu said.
In Jinggangshan, Yu's rental business accounts for about 60 percent of the marekt share.
Yu started the shop with his wife in 2008. He said that 10 years ago, visitors barely rented uniforms.
"They only borrowed such uniforms, took a picture and returned the clothes," he said. "It was not profitable."
Business was not that great in the beginning, and Yu only rented out 35,000 uniforms throughout the entire year of 2010. "Things did not turn for the better until 2015 when we rented out 200,000 uniforms," he said.
Yu's success came on the heels of booming "red tourism". Last year, the city received more than 17 million tourists, and about 250,000 uniforms were rented out at the shop, which garnered in about 20 million yuan.
In Jinggangshan, tourists donning the uniforms often walk on the trail used by Red Army soldiers to transport food when they were stuck in the mountains in 1928. The trail became famous in China after an article depicting it was compiled into the country's elementary textbooks. In the article, Chinese military leader Zhu De carried rice with a shoulder pole on the trail.
"Visiting Jinggangshan in Red Army uniforms is a trendy thing nowadays, and walking on the same trails as the Red Army soldiers did is a must-do experience," Yu said.
"We try to design the uniforms in all their original glory so that the tourists can feel like Red Army soldiers when they wear the clothes," he said, adding that he also invited experts on the CPC's history to give suggestions on garment design.
Besides Jinggangshan, Yu said he also opened a similar shop in Yan'an, in northwestern Shaanxi Province. Yan'an hosted the CPC headquarters and the center of the Communist revolution from 1935 to 1948.
"My goal is to open the uniform shops at every important stop of the Long March," he said. About 86,000 Red Army officers and soldiers left Jiangxi Province for the Long March in October 1934.
Tourist Li Ping, from Beijing, rents a uniform every time he visits Jinggangshan.
"Many tourists like me love to wear the Red Army uniforms, which reflects our memories of those historical times," he said. "In my opinion, the uniform is the most fashionable clothes here in Jinggangshan."