iG claims first LOL World Championship for Chinese mainland
Share - WeChat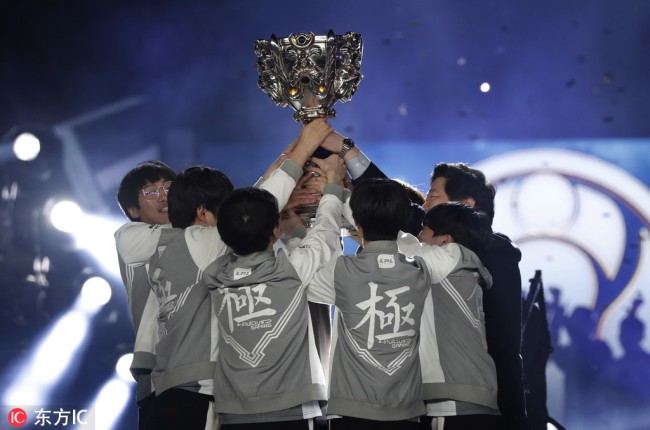 Chinese eSports club Invictus Gaming (iG) claimed Chinese mainland's first world championship in League of Legends (LOL) after beating European team Fnatic 3-0 in Inchon, South Korea on Saturday.
This victory is just one of many surprises during the eighth championship tournament.
Few predicted iG to win, as the club was the last team remaining from the Chinese mainland.
The most hopeful team, Royal Never Give Up (RNG), lost in the quarterfinal to another European team G2. The powerful South Korean teams, ruling the championship for five years, also failed to make out of the quaterfinals.
But iG carried on with an excellent performance, beating both G2 and Fnatic 3-0 to take the crown.
This is also iG's revenge after the loss to Fnatic three years ago in Paris, France.
After 8 years, China becomes No. 1
The Chinese mainland teams, including iG, have been pursuing the championship for eight years.
"I have been wishing for this moment for so long time..." the star player of iG, Song "Rookie" Eui-jin, said in the after-match interview in both Korean and Chinese languages.
Rookie started playing professional LOL in 2013 in his home country South Korea but later joined the Chinese league in 2014.
He tried so hard to get along with the team that he even learned Chinese which he now speaks fluently.
"It's iG that won the championship for the Chinese league. I hope people can pay more attention to our team," Rookie said in the after-match interview.