Exhibition captures campus life at Peking University
Share - WeChat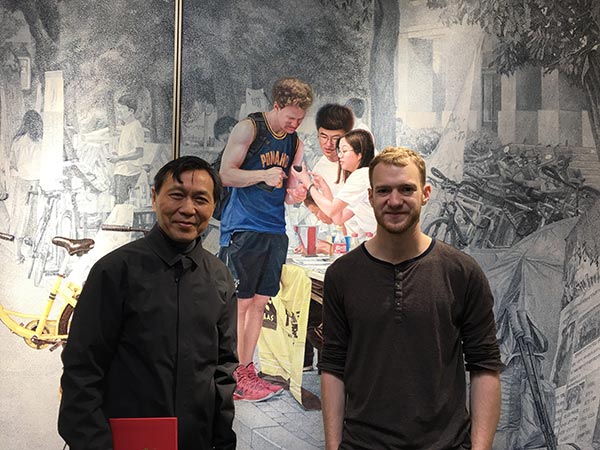 Jordan Schneider, a US student, was excited to see his image in a recent oil painting exhibition held at Peking University.
In the painting, two Chinese students are introducing a mountaineering club to the sophomore majoring in Chinese and showing him how to join in the club through a smartphone.
It is one of 19 oil paintings on display at Peking University in an exhibition as one of the important components of the 15th Peking University International Culture Festival in October, said Wu Zhipan, former vice-president of Peking University, at the exhibition's opening ceremony.
All the 19 paintings were created by Professor Wang Qijun of China Central Academy of Fine Arts after he was invited to be an overseas visiting scholar of Peking University in 2015.
Born in Xuzhou, Jiangsu province, Wang is a Canadian citizen.
Entitled "Everlasting Campus," the 19 paintings show different aspects of campus life at Peking University.
They depict a girl standing between two rows of books in the library immersing herself in reading, 23 students dining in a canteen after a long day of classes, three girls playing cards on a lawn, five students offering a free bicycle repair service, 17 overseas students gathering by the Weimin Lake, a cleaner putting rubbish into a rubbish cart, and a girl student looking up at the iconic statue of Cai Yuanpei (1868-1940), the university's first president.
"Peking University is one of the most renowned universities in China, and has also been my dream school since young," Wang said.
"After I became its overseas visiting scholar, I felt much closer to it. When I look at scenes on campus, I move from being a mere visitor to somebody taking a leisurely stroll in my own campus," he said.
Most of his 19 paintings on display are based on his photos taken on campus. But they are not merely a reproduction of the photos.
The painting "Silent Nostalgia" in which the girl looks up at Cai is painted with subtle tones of a warm violet to showcase our collective respect and nostalgia for the apostle of the Peking University Spirit of mental freedom and inclusion, Wang said.
Schneider said the painting with his image is true-to-life showing his wound resulting from a surgical operation to remove a benign tumor on one hand. But he has more muscles in the painting, he said.
Wang's painting depicting 17 overseas students gathering by the Weimin Lake was collected by Peking University at the opening ceremony of its 15th International Culture Festival.
President Lin Jianhua issued the certificate of collection to him in person.