Sino-African art show builds ties
Share - WeChat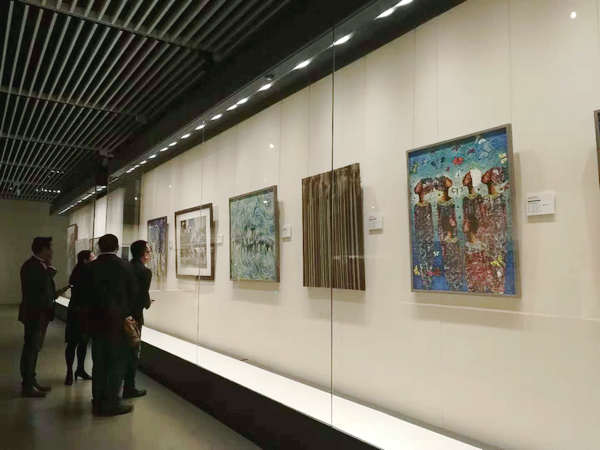 The First Belt and Road Afro-Sino Art Exchange Exhibition and Afro-Sino Cultural Forum, organized by the Ministry of Sports, Culture and Heritage of the Republic of Kenya, opened in Beijing recently.
The event is the first cultural-exchange activity related to the theme of the Belt and Road to be held by a foreign country in China.
The opening ceremony was attended by representatives from cultural and art organizations, government departments and embassies of several African countries.
"This art-exchange exhibition is a positive response of the Kenyan government to the Belt and Road Initiative, as well as an exchange opportunity between the cultural and art circles of China and Africa, providing a rare chance for the Chinese people to have a better understanding of African countries through culture and artwork," says Rao Quan, director of the National Library, where the event is being held.
Rao adds that the library wants to have more in-depth resource sharing, exchanges and cooperation with African countries.
Ivan Kiprop Lagat, a cultural councilor from the organizing Kenyan ministry, spoke at the ceremony on behalf of its minister, Rashid Mohamed, saying that culture can serve as a bridge to deepen mutual understanding and trust among countries.
He stressed that Kenya has benefited greatly from the Belt and Road Initiative, citing the example of the railway linking Mombasa to Nairobi.
He also said he hopes that, as a result of this exhibition, more Chinese people will visit Kenya to experience and feel the passion of African people.
The exhibition, entitled Walking into Kenya and Perceive the New Africa, hosted more than 110 artworks, nearly half of which were created by 40 artists from African countries, including Kenya, Rwanda, Uganda, Zimbabwe and Tanzania.
The exhibited pieces include work that reflects African people's daily lives and folk customs, and is produced using various media, including chalk paintings, sculptures, and contemporary-art installations.
With rich themes and diversified forms, the artworks reflect the current situation and characteristics of contemporary African art.
The exhibition shows three pieces by Gerard Motondi, a 52-year-old Kenyan sculptor, whose work usually draws inspiration from such themes as fair play and friendship in sports.
Motondi explains that his work is crafted from Kisii stone, a very special stone found only in Kisii county in western Kenya that has become part of the local intangible cultural heritage.
"I brought this heritage forward to China to show people here what is found in Africa," Motondi says.
Though the three pieces exhibited in the library are small, Motondi usually works on huge monumental pieces.
He has visited China many times and has been invited to create landmark sculptures for several Chinese cities, such as Shenzhen and Changsha. One of his pieces, which won the gold medal during the Beijing Olympics Fine Art Exhibition in 2008, is part of the collection of a Beijing-based museum dedicated to the Olympics.
Motondi believes the ongoing exhibition can further boost exchanges of culture and art between China and Africa.
"The exhibition is something that brings together the artists in both countries and helps us understand our respective cultural heritage," he said.
More than 40 artworks by more than 30 Chinese artists are also on display. They include oil paintings, traditional Chinese paintings, prints and sculptures reflecting the achievements of the Belt and Road Initiative, cooperation between China and Kenya, and African customs.
The exhibition will run through Oct 31.