Crickets and cake are not all it takes to build a good bookstore
Share - WeChat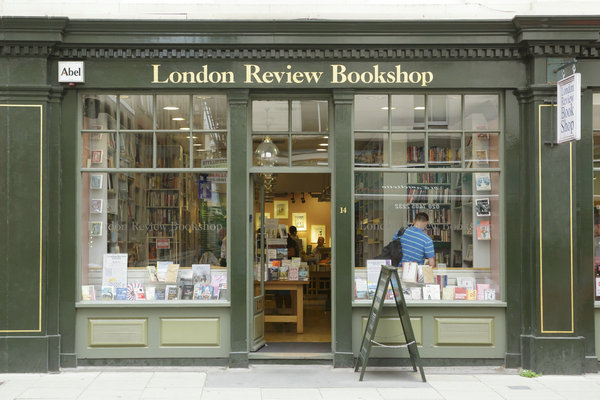 When Natalia de la Ossa from the London Review Bookshop arrived in Chengdu for the International Bookstore Forum in mid-September, it seemed natural for her to offer local readers their selection of the best English-language titles around after the bookshop launched its section at the Sinan Bookshop in Shanghai in April.
Dressed in black and speaking quickly in a low voice, De la Ossa appears relaxed and urbane, and is quick to laugh at any interesting suggestions or ideas. Her willingness to try different things and openness to other cultures may be why she has successfully led the London Review Bookshop out of the red and into profit since joining the bookstore in 2013 as its general manager.
"We almost had a wedding. A couple wanted to get married, but we didn't have enough time to get the license. One of us would have had to take a course to get the license, so we had to decline," she says.
A two-minute walk from the British Museum, the London Review Bookshop was founded 15 years ago in a bid to provide a range of suitable books for readers of the London Review of Books, Europe's leading literary magazine, covering topics ranging from science and technology to literature, history and philosophy.
"We soon found that our bookshop must have its soul and personality, and should keep improving," she says.
Besides the cooperation with the magazine, the bookstore recruits knowledgeable staff members, who are passionate about literature and spend a great deal of time studying which books they want to purchase to ensure their recommended reading list remains unique.
"This is how we differentiate ourselves from other bookshops," she says.
De la Ossa was born into a family of book lovers. Her grandfather was fascinated with Russian literature and insisted on giving his grandchildren Russian names, such as Sonya and Natalia. When she was young, her father paid her to help him catalogue his library, paying her a penny for each card about one author.
Little De la Ossa often picked up books read by her brothers and sisters. This was how she discovered the French book The Little Prince by Antoine de Saint-Exupery and Little Women by US author Louisa May Alcott.
In college, she studied photography, film and television, and earned a master's degree in feminism and gender studies. She is particularly interested in children's books.
Before the London Review Bookshop, she was the manager of the children's section of the Blackwell's bookstore in Oxford and the manager of Under the Greenwood Tree, an independent children's bookstore in south London.
Since she arrived at the London Review Bookshop five years ago, it has expanded its range of events into several new fields.
"Our partnership with the cake shop next door is just one example," she says.
"We provide a lot of good cakes. Cakes are very important."
Over the next five years, the bookstore hosted over 200 events, including those focusing on politics and food. At one event about insect recipes, some brave audience members ate crickets with cakes.
They also host movie events and invite authors to talk about their favorite films and movie adaptions from their own and others' literary works.
"We are the center for a community. We reflect the needs of the community in terms of information. Our customers see the need to understand what's going on politically. The books come out. We have them," she says.
"This is what they ask for and it is also the reason why we are important, because we understand what's happening and have our own opinions. We also want people to come and debate with us. We invite authors to join in our conversations and to discuss things that are relevant to the human condition of the moment."
The two-story bookstore covers an area of 1,750 square meters and has 20,000 titles in stock.
"Because we have limited space, we only keep one copy of each book title in stock. If you need more, we can order three or four copies for you," she says.
The books are divided into 35 categories. The best-selling area is fiction, which accounts for 28 percent of all their book sales, followed by 10 percent for poetry, 8 percent for essays and 5 percent for biographies.
There are six full-time staff members, but more part-time booksellers are hired to help during peak times such as Christmas.
"From the very beginning, the first thing we did was to divide the interests of our staff members, so that each person has their own responsibilities. One of my booksellers looks after children's books, one after cookery, others after art and photography. And we have two people who collaborate because they both love and know about art," she says.
One of the most important things for De la Ossa is to make her team happy, so that people are given the space to collaborate and come up with better ideas.
"It's an amazing job really. They choose the books they want to have," she says.
De la Ossa says her dream is to host a wedding at the bookshop.
"It would be great to get married surrounded by books."
Most Popular