Obesity linked to increased risk of colorectal cancer: study
Share - WeChat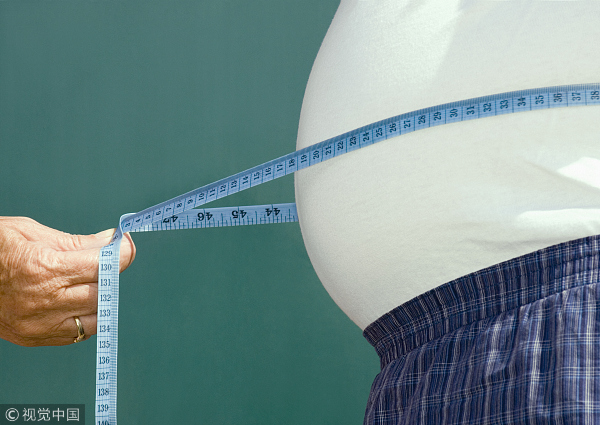 Women who are overweight or obese have up to twice the risk of developing colorectal cancer before age 50 as women who have what is considered a normal body mass index (BMI), according to a research led by Washington University School of Medicine in St. Louis.
The study included data from 85,256 women aged 25 to 44 in the Nurses' Health Study II, which began in 1989. The researchers have collected detailed information on body weight throughout the life course, family and endoscopy histories, and lifestyle factors at study baseline and every two to four years. Up to 2011, doctors diagnosed 114 colorectal cancer cases under age 50.
Compared with women with the lowest BMIs, 18.5-22.9 kilograms per square meter, women with the highest BMIs, greater than 30, had almost twice the risk of early-onset colorectal cancer.
"Our findings really highlight the importance of maintaining a healthy weight, beginning in early adulthood for the prevention of early-onset colorectal cancer," said co-senior author and cancer epidemiologist Yin Cao, an assistant professor of surgery in the Division of Public Health Sciences at Washington University.
"We hypothesized that the obesity epidemic may partially contribute to this national and global concern in early-onset colorectal cancer rates, but we were surprised by the strength of the link and the contribution of obesity and weight change since early adulthood," Cao said.
The researchers emphasized that this is an association study, which does not establish that increasing weight is a cause of early-onset colorectal cancer. More studies are needed to uncover the best ways to identify young people at high risk of colorectal cancer at younger ages.
In the United States, overall rates of new colorectal cancer cases and deaths from the disease have decreased steadily since 1980, largely owing to recommended colonoscopy screening starting at age 50. But for reasons that remain unknown, new cases of, and deaths due to, both colon and rectal cancers have been increasing for younger adults aged 20 to 49.
The American Cancer Society recently lowered the recommended age at which most people should undergo a first screening colonoscopy. The new guidelines recommend screening beginning at age 45, down from the previous recommendation of age 50.
The study was published on Thursday in JAMA Oncology.
Most Popular