Unmanned robots delivering a smart future
Share - WeChat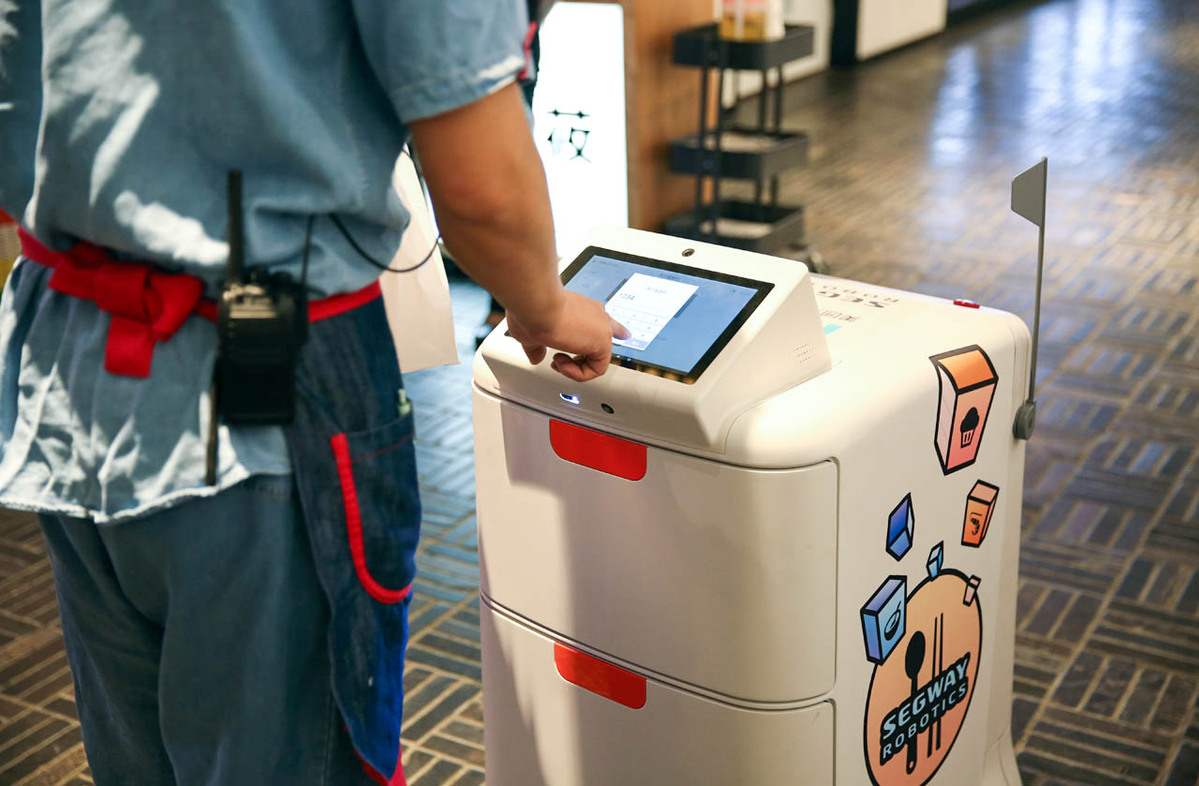 New applications are set to power the upgrading and transformation of traditional industries
Delayed food and drink deliveries could soon be a thing of the past as autonomous delivery robots start to appear in shopping malls and office buildings, making deliveries faster, smarter and more cost-efficient.
Segway Robotics, a wholly owned subsidiary of Beijing-based high-tech startup Segway-Ninebot has launched an autonomous delivery robot in Chaoyang Joy City in Chaoyang district of Beijing.
Wang Ye, president of Segway-Ninebot said the robot can carry 50 kilograms and travel at a maximum speed of 1.2 meters per second. It can work for 10 hours a day, travel in elevators on its own, avoid pedestrians and obstacles intelligently at any time, as well as design optimal paths.
"When the robot arrives at an elevator, it will send instructions to the central control system of the elevator via a wireless network, and then the doors will open," Wang said.
The application of the delivery robots will be extended from buildings to outdoor spaces, and the company will mass produce such robots and launch more delivery robotics services with its partners in the future, according to Wang.
Segway Robotics is a privately held company that focuses on developing and commercializing personal robots. Founded in 2015, the company has notable backers including Sequoia Capital, Intel Capital and Xiaomi Corp.
It has partnered with Meituan-Dianping, China's largest on-demand service provider, to accelerate the application and commercialization of unmanned delivery technologies.
Similar robots have also appeared in the State Development & Investment Corp Ltd building in northeast Shanghai. The SDIC building sought cooperation with startup Yogo Robot for the latter's Kago series of food delivery robots in late August.
By typing their phone number on a screen installed on the top of the robot, people working in the building can access food deliveries stored in the "belly" of the robot, eliminating the need for throngs of deliverymen waiting at the gate of the office building.
According to Geng Yongjun, head of Guotou Real Estate Management Co's Shanghai branch, the robot is connected to the office building's access control system and the lifts. When the lift doors open, the robot will enter once it confirms there is no obstacle inside. It will also sound greetings to warn people of its presence. In one month, the robot has delivered up to 30 orders.
"We used to have a box in the corner of the lobby for food deliveries. This got rid of the lines of deliverymen waiting at the gate, but we could not keep the food warm or the box clean and tidy. With this robot, such problems can be easily solved," he said.
Zhao Ming, founder of Yogo Robot said that robots are designed to change people's way of life and make their lives more interesting. This is why they have been introduced to take care of indoor deliveries as they can help office buildings better manage the process, he said.
Founded in January 2016, Yogo Robot raised more than 10 million yuan ($1.5 million) 10 months later.
Before the launch of the Kago series of food delivery robots, Yogo rolled out the Mingo robot in 2016, which specializes in providing information to hotel guests and taking orders at restaurants. In late 2016, Mingo robots were put into operation at the Crown Plaza in the Dishuihu area of Shanghai.
"Robots themselves are of no value unless they are used in valuable industries to solve certain problems," Zhao said.