Robots advance on China's push
Share - WeChat Government, innovators, companies and investors highlight win-win global partnerships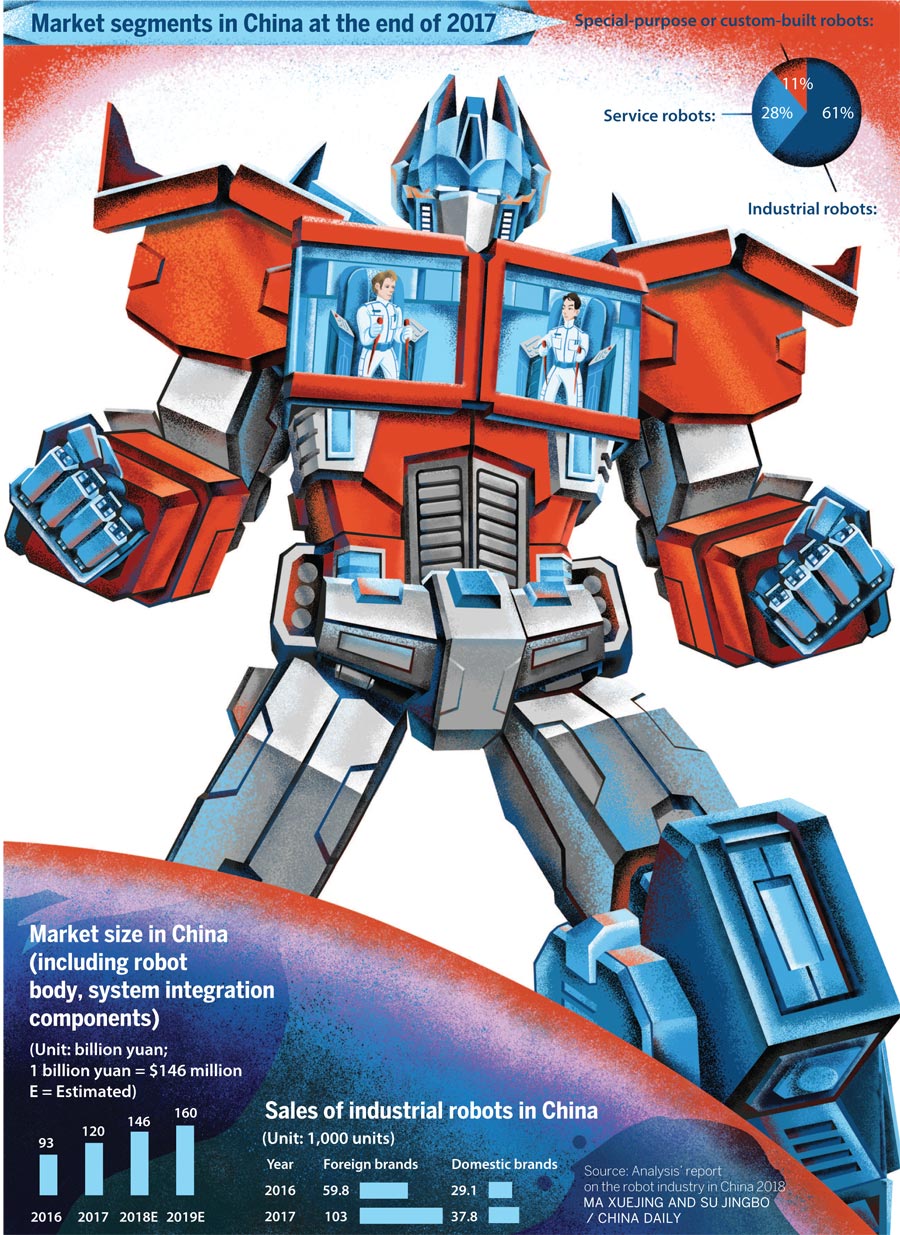 In a sprawling warehouse in Tokyo, several robots made by Chinese company HIT Robot Group are busy picking and stacking goods on to the shelves.
Equipped with sensors and image recognition software, they navigate the alleys between the shelves intuitively, choosing unobstructed straight lines that save time and enable efficiency, unlike human workers who might zigzag unconsciously.
"In Japan, the labor cost is very high with its shrinking pool of working population. The demand for workers in warehouses also changes with the alternating peak season and slack period in e-commerce. Our robots solve this problem with lower operating costs and higher efficiency," said Yu Zhenzhong, senior vice-president of HIT Robot Group.
With constant progress in research and development, Chinese robot makers such as HRG are increasingly going global, shipping their products to overseas markets. At the same time, they are helping foreign companies better tap the potential in China, the world's largest robot applications market, to deepen global exchanges.
"International cooperation is of crucial importance to build a well-organized global robotics industrial chain. Frequent communication can generate new ideas for cutting-edge technologies," Yu said.
According to him, with robots increasingly intertwined with artificial intelligence and other technologies, Chinese companies and their foreign counterparts are realizing the need to go beyond naked competition. Instead, they are trying to cultivate a win-win mentality, marked by shared interests and an intent to take full advantage of each other's expertise to grow rapidly.
Toward that end, HRG is partnering with multinational robot heavyweights such as ABB Group of Switzerland. Such companies are seeking to integrate robot systems to offer better localized solutions for diverse sectors.
The Harbin-based HRG is also teaming up with Israeli companies for research and development of drones. They hope to feed off each other's prowess.
The push for closer ties has become a trend in China. Government officials, entrepreneurs and experts are all calling for deeper international cooperation in the booming robotics sector.
Miao Wei, minister of industry and information technology, the nation's industry regulator, said China will ramp up resources to strengthen international cooperation as it strives to build a globally competitive robotics industry and accelerate the use of smart machines in manufacturing, healthcare and other sectors.
"China, as the world's largest robot market, sincerely welcomes foreign companies to partake of the strategic opportunity to jointly build a global industrial ecosystem," Miao said at the 2018 World Robot Conference in Beijing last month. Over 160 companies from 15 countries participated in the conference.
According to Miao, the ministry will roll out measures to encourage wider cooperation among Chinese companies, their international peers and foreign universities in technological research, product development and technical education.
That would build on the achievements over the past five years. China's robotics industry has been growing at about 30 percent a year.
In 2017, its industrial scale hit 120 billion yuan ($17.5 billion), according to the Analysis Report on Robot Industry in China 2018, which was jointly released by HIT, and the China Institute of Science and Technology Evaluation, a research institute.
China became the world's largest market for industrial robots in 2013, surpassing Japan, according to the International Federation of Robotics. Last year, sales of robots used in assembly lines exceeded 140,000 units in the country, up 58 percent year-on-year.
Still, the robot density, a metric for measuring a country's level of automation, in China is lower than that in many economies, indicating ample room for growth.
In 2016, the density of robot workers in China was 68 units per 10,000 people and ranked 23rd worldwide, lower than the global average of 74 units per 10,000 people.