Japan's Fanuc ups the ante with ventures in Guangdong and Hubei
Share - WeChat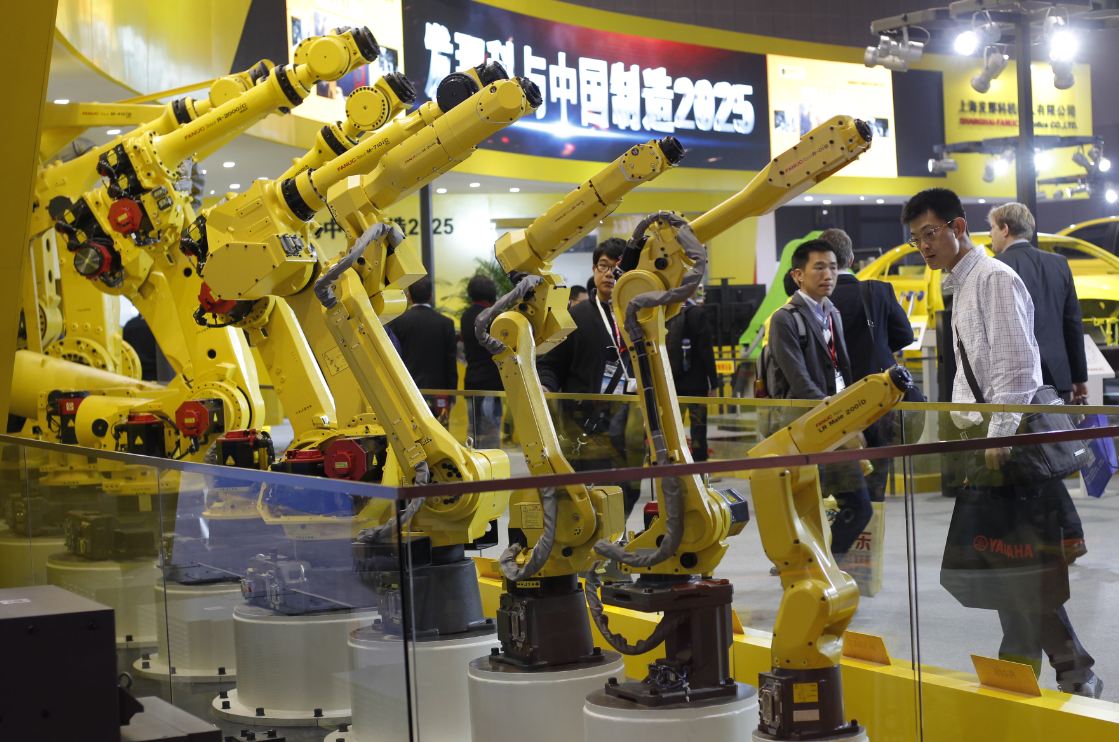 The saying "Nothing moves faster than money when opportunities emerge" applies to China's booming robotics market, industry insiders said.
Sensing a huge demand in the graying country, foreign companies are moving faster to increase their investments. A string of new plants and research and development centers are under construction.
One of the most active foreign players is Fanuc Corp of Japan. Within just four months, the robot giant has started preliminary work on two brand-new factories in Guangdong and Hubei provinces this year. Fanuc hopes the facilities will help it to meet the surging demand for its industrial robots, or machines that make assembly lines automated.
"We have already been growing at an annual rate of 30 to 40 percent in recent years. As local manufacturers scramble to crank up automation of factories, China is on track to surpass Europe as our second-largest market," said Qian Hui, general manager of Shanghai Fanuc Robot Co Ltd, the local subsidiary.
The company was founded in 1997 as a joint venture between Fanuc and Shanghai Electric Group Company Ltd.
Such a trend is further fueled by governments' favorable policies to promote smart manufacturing as China is set to deal with an aging population. Already, people aged 60 or older account for 17.3 percent of China's total population, and the proportion is likely to reach 34.9 percent in 2050, according to official data.
Senior citizens are expected to make use of assistance provided by robots built for that purpose. To better serve this demographic, and to prepare for intensifying competition in the market segment, Fanuc started building a new R&D and production center in Wuhan, capital of Hubei province, in July.
The Wuhan facility will span an area of 14,000 square meters with the first phase entailing an investment of 100 million yuan ($14.6 million). It will be used to develop system integration for industrial robots.
"Wuhan is home to a string of carmakers such as Dongfeng Honda and Shenlong as well as auto part companies. They are all our customers. To better serve and respond to their demand, we chose to establish a regional R&D and production base in Wuhan. This is a well-calculated decision with three years of preparation," said Zhou Baiying, director of the finance administration department at Fanuc.
The move came shortly after Fanuc established a new branch in Guangzhou with a registered capital of 150 million yuan in March. It is also constructing a new plant in the capital of Guangdong with an area of 39,000 square meters.
The new facility will serve as a base for Fanuc to grow its business in southeastern China where consumer electronics makers are concentrated. It is designed to offer sales, training, technical support and other services.
Guo Xuan, deputy director of the Beijing-based Yizhuang Smart Robotics Industry Research Institute, said Fanuc is upping its ante to target key business sectors amid mounting competition from Chinese robot makers and multinational players such as ABB Group of Switzerland.
"Automobile and consumer electronics are where robots are in biggest demand. Highlighting regional layout can help Fanuc focus resources on strategically important businesses," Guo said.
At the 2018 World Robot Conference held in August in Beijing, Fanuc demonstrated the world's largest lifter. With its capacity for an enormous 2.3-ton payload, the M-2000iA/2300i, its industrial robot, can easily lift and position a car or load bulky set castings onto machinery fixtures. The model is ideally suited for heavyweight material handling applications that require a strong and flexible wrist.
As part of its growth strategy in China, Shanghai Fanuc has also set up training centers to help nurture talent for itself and its customers.
"Every year, we train about 2,000 workers for our clients, so they can make better use of robots," Qian said.
The automation level in China still varies considerably from industry to industry, company to company.
"One minute you are in a local factory which is as highly automated as the plants in the United States, the next you feel like you are in an African plant," Qian said. "But this indicates just exactly where the opportunities are."