Battle of the ages set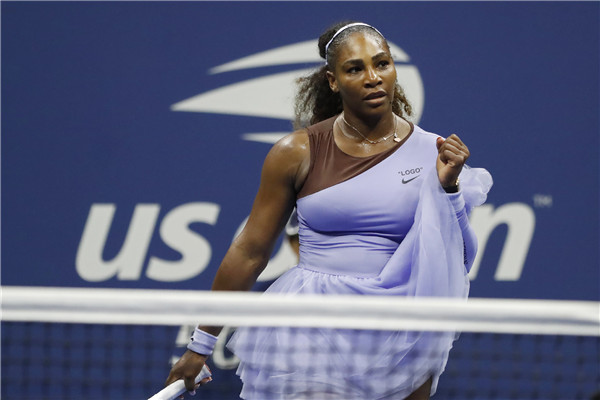 Osaka, 20, will face her idol, 36-year-old Serena, in US Open final
FLUSHING MEADOWS, New York - Moments after defeating Madison Keys in the semifinals at the US Open on Thursday. Naomi Osaka addressed American superstar Serena Williams, who she will face in Saturday's final: "I love you," said Osaka.
The 20-year-old breakout star of the tournament became the first Japanese woman to reach a Grand Slam final by vanquishing Madison, who was runner-up here last year, 6-2, 6-4.
When asked on court what she told herself as she served for the match, Osaka replied: "Don't double fault".
"Why?" asked the interviewer.
"Serena," Osaka answered.
"I love you, Serena. And I love you, mom; I love everybody".
Osaka, the 20th seed, has met and defeated Williams once - at Miami in March.
That victory came just a week after she lifted her first top-level trophy at the prestigious Indian Wells event in California.
Saturday will be the fulfilment of Osaka's childhood dream of facing Williams in a Grand Slam final.
"It still feels a little bit surreal. Even when I was a little kid, I always dreamed that I would play Serena in the final of a Grand Slam," she said.
"Just the fact that it's happening, I'm very happy about it. At the same time I feel like even though I should enjoy the moment, I should still think of it as another match.
"Yeah, I shouldn't really think of her as my idol. I should just try to play her as an opponent."
The contrast between the finalists could not be greater.
Serena will be playing in her 31st Grand Slam final and ninth at the US Open, where she is a six-time champion.
When the 36-year-old American won her first US Open in 1999, Osaka was not yet two years old.
Whatever happens in the final, Osaka said she will remain a fan of Williams, who is chasing a record-tying 24th Grand Slam title, just a year after giving birth to a daughter and undergoing four post-natal surgeries.
"When you just come back and then you make the finals of two majors, I think that's really amazing," Osaka said in reference to Williams's runner-up spot at Wimbledon in July.
"I'm sure that everyone knows that Serena's really good, of course. But I don't want to overthink this match, so I'm not going to think that she's so much better than she was in Miami.
"I'm just going to go out there and play. I don't want to be surprised if she plays better or not."
Keys had beaten Osaka three times out of three before Thursday's semifinal but the 14th seed admitted she had been completely overpowered.
"I thought I could get a break but every time she would hit an ace or a big shot," said the 23-year-old who carved out 13 break points which were all saved by the Japanese star.
"It was difficult. You think she's going to let up but she doesn't. She was very impressive."
Good as ever?
Meanwhile, players that have faced Serena so far in Flushing Meadows say she might be as good as ever.
"It's tough to say," said Anastasija Sevastova after Williams swept her 6-3, 6-0 in the semifinals. "She played the final in Wimbledon too, so this year has been good for her."
Eighth-seeded Karolina Pliskova, who briefly rose to No 1 last year, fell to Williams in the quarterfinals, two years after shocking her in the semis.
"I don't feel any difference," Pliskova said. "She's playing with the same power. She can still serve well. I she's back to where she was."
Agence France-Presse
Most Popular
Highlights
What's Hot