AIIB chief vows support to connect African continent
Share - WeChat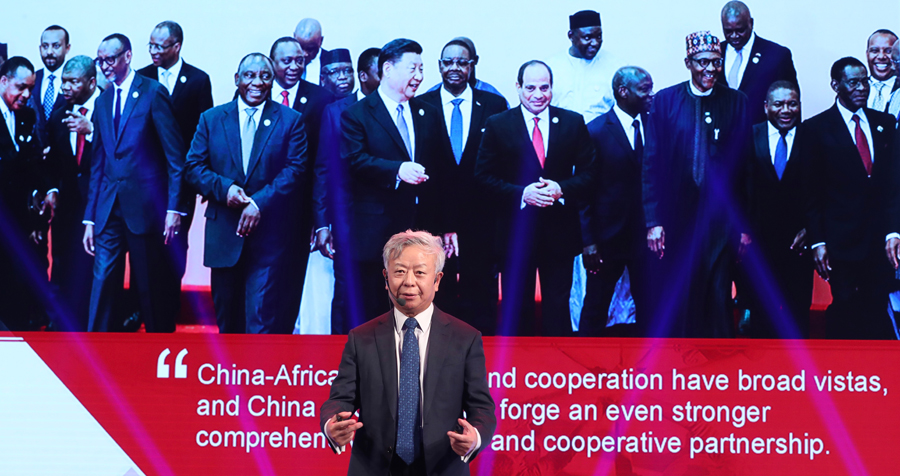 The Asian Infrastructure Investment Bank will continue to promote connectivity and sustainable economic development in Africa, the bank's chief said on Thursday.
While the AIIB's main operations will concentrate in Asia, it attaches great importance to Africa and "is committed to promoting investment in African member countries", Jin Liqun, the AIIB president, said on Thursday at the Vision China event held by China Daily in Beijing.
So far, six African countries - Egypt, Ethiopia, Kenya, Madagascar, South Africa and Sudan - have joined the bank as nonregional members.
Jin said he had met with Ghana's minister of finance on Thursday afternoon and that Ghana would become a member of the AIIB soon. "African countries are warmly welcomed," he said.
The bank's high regard for Africa is in line with its mission to improve "economic and social development in Asia and beyond through investment in infrastructure and other productive sectors", he said.
"When we designed this bank, we looked beyond Asia, because we believed Asian countries cannot sustain themselves without working in close collaboration with the other continents."
Jin said the AIIB is ready to support African members in a variety of innovative ways, especially by improving connectivity, and is committed to transforming and upgrading economies through sustainable infrastructure investment, including in partnership with the Belt and Road Initiative.
In an earlier interview, Jin described the AIIB and BRI as like two engines of an aircraft, both of which are needed to fly smoothly and high.
At the event on Thursday, he said the AIIB expects to benefit from Belt and Road development projects and in turn contribute financing, standards and governance.
The bank is also working closely with other multilateral development institutions to promote investment on the African continent, including the World Bank, African Development Bank and Islamic Development Bank.
For instance, the AIIB approved up to $210 million in long-term debt financing for a project to build and maintain 11 solar power plants in Egypt last year.
The project is expected to help the country shift to a more sustainable energy mix, according to information published on the bank's website.
"We will make sure the projects we finance are sustainable," Jin said.
In April, the AIIB also signed a memorandum of understanding with the African Development Bank to enhance collaboration on sustainable economic development on the continent.
The agreement allows the AIIB to benefit from AfDB's rich experience in financing infrastructure projects in Africa, and enables AfDB to leverage additional resources from AIIB for the continent, according to senior officials at the two banks.
With abundant mineral reserves and a vast variety of flora and fauna yet to be fully exploited, he said he believes Africa's development potential is great. But its development still "faces tough challenges", he added.
According to a 2017 AfDB report, most African economies are operating far below their full growth potential.
If current trends continue, it said, they could miss the opportunity to eliminate poverty, hunger and other forms of human deprivation on the continent by 2030, and could fail to achieve most of the sustainable development goals set by the United Nations.
Akinwumi A. Adesina, president of AfDB, said on Tuesday that Africa needs to close an infrastructure financing gap of between $130 billion and $170 billion.
"Now, Africa is getting better, but much remains to be done," Jin said on Thursday. "I believe Asian countries are duty-bound to support African countries."