World record holder Kimetto to compete at Shanghai Marathon
Share - WeChat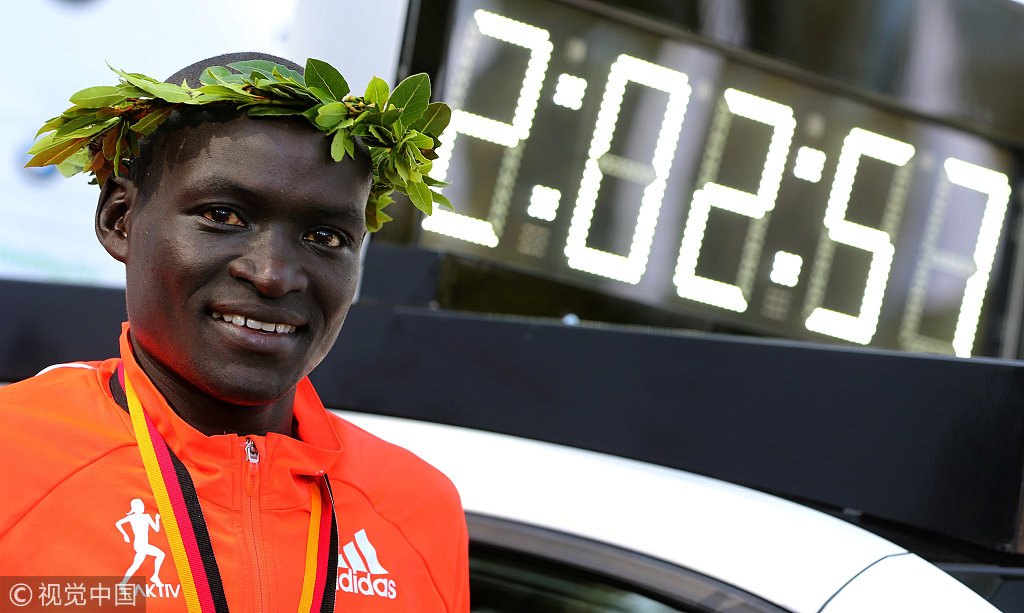 NAIROBI -- World marathon record holder Dennis Kimetto says he has overcome his injury worries and hopes to make another comeback, this time running at the Shanghai Marathon in China in November.
Kimetto wants to set a new all-time best mark in China as he seeks his first win in marathon since 2016.
Speaking in Iten, Kimetto, 35, warned his rivals that it will take more than their skills to improve on his world mark.
"I am in right frame and shape to return to marathon running. Shanghai in my next stop in November," Kimetto told Xinhua on Thursday in Iten.
Compatriots Wilson Kipsang (2:03:13) and Olympic marathon champion Eliud Kipchoge (2:03:05) like patient vultures have been circling the carcass that has been his world record for the last three years.
The two will be in Berlin next week eyeing shutter the record but Kimetto is sitting pretty saying the record is safe.
"It depends on their strategy. They are the fastest in the last two years and it depends on their pace makers. If they go past the 30km mark in under one hour and 27 minutes, then they will be able to break the record. But it is fast running and needs a lot of endurance," he warned.
Kimetto, who has not finished a marathon since London in 2016, suffered another unhappy day in Vienna, Austria in April when he aggravated his calf muscle injury.
He has been in and out of hospital in Germany and hopes when he returns to Hamburg next week for review, he will be given the all clear signal.
"I am going for a review in Germany next week. I have just cleared my long run now and am resting. There has not been any pain my leg and I believe it is clear sign I am getting back to my best form," he said.
"I will be running in Shanghai in November and I want to check with the doctors to be certain I am ready for the race. If Kipchoge and Kipsang fail to break the record, I want to tell them I will be back next year and will run even faster. But for now, winning Shanghai Marathon is my main concern," said Kimetto.
The Kenyan believes he is in a position to run two hours and six minutes in Shanghai.
"That will be enough signal to my rivals that the king is back. The challenge is to finish the race and win. The rest we will see next year," he added.